KOK WGP 2016 in MOLDOVA. April 9th Manej Arena
07.03.2016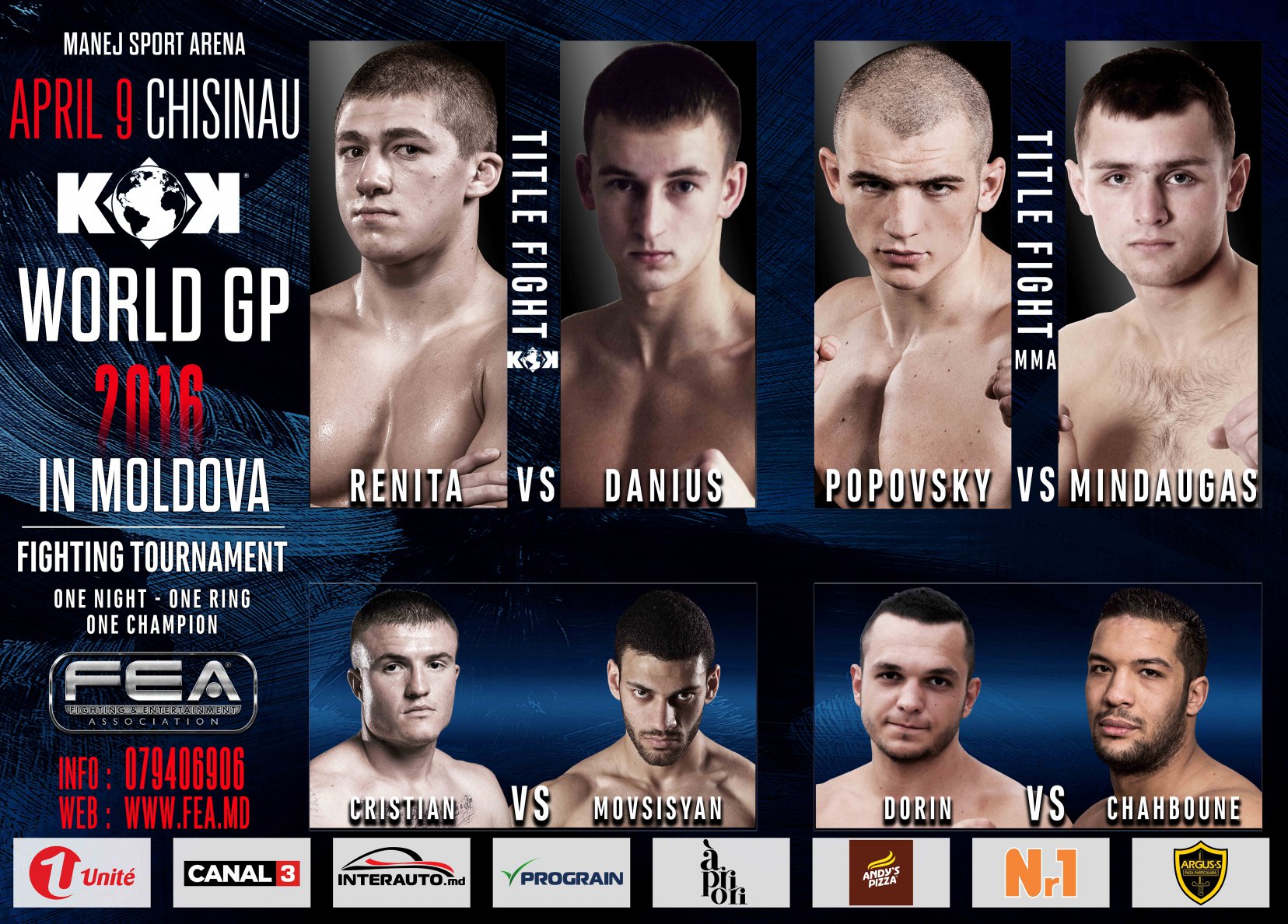 The future KOK tournament will become the present notice in the world of single combats, in the card of duels fighters of which the public loves. And duels with their participation at once fly up on the first places of a world rating. On April 9th we are waited by excellent fighting show which will give a charge of positive emotions and adrenaline. FEA association following tradition will organize the KOK tournament from two parts. In the first we will see opening fight in which skill will be shown by women. Also in the first part we will see duels with Alexander Prepelitse, Alexander Burduzha, Sergey Morar\'s participation.  Well and the main attention will be riveted on title fight by rules MMA between Vlad Popovsky and Mindaugas Verbitskas.
In the second part of show on April 9th we are waited by the quarterfinal eight in category to 85 kg, super fight to 71 kg and fight for a champion title in category to 65 kg. In quarterfinals the famous athletes will meet as already all, and fighters of which we will see in Chisinau for the first time. The intriguing grid of fights won\'t leave equally stuffy anybody. Ukrainian Igor Lyapin famous for the persistence will carry out by all a duel against Vittorio Iyermano, Daniel to Alexander will come to a ring against the Belarusian Turuka, Stanislav Zaniyevsky will try to pass in a semi-final in a duel against Dutch Samir Bukidus. And Grand Prix will represent the Republic of Moldova in a grid Aurel Ignat who will come to a ring against German Kevin Brenda. In a super duel we will see Christian of a dorel. He should oppose the Czech of the Armenian origin Tigran Movsisyan in category to 71 kg. And in end of evening we are waited by fight for a world champion title in category to 65 kg. For a champion belt Stanislav Renitsa who last year has won the four will fight. His rival has declared the energetic Lithuanian Martinas Danius. Stanislav and Martinas already fought two years ago on a ring in Chisinau in a super duel. And here exactly two years later they became applicants for a champion belt!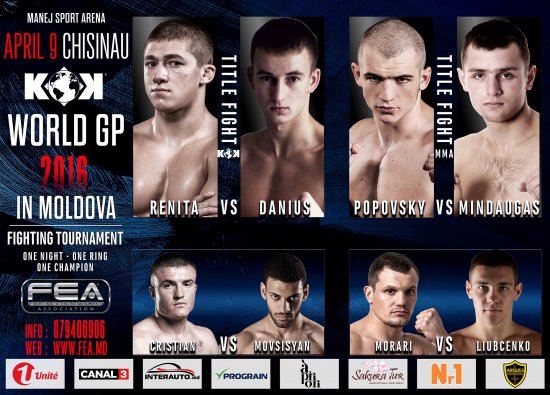 TICKETS
Tickets for the event can be purchased at the
National Opera and Ballet MARIA BIESU. Tickets from 180 lei. The address
of the championship: athletic arena Moldova. Str. Andrew Doga 26.
OPENIG 17:00. Telephone offices of the National Opera and Ballet
Theatre: 0 22 24-51-04. Hours of operation: Tuesday to Sunday from 9:00
to 18:00 (off – Monday). Tickets for the VIP seats and parterres marked
on the scheme can be ordered by calling 079 406 906.
  SCHEME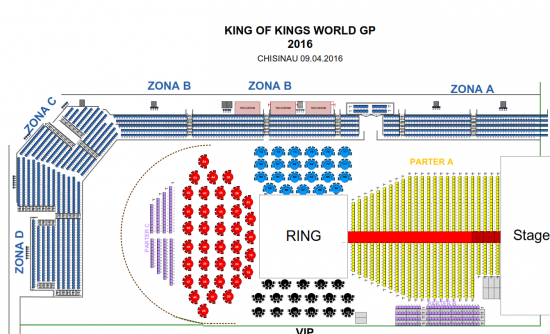 FIGHT CARD
FIGHT BOX KOK WORLD SERIES  2016 in MOLDOVA 09.04.2016
Open Fight weight -51kg 3min x 3R, extra 1R  KOK rules
(POLAND)   Klaudia Pawicka                VS         Nadejda Kantsir   (MOLDOVA)  
Super Fight weight -71kg 3min x 3R, extra 1R  KOK rules
(POLAND)    Łukasz Pławecki              VS       Alexandru Prepelita (MOLDOVA)  
Super Fight weight -95kg 3min x 3R, extra 1R  KOK rules  
(CZECH REPUBLIC)   Vasil Ducar     VS       Alexandru Burduja   (MOLDOVA)
Super Fight weight -77kg 3min x 3R, extra 1R  KOK rules
(UKRAINE)  Alexei Liubcenko             VS        Serghei Morari   (MOLDOVA)   
Super Fight weight -95kg 3min x 3R, extra 1R  KOK rules
(MOROCCO)  Noah Chahboune                    VS   Robert Dorin  (ROMANIA)
TITLE  Fight weight -77kg 5min x 5R MMA rules
(LITHUANIA)  Mindaugas Verbickas    VS        Vlad  Popovsky  (MOLDOVA)               
KOK WORLD GP   MIDDLEWEIGHT TOURNAMENT   2016 in MOLDOVA
Quarter Final Fight weight -85kg 3min x 3R, extra 1R  KOK rules
(UKRAINE)   Igor Lyapin                 VS     Vittorie Iermano  ( ITALY)
Quarter Final Fight weight -85kg 3min x 3R, extra 1R  KOK rules
(BELARUS)   Pavel Turuk                 VS       Daniel Alexandru  (ROMANIA)
Quarter Final Fight weight -85kg 3min x 3R, extra 1R  KOK rules
(GERMANY)   Kevin Brenda             VS       Aurel Ignat    ( MOLDOVA)
Quarter Final Fight weight -85kg 3min x 3R, extra 1R  KOK rules
(HOLLAND)   Samir Boukhidous      VS     Stanislav Zaniewski  ( POLAND)
Super Fight weight -71kg 3min x 3R, extra 1R  KOK rules
(CZECH REPUBLIC)  Tigran Movsisyan     VS   Vitalie Matei  (MOLDOVA)
TITLE  Fight weight -65kg 3min x 5R KOK rules
(LITHUANIA)  Martynas Danius           VS        Stanislav Renita  (MOLDOVA)
RESULTS
FIGHT BOX KOK WORLD SERIES 2016 in MOLDOVA 09.04.2016
Open Fight weight -51kg 3min x 3R, extra 1R  KOK rules
(POLAND)   Klaudia PawickaVS  Nadejda Kantsir  (MOLDOVA)
Winner Nadejda Kantsir  (MOLDOVA) by decision 3:0
Super Fight weight -71kg 3min x 3R, extra 1R  KOK rules
(POLAND) Łukasz Pławecki   VS  Alexandru  Prepelita (MOLDOVA)
DRAW
Super Fight weight -95kg 3min x 3R, extra 1R  KOK rules
 (CZECH REPUBLIC)  Vasil Ducar  VS  Alexandru  Burduja (MOLDOVA)
Winner  Vasil Ducar by decision
Super Fight weight -77kg 3min x 3R, extra 1R  KOK rules
(UKRAINE)  Alexei Liubcenko VS  Serghei Morari   (MOLDOVA)
DRAW
Super Fight weight -95kg 3min x 3R, extra 1R  KOK rules
(MOROCCO) Noah Chahboune VS   Danuts Hurduc  (ROMANIA)
Winner Danuts Hurduc by decision 3:0
TITLE  Fight weight -77kg 5min x 5R MMA rules
(LITHUANIA) Mindaugas Verbickas VS  Vlad  Popovsky  (MOLDOVA)
Winner Mindaugas Verbickas 3R 0:45 TKO
KOK WORLD GP   MIDDLEWEIGHT TOURNAMENT   2016 in MOLDOVA
Quarter Final Fight weight -85kg 3min x 3R, extra 1R  KOK rules
(HOLLAND)   Samir Boukhidous  VS  Stanislav Zaniewski  ( POLAND)
Winner Stanislav Zaniewski by decision 3:0
Quarter Final Fight weight -85kg 3min x 3R, extra 1R  KOK rules
(UKRAINE)   Igor Lyapin  VS     Vittorio Iermano  (ITALY)
Winner Igor Lyapin by KO 2R 1:51
Super Fight weight -71kg 3min x 3R, extra 1R  KOK rules
(CZECH REPUBLIC) Tigran Movsisyan  VS  Vitalie Matei  (MOLDOVA)
Winner Tigran Movsisyan by decision
Quarter Final Fight weight -85kg 3min x 3R, extra 1R  KOK rules
(GERMANY)   Kevin Brenda  VS Aurel Ignat ( MOLDOVA)
Winner Aurel Ignat by KO 3R 0:36
Quarter Final Fight weight -85kg 3min x 3R, extra 1R  KOK rules
(BELARUS)   Pavel Turuk VS  Daniel Alexandru  (ROMANIA)
Winner Daniel Alexandru by decision 3:0
TITLE  Fight weight -65kg 3min x 5R KOK rules
(LITHUANIA)  Martynas Danius  VS  Stanislav Renita  (MOLDOVA)
Winner Stanislav Renita by decision 3:0
PHOTO
VIDEO