EAGLES VI. Russia vs Moldova.
31.05.2017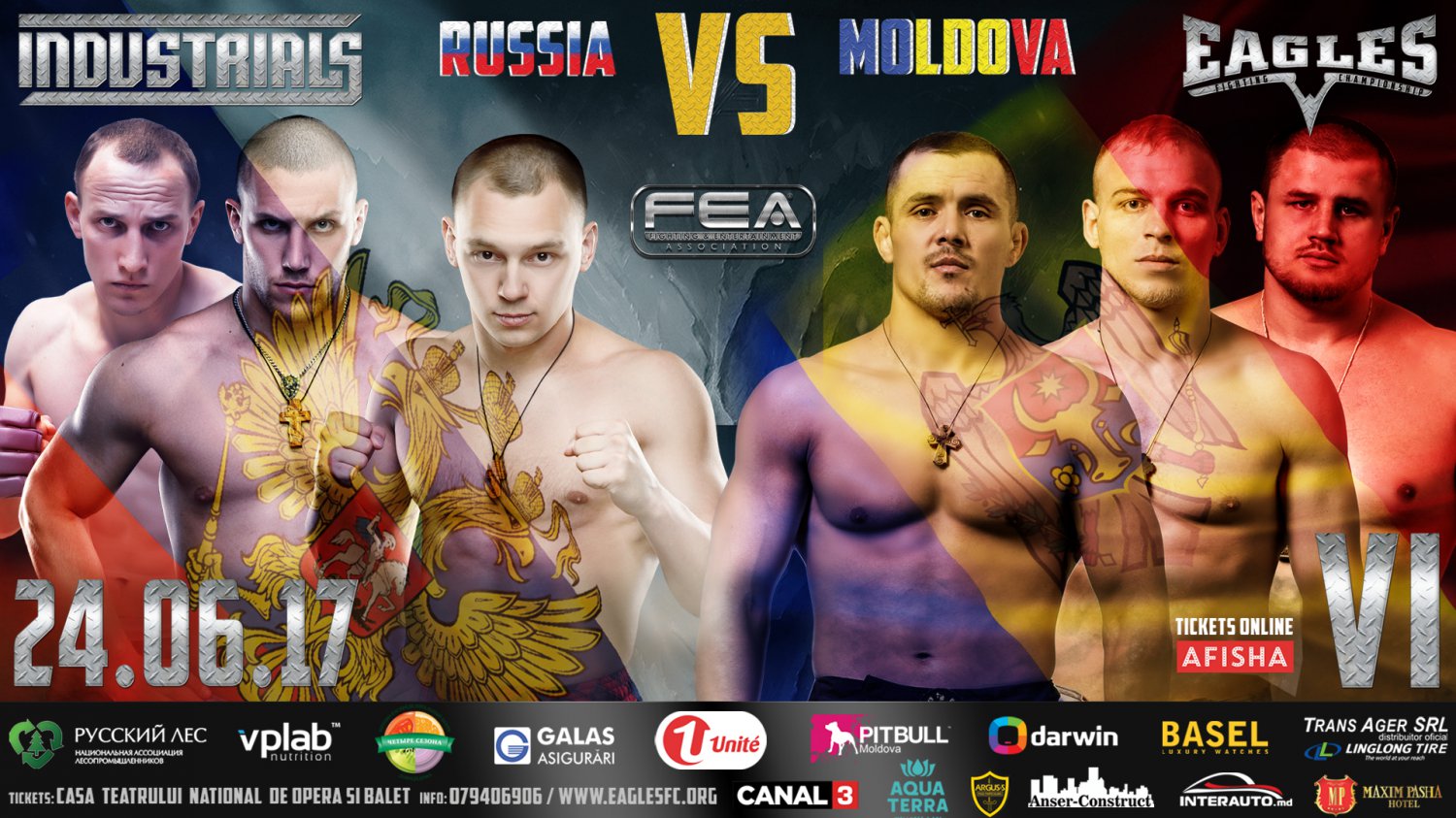 On June 24th, in Chisinau, the EAGLES VI will be held, Moldova VS Russia. A match between the Russian and Moldavian teams.
Respect and honor, courage and glory, steel character and a firm spirit! For the first time in the history of mixed martial arts, Russia vs. Moldova, Industrials versus EAGLES.
Real Russian bogatyrs against the Moldavian knights, the hayduks. They will fight to defend the honor of their country and their people. At different times they were an example of courage, prowess and bravery. These are the figures that once and for all forged their names in the prism of centuries.
These are the fighters who are not afraid of obstacles and they are ready to go to the end. They are the real heroes of EAGLES VI.
Just like the past tournaments, the show of mixed martial arts EAGLES VI, will be divided in two parts. In the first one we will see real surprises in the form of young debutants, as well as famous fighters, but who only practiced stand-up fighting before this.
Who are they, you will find out soon. In the first part, we will also see certain already accomplished fighters, whose appearance in the octagon will pleasantly surprise all the fans and supporters.
But the second part will be fully reserved to the match meeting of the Russian and Moldavian fighters, the Industrials team against the EAGLES project fighters' team. In the duels of the second part we will see the 61.2kg category champion Mihail Sirbu, the 77kg category champion Vasily Botnaru, the heavyweight Alexander Romanov,the Moldavian MMA legend Pavel Pocatilov, Vlad Popovsky and the promising lightweight Georgy Cebanu.
The tickets can be purchased at the ticket office of the National Theatre of Opera and Ballet "Maria Biesu" and on www.afisha.md site. The address of the event: GENERAL MEDIA GROUP, Ghioceilor street, 1. Date: June the 24th 2017 Beginning of the tournament: 18:00 The ticket office of the National Theater of Opera and Ballet telephone: 022 24-51- 04. Work schedule: Tuesday-Sunday from 9:00 to 18:00 (closed on Monday). Infoline: 079406906.