Superfight in the 65 kg division – Sergey Adamchuk vs Simon Santana!!!
27.07.2019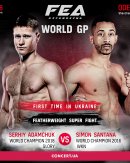 One of the leading fighters under 65 kg, the representative of Ukraine, Sergey Adamchuk, will perform in a super bout against Simon Santana from Norway, the 24th of August.
Santana doesn't lack experience either. Simon had a very cutthroat bout in 2018 against the reigning FEA champion, Stanislav Renita.
As for Adamchuk, he certainly built up a lot of rage in the first two professional bouts this year in USA, within Glory organization, where the outcome wasn't in his favor. Thus on August 24th in Odessa, at FEA WGP tournament, we'll witness all of his might. For the most part, he focuses on his technique, distributing his strength for all the rounds and operating according to circumstances. The same as Santana. Simon will strive to prove himself in his entire splendor, because the opportunity to box with a rival like Adamchuk, doesn't appear very often. Therefore, this fight will be twice as attention-grabbing.
On another note, on the official poster, the fighters from Moldova were already announced – Nicolae Caraus and the current FEA champion in the 77kg category, Constantin Rusu, as well as the Ukrainian fighter, Vynyavska.
As for us, dear friends, all we need to do is to be patient and stay tuned.