The main event of FEA WORLD GP ODESSA is announced!!!
19.07.2019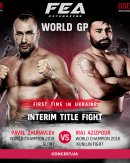 By now, the whole fighting community is intrigued by the announcement of the new FEA WORLD GP ODESSA tournament with a SOON tag. Hereby, we officially declare that the tournament will be held on August the 24th at the Odessa Sports Palace.
And the very main event of the evening is the stand-off between Pavel Zhuravlev and the representative of Iran, Iraj Azizpour. The bout will take place in the heavyweight division, +95 kg. Most importantly, at stake are the belt and the FEA HEAVYWEIGHT interim champion's title!!!
The Ukrainian fighter, Pavel Zhuravlev, needs no introduction, his achievements speak for themselves. He owns many championship titles and belts, from such circuits as FFC, LEGENDA, GLORY and various other world promotions. Moreover, he is the winner of countless super fights. He fairly is a world top heavy division fighter.
To be noted that Iraj Azizpour, Zhuravlev's present opponent, also possesses incredible persistence and a fine record.
He obtained a number of high-profile conquests as well, including the victory over Roman Kryklia.
Hence, dear friends, the fight will go on not just on high tone, but with maximum tension for both the fighters and their fans and supporters.
More details will surface in time. Stay tuned!