Vasyl Lomachenko Vs. Jorge Linares Results: Winner, KO Highlight (VIDEO), Twitter Reaction
13.05.2018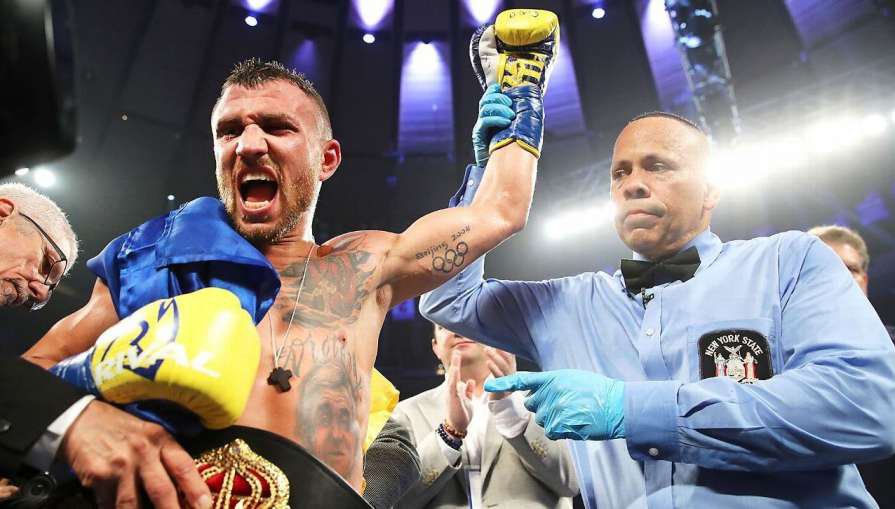 In one of the best fights of the year, Vasyl Lomachenko became the fastest man to claim three world championships in different weight classes with a stunning 10th-round TKO victory over WBA lightweight champion Jorge Linares.
A short and powerful left hook to the body dropped Linares. The tough and talented Venezuelan got to his feet, but he could not continue. Lomachenko immediately celebrated the victory, which was perhaps the most difficult win of his short and successful professional career.
Here is a look at the finish:
Lomachenko\'s ability to overcome adversity was as impressive as the body shot that won the fight. When fighters are as dominant as Lomachenko has been, it\'s always interesting to see how they will respond when things begin to go south.
It was clear he was in the ring with an outstanding fighter in Linares, but Lomachenko rose to yet another level to come out victorious. It is impossible to make a logical case for anyone else as the pound-for-pound best fighter in the world after this win.
During the post-fight interview, Lomachenko was asked about a rematch and he said he was open to it. Linares expressed a desire to face Lomachenko again as well. After this fight, it seems fans would embrace a return bout as well.
GLORY Kickboxing traveled to the Zénith de Lille in Lille, France, on Saturday, May 12, for GLORY 53: Lille.
The event was headlined by the GLORY lightweight championship bout, which featured the best pound-for-pound kickboxer in the world, Sitthichai Sitsongpeenong, and his challenger, 20-year-old Moroccan prospect Tyjani Beztati.
The co-headliner put a spotlight on the best female kickboxer on the planet, Anissa Meksen, who made the first defense of her GLORY super bantamweight title against Amel Dehby, the runner-up during the GLORY women's super bantamweight tournament.
To round out the main-card action, former Enfusion champion Jahfarr Wilnis took on former GLORY title challenger Jamal Ben Saddik, top-10 light heavyweight Zinedine Hameur-Lain battled former ranked opponent Michael Duut, and GLORY four-man tournament winners Petchpanomrung Kiatmookao and Abdellah Ezbiri collided in a pivotal featherweight title eliminator.
In the night's SuperFight Series headliner, the four-man super fight tournament winner was crowned. In the semifinal bouts, former GLORY featherweight champ Serhiy Adamchuk faced France's Azize Hlali and GLORY veteran Victor "Leo" Pinto met Turkey's Buray Bozaryilmaz.
Former GLORY welterweight king Cédric Doumbé fought Thongchai Sitsongpeenong in additional action in France.
The preliminary card opened at 8:30 a.m. ET on Pluto TV and YouTube. The GLORY 53 SuperFight Series continued at 1 p.m. ET on UFC Fight Pass. The main card aired live at 3:30 p.m. ET on ESPNEWS (United States), ESPN3, SFR Sport 5, Fox Sports (Latin America and Africa), Fight Network (Canada), Combate (Brazil), DigiSport (Romania), Fight Sports (Europe), Sky Sports (New Zealand), Ziggo Sport (The Netherlands), DAZN (Japan), Star Times (Africa), Fight Channel (Bosnia & Herzegovina, Slovenia), QQ (China), Sina (China), Sohu (China), and GLORY pay-per-view (International).
FULL RESULTS
Sitthichai Sitsongpeenong def. Tyjani Beztati by unanimous decision (48-47, 48-47, 49-46, 49-46, 50-45) – for lightweight title
Jahfarr Wilnis def. Jamal Ben Saddik by unanimous decision (29-27 x5)
Anissa Meksen def. Amel Dehby by unanimous decision (49-46, 50-45, 50-45, 50-45, 50-45) – for women's super bantamweight title
Zinedine Hameur-Lain def. Michael Duut via TKO (strikes). Round 2, 1:14
Petchpanomrung Kiatmookao def. Abdellah Ezbiri by knockout (head kick). Round 2, 1:40
Cédric Doumbé def. Thongchai Sitsongpeenong by knockout (punch). Round 1, 0:33
Yousri Belgaroui def. Jason Wilnis by TKO (strikes). Round 2, 1:37
Serhii Adamchuk def. Victor Pinto by unanimous decision (29-27, 29-27, 29-27, 29-27, 29-27) – featherweight tournament final
Alan Scheinson def. Mohammed Jaraya by unanimous decision (30-27, 30-27, 30-27, 30-27, 30-27)
Serhii Adamchuk def. Azize Hlali by unanimous decision (29-27, 29-27, 30-26, 30-26, 30-26) – featherweight tournament semifinal
Victor Pinto def. Buray Bozaryilmaz by majority decision (26-30, 28-28, 29-27, 29-27, 29-27) – featherweight tournament semifinal