Sport review 20/04/2018
20.04.2018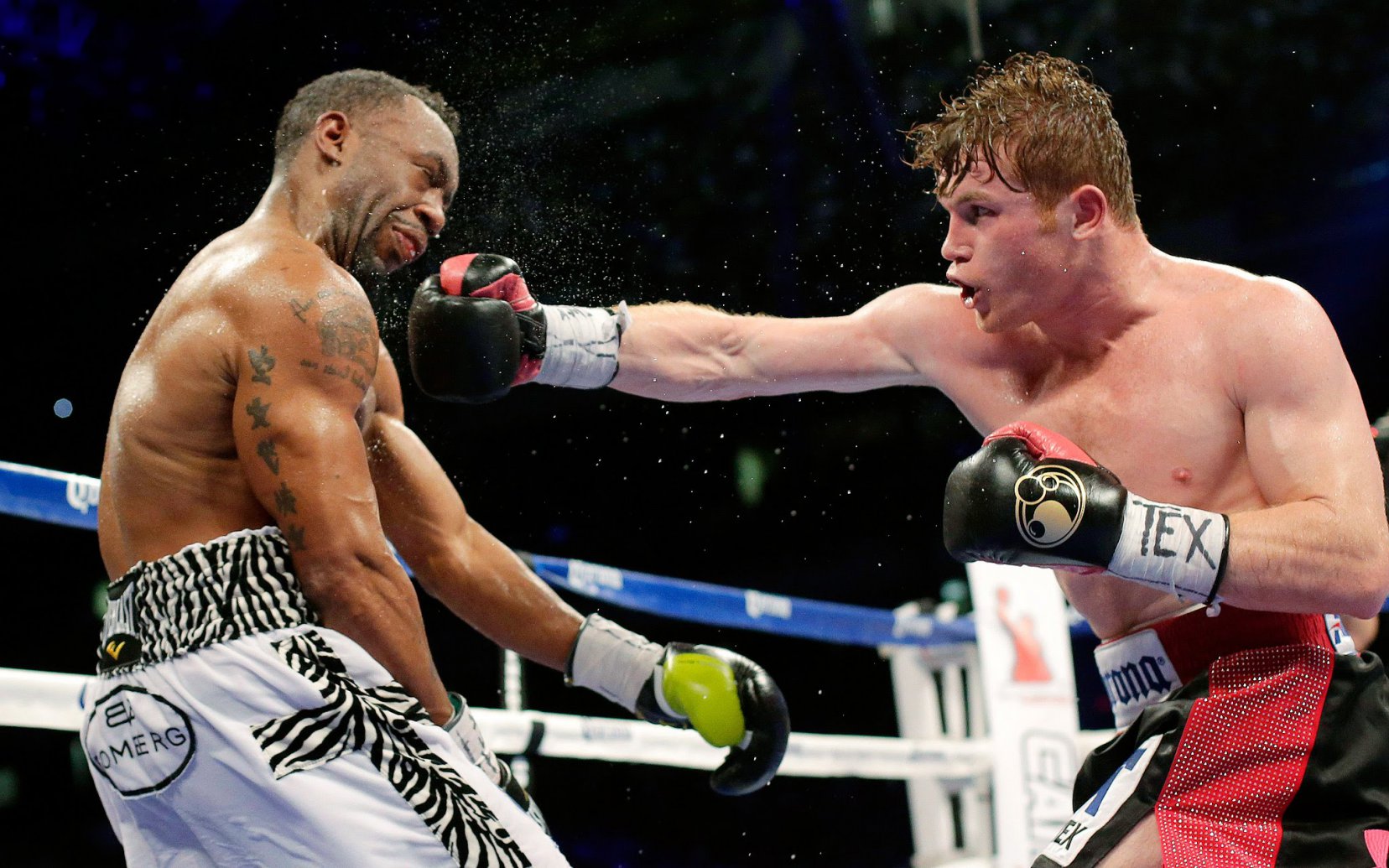 Nevada boxing regulators gave Canelo Alvarez a reduced penalty for doping violations Wednesday, potentially allowing him to return to the ring in September against Gennady Golovkin.
Alvarez was given a six-month suspension instead of the standard one year for first-time violators. His May 5 fight with Golovkin was called off earlier because of the doping, but with the Nevada Athletic Commission suspension retroactive to February he would be available for a possible fight with Triple G on the traditional Mexican Independence Day weekend in September.
Golovkin, meanwhile, announced Wednesday he would fight Vanes Martirosyan in Carson, California, on the May 5 date he was supposed to meet Alvarez.
Caroline Bateman, a Nevada deputy attorney general, suggested a punishment of six months from the day of Alvarez\'s first positive test on Feb. 17. She said Alvarez also must undergo drug tests, but added no fine was recommended because past fines have been based on future purses.
Bateman said during the commission meeting that Alvarez has been cooperative since testing positive, which was a contributing factor in handing down a punishment less than the standard disciplinary sanction of one year.
"The only input from the Triple G side, because we feel Triple G is the most damaged person in the situation scrambling to save the May 5 date, it would have been nice to see Canelo getting a fine," said Golovkin\'s promoter, Tom Loeffler, who attended the hearing. "But we respect the commission\'s ruling."
Alvarez wasn\'t present at the meeting.
"I hope he\'s learned a lesson, that he is responsible with what he puts in his body," commission Chairman Anthony Marnell said. "And I hope to see him fighting in Nevada soon. If he follows the agreement as it\'s laid out then he would be able to come back and fight like any other fighter."
Alvarez was supposed to face Golovkin for his unified middleweight title next month at the T-Mobile Arena in Las Vegas, but the fight was called off after the commission issued a complaint against Alvarez for testing positive to the banned performance-enhancing drug clenbuterol in his hometown of Guadalajara, Mexico.
The fight would have been a rematch of their bout last September, where Alvarez got a controversial draw in a fight many thought Golovkin had clearly won.
Alvarez blamed contaminated beef in Mexico for his positive test and vowed to plead his case before the commission. But with Alvarez suspended because of the positive test and so little time between the hearing and the fight promoters decided to cancel the bout.
"Although most professional sports, international anti-doping agencies and United States boxing commissions treat meat contamination differently from other positive tests, Nevada does not. Canelo and Golden Boy Promotions respect the rules of Nevada and are therefore satisfied with the settlement agreement reached today," Golden Boy Promotions said in a statement issued after the meeting.
Alvarez had been a steady attraction in Las Vegas on the Cinco De Mayo weekend, and a consistent star on pay-per-view. The red-headed fighter is one of the most recognizable athletes in Mexico and one of the country\'s biggest sports heroes.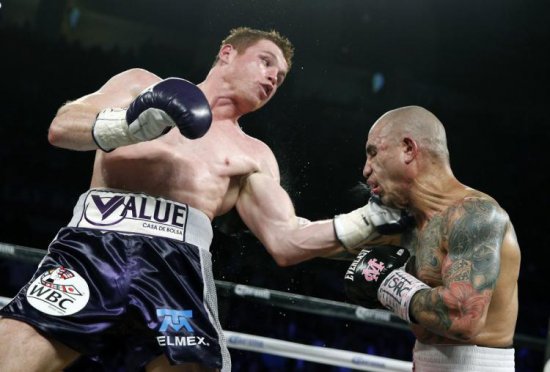 "Canelo looks forward to returning to the ring in September for Mexican Independence Day weekend to represent Mexico and boxing in what will be the sport\'s biggest event of the year," Golden Boy\'s statement said. "He is ready to continue his remarkable record of fighting at the highest level."
Loeffler said Golovkin could be ready for a September date with Alvarez. But he said Golovkin must focus first on his upcoming fight.
"Right now, we\'re focused on May 5," Loeffler said. "If Triple G doesn\'t win May 5, there\'s no talk about a Canelo rematch in the future. If Triple G is successful May 5, then the biggest fight in the sport of boxing is still Triple G and Canelo, and that\'s the fight we would try to make."
Dr. Michael C. Bell took a confident stance in the ring.
Wearing boxing gloves, Bell, 76, yelled out the combinations being called by his instructor, Rich Mushinsky, while hitting the mitts Mushinsky held up.
"1-2-1-2," "4-3-4" and so on it went for a three-minute round on Saturday afternoon at Fit 4 Boxing Club in Hampton.
Non-contact boxing at the club is about more than exercise for Bell, a retired ear, nose and throat doctor from Sewickley. It helps alleviate some symptoms of Parkinson\'s disease, a progressive disorder of the nervous system that typically affects people 60 and older.
Traditional boxing has been linked to Parkinson\'s — a traumatic brain injury may increase the risk of developing the disease, according to the Mayo Clinic — but boxing in another form can deliver aid, studies have shown.
"It\'s like it was meant to be," Bell said.
He participates in Rock Steady Boxing, designed for people with Parkinson\'s, at Fit 4 Boxing Club, which opened two months ago and is the first site in the Pittsburgh area to offer the program.
It includes hitting mitts and speed bags, jumping rope, calisthenics and intense exercises.
"It\'s boxing without getting hit, basically," said Fit 4 Boxing Club owner Mushinsky, a former amateur boxer.
Rock Steady Boxing Inc. was founded in Indiana in 2006 by a former Marion County prosecutor, Scott C. Newman, with Parkinson\'s. Newman developed the program with former boxer Kristy Follmar, program director for the Indianapolis-based nonprofit.
There are 35 affiliates, including Fit 4 Boxing Club, in 13 states, Italy and Australia.
Parkinson\'s affects about one in 300 people, according to the Parkinson Foundation of Western Pennsylvania.
Indianapolis-based Rock Steady Boxing is a research partner with the University of Indianapolis\' Krannert School of Physical Therapy. A recent study by the school found that people with Parkinson\'s who did boxing exercises maintained better physical abilities and a higher quality of life than those who did other types of exercise.
"You go beyond the point where it\'s just a normal workout," Mushinsky said.
Bell, who is certified as a Rock Steady trainer, said the program helps him with tremors, fatigue, balance problems and muscle spasms.
He takes an hour-long class with Mushinsky two or three times a week and does the program at home.
The Parkinson Foundation has referred clients to the local Rock Steady program, said Barbara Farrell, executive director.
Maintaining mobility helps slow the progression of Parkinson\'s, but there are a lot of exercise options. Some patients might find boxing is not the right fit for them, Farrell said.