Sport review 4 March 2018
04.03.2018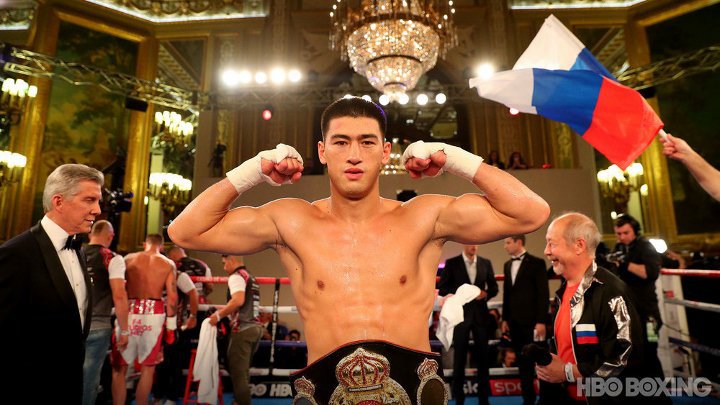 By Vladimir Lik
WBA Light heavyweight champion Dmitry Bivol (13-0, 11 KOs) defeats Sullivan Barrera (21-2, 14 KOs) by TKO in the 12th round at the Theater at Madison Square Garden in New York City. The official time of the stoppage was 1:41 of round 12.
Bivol was in complete control of the bout when a monster right hand on the temple dropped the Cuban-born fighter mid way through the final round. Barrera was determined to beat the count, but referee Harvey Dock deemed Barrera was unable to continue and waived the bout off.
There was a large disparity in punches landed as Bivol connected on 243 total punches of 778 thrown to Barrera's 75 landed and 606 thrown according to Compubox. The singular difference maker in terms of stats appears to be the jab as Bivol landed 97 to only 10 landed by Barrera.
Besides throwing more punches Bivol was more accurate and had more power behind his punches which had Barrera holding on to survive.
"In the first few rounds I was a little reserved," said Bivol immediately after the bout. "However, in the twelfth round I know I could knock him out so I stepped on the gas."
The 27-year-old Bivol established his jab in the opening round and it set the tone for the rest of the bout. Barrera was game but it was clear early on Bivol was on a different level.
An accidental headbutt in round two opened a nasty gash over Bivol's right eye but the upstart boxer remained calm and continued boxing Barrera and landing his left hook at will.
Bivol landed his first heavy-handed shots in the third round rocking the 35-year-old Barrera with a blistering combination leaving the Cuban stunned and resorting to defense to evade Bivol's assault. Another accidental had more of an effect on Barrera this time but at least it muted the Russian's offense as Bivol temporarily eased off the pressure.
Bivol landed another sharp combination in the fourth round punctuated by the left hook again and Bivol had Barrera back peddling, looking for answers. Once again Barrera resorted to playing defense and was relieved to finish the round on his feet.
Barrera began breathing heavily through his mouth in the fifth round whenever Bivol came close Barrera would use his experience and hold on much to the chagrin of the boisterous Russian crowd who wanted to see their man from Kyrgyzstan, who now calls St. Petersburg, Russia home put an exclamation point on the bout.
Bivol had Barrea hurt badly in the eighth and was applying the pressure to get the cagy Cuban out of there. Barrera started letting his hands go essentially fighting for his professional life.
In the twelfth and final round Bivol mounted what would be his fiercest attack of the evening landing big time combinations sending Barrera back and then a missile right hand landed on the mark just in time to close the show for Bivol.
Both men were amateur standout having complied a total of 553 combined wins before turning professional. Bivol won the gold medal at the 2012 and 2014 Russian National Championships before deciding to turn pro later in 2014.
Bivol won the interim WBA title when he defeated Felx Valera In 2016 then last year when Andre Ward vacated the regular WBA title Bivol was awarded the title and defended it in November by knocking out Trent Broadhurt in Monte Carlo.
This bout was the co-feature to the Sergey Kovalev-Igor Mikhalkin WBO world title bout and since Main Events- Kovalev's longtime promoter has a piece of Bivol talks between the two camps for a unification bout in New York City may begin sooner than later.
Badr Hari Shouts "Morocco I love you" After Securing A Major Win
For Badr's fans, this was finally the opportunity to show that he, not Hesday, deserved to win their first confrontation in 2010 when judges decided to disqualify Badr for giving a non-reglementary punch to a fallen Hesday.
So this was no traditional heavyweights' fight; it was the epic second encounter of two wounded lions excited at the prospect of finally settling a common unfinished business, of ending eight years of speculations, of finally deciding who between Badr and Hesday is the best.
But while Badr came to "beat Hesday up, win more fans, and prove that he is in shape and the best", Hesday came to prove that he deserved the win he got nearly eight years ago, "to make Badr quit". No wonder the confrontation turned out to be what it was, what was expected: a scene of "two animals trying to kill each other," as Hesday himself put it before the fight.
But yesterday in Rotterdam, like on countless other occasions, it was Badr who won. And this time, his victory (29-28, 30-27, 30-27, 30-27, 30-27) was unanimously accepted by judges, thus settling down long-running speculations. Badr ot what he's always wanted: to be acknowledged as the best.
When handed the microphone to say what his emotional state was after a major win, Badr, with all his might in his fatigued state, shouted: "Morocco, I love you."
He then went on to spill a litany of countries to which he feels some sense of attachment. "The Netherlands I love you; Italy, I love you; America I love you; Porto Rico, I love you."
He briefly stopped. Wild with emotions, pensive, tired but explosive, he added, with particular attachment: "But I love Morocco the most." At which point Moroccan fans in the audience felt like kissing the heavens, ecstatic and uproarious as the hero they had come to support showed them that their love mattered to him, that their presence was his best motivation.
"As people know, I don't lose revenge," he said, referencing his painful experience during the pair's encounter in 2010. "When you give me a second chance, I beat you up."
But despite the almost explosive self-confidence and the not-so-ideal deeds outside out of the ring for which he is notorious, Badr usually comes across as a likable guy, always ready to acknowledge, in that "exotic" simile that is his landmark, his opponents' qualities. "Hesday is no easy guy. He has a big heart. But tonight my heart was bigger."
After expressing his "big" and unconditional love for Morocco, Badr thanked all his personal fans and Kickboxing fans for believing in him, Glory 51 for allowing him to "come back." He also thanked his family and friends, and especially his father, ending his victory speech in darija, with Moroccan fans cheering him like a national hero–"their Badr."
On Friday, when Badr announced his "big fight" with Hesday on Facebook, a fan commented: "I know this will be a piece of cake for you Badr. We know you will win. Go get Rico after this. We want Rico." After Badr's victory on Saturday night, some fans in the audience were also shouting "Rico", showing that, like the fan on Facebook, they are still harboring enormous grudges against the person who "humiliated" their star in December 2016.
Glory 51, the Rotterdam-based Kickboxing giant, is said to be working on arranging a rematch between Badr Hari and Rico Verhoeven "very soon". When asked about his message to Rico, Badr said: "tonight's fight is his message."
GLORY 51 Main Card (3:30 p.m., ESPN3):
Heavyweight Headline Bout: Badr Hari def. Hesdy Gerges via unanimous decision (29-28, 30-27, 30-27, 30-27, 30-27)
Welterweight Contender Tournament Final Bout: Eyevan Danenberg def. Thongchai Sitsongpeenong via unanimous decision (29-28, 30-27, 30-27, 30-27, 30-27)
Heavyweight: Tomas Mozny def. Daniel Skvor via unanimous decision (29-28, 29-28, 30-27, 30-27, 30-27)
Welterweight Contender Tournament Semifinal Bout: Eyevan Danenberg def. Jimmy Vienot (30-27, 30-27, 28-29, 28-29, 29-28)
Welterweight Contender Tournament Semifinal Bout: Thongchai Sitsongpeenong def. Alan Scheinson via split decision (29-28, 29-28, 28-29, 28-29, 29-28)
GLORY 51 SuperFight Series Card (1 p.m., UFC Fight Pass):
Welterweight Contender Headline Bout: Alim Nabiyev def. Cedric Doumbe via split decision (28-29, 29-28, 29-28, 29-28, 29-28)
Welterweight: Mohammed Jaraya def. Miles Simson via unanimous decision (29-28, 29-28, 29-28, 30-27, 30-27)
Lightweight: Tyjani Beztati def. Anil Cabri via TKO (Rd. 1, 2:17)
Featherweight: Massaro Glunder def. Victor Pinto via unanimous decision (29-28, 29-28, 29-28, 29-28, 29-28)
Middleweight: Kevin van Heeckeren def. Bart Kroon via KO (Rd. 1, 2:48)