EAGLES III – Be The First To Be The Best!!! Official poster.
11.10.2016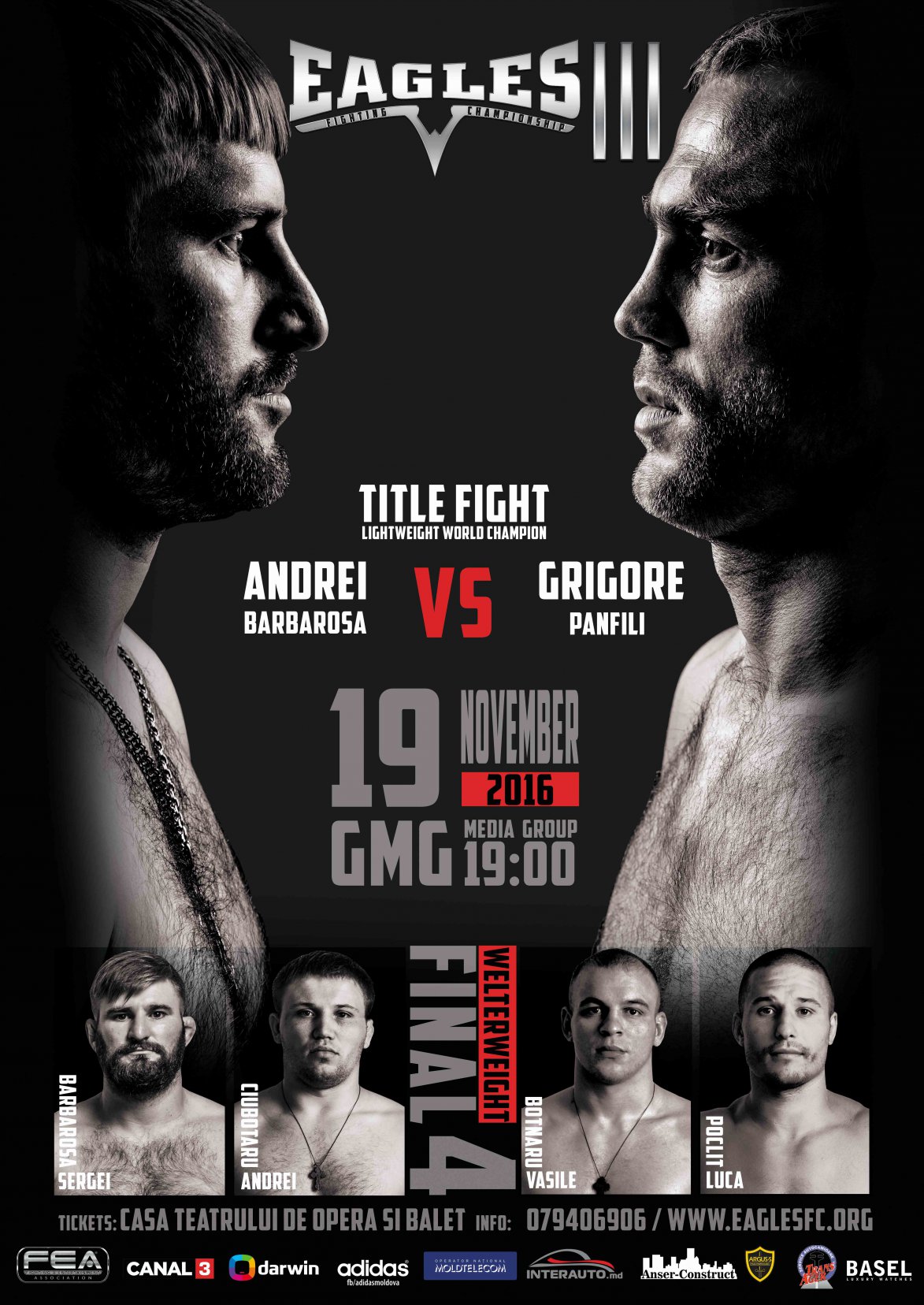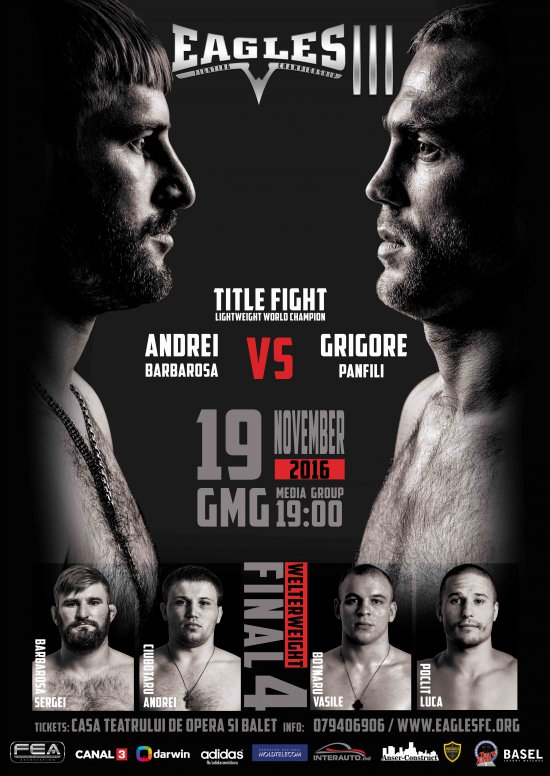 On November 19 will pass the third tournament of the mixed single combats of Eagles III in GMG Media Group. The tournament organized by FEA association on November 19 will consist of two parts. The first EAGLES ELIMINATION will include super duels which winners will be able to apply for title fights in the section EAGLES FIGHTING CHAMPIONSHIP.
The second part of evening of EAGLES FIGHTING CHAMPIONSHIP is the main event including the semifinal four in light-middleweight weight to 77kg and fight for a title and the champion\'s rank in lightweight. It is the real autumn bomb in the world of MMA.
So in semi-finals to 77kg will meet: Vasyl Botnaru, Luka Poklit, Andrey Chubotaru and Sergey Barberosha. Yes, it is the best of the best in the MMA light-middleweight division. And two winners of this four will challenge the right for possession of the champion\'s belt on the EAGLES IV tournament which will take place in the Moldavian capital on February 18, 2017.
And the main event will become title fight between Andrey Barberosha and Grigory Panfily for a title and a champion belt of an easy division to 71kg. All fighters represent different clubs, all have only one purpose – a victory.
And they went to it a lot of time. Years of wearisome trainings at last will bring them to total line, to pass which only that will be able who prepared best of all and more diligent ,who is ready to go all the way and who possesses nerves of steel and the same character.
So dear fans of single combats meet on November 19 EAGLES III!!! There will be official promo of a tournament, and also interesting videos materials and plots soon. Watch news!!!
Tickets for a tournament can be got since October 13th, 2016 in cash desks of National Opera and ballet theater MARIA BIESU. Address of holding tournament: Media GENERAL MEDIA GROUP center. Giocheilor St. 1. Date: November 19, 2016.
Beginning of a tournament: 19:00. Phone of cash desk of National Opera and ballet theater: 022 24-51-04. Operating mode: Tuesday-Sunday from 9:00 till 18:00 (day off – Monday).