FFC 25 Results: Mitchell Submits Lopez, Zhuravlev Stops Fuimaono
13.06.2016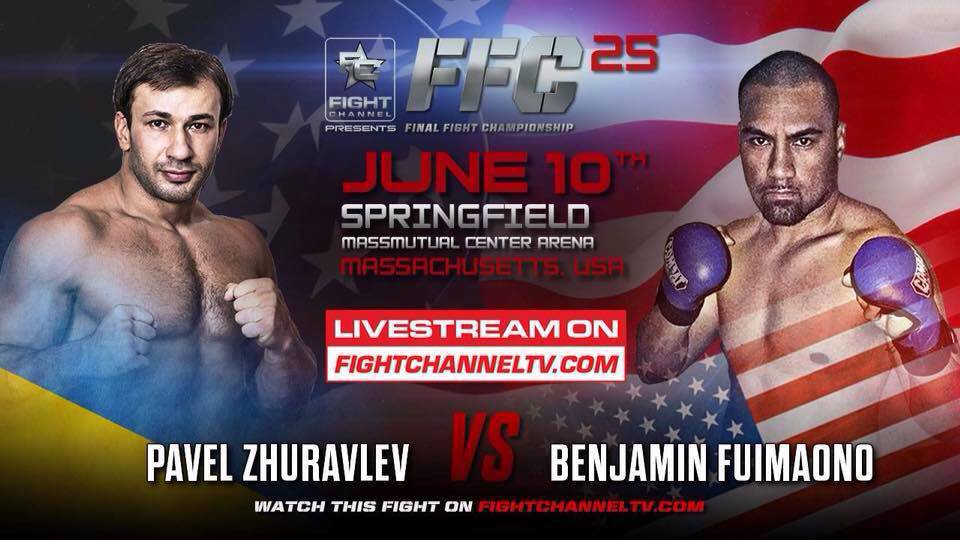 On Friday, June 10, Croatian-based Final Fight Championship returned to the United States following its first event in the country last week. The promotion landed in Springfield, Mass., for FFC 25: Mitchell vs. Lopez.
In the evening's main event, top-10 light heavyweight kickboxer Pavel Zhuravlev fought late replacement opponent Benjamin Fuimaono when Virgil Zwicker pulled out on short notice. Zhuravlev recently won the FFC 95-kilogram title with a third-round knockout of tough heavyweight Brian Douwes.
In the evening's MMA action, UFC veteran David Mitchell submitted RFA middleweight Dervin Lopez, undefeated Legacy FC middleweight champion Leonardo Leite made his FFC debut against Strong Style Fitness Center team member Matt Masterson, and UFC veterans Anthony Njokuani and Leonardo "Macarrão" Mafra locked horns in a lightweight showdown.
MMA:
David Mitchell def. Dervin Lopez by Submission (RNC), R2 (1:09)
Darko Stosic def. Manny Murillo by TKO (punches), R1 (0:56)
Leonardo Mafra def. Anthony Njoukani by Unanimous Decision
Leonardo Leite def. Matt Masterson by TKO, R3 (1:13)
Tyler East def. Dale Sopi – by Submission (Americana), R1 (2:30)
Matthew Wagy def. Paul Webb by TKO (GNP), R1 (3:49)
KB:
Pavel Zhuravlev def. Benjamin Fuimaono by TKO (punch), R1 (2:15)
Denis Marjanovic def. Youssouf Saidi by Unanimous Decision
Donegi Abena def. Maurice Jackson by TKO (punches), R1 (1:10)
Chip Moraza-Pollard def. Aaron Hamilton by TKO (low kicks), R2 (1:41)
Johnny Baldridge def. Cleveland Mclean by Unanimous Decision