Maxim Bolotov vs Benjamin Adegbuyi on tournament RESPECT 19 march Madrid, Spain.
16.03.2016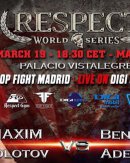 Maxim Bolotov will come to a ring against Benjamin Adegbui within the RESPECT tournament on March 19th in Madrid. The 19th of March will be really the hot day for fans of single combats. For the first time the Moldavian heavyweight Maxim Bolotov will compete with the well-known and titled Adegbui.
Benjamin is known by victory against Pavel Zhuravlyov, and last year competed with Rico Verkhoyeven who is the heavyweight number one. So, Maxim will fight against the most serious opponent in his career.
Bolotov is ready for all 100% and will show good fight. Who doesn\'t risk that doesn\'t drink some champagne the fighter the KOK declared.
The president of FEA Dorin Damir is confident in a good duel of Maxim, and his special peculiar manner of fight, charisma and tactics will surely yield the positive result. In more detail in videoclip.