Sport review 19 feb 2016
19.02.2016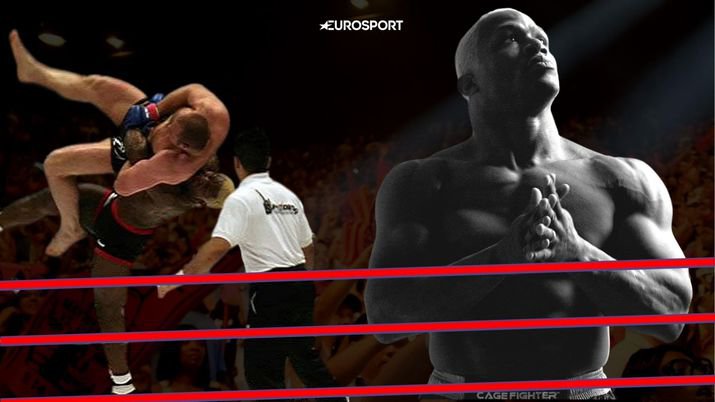 R.I.P. Kevin Randleman
Fight Network reflects on the life of former UFC heavyweight champion and PRIDE stalwort Kevin "The Monster" Randleman. Randleman claimed the vacant UFC heavyweight title by defeating Pete Williams at UFC 23. Randleman notably fought Randy Couture, Chuck Liddell, Fedor Emelianenko, Quinton "Rampage" Jackson and Mauricio "Shogun" Rua. Randleman holds wins over Mirko Cro Cop, Pedro Rizzo and Maurice Smith.
Tito Ortiz: Holly Holm did to Ronda Rousey what Cris Cyborg \'would have done\'
Cris Cyborg would have knocked out Ronda Rousey, too, except Holly Holm beat her to it, according to Tito Ortiz.
Ortiz, a longtime member of Cyborg\'s team and her former manager, told MMA Fighting in a recent interview that he believes Cyborg would have done the same thing Holm did to Rousey had she gotten the opportunity.
"Cris Cyborg is the pound-for-pound best woman in the world, I believe," Ortiz said after Invicta FC 15 on Jan. 16. "Holly Holm did what Cris would have done to Ronda. Holly Holm got that chance. She\'s a great woman champion. But Cris is one of the most vicious fighters in the world."
Holm beat Rousey via second-round head kick knockout at UFC 193 back in November. A fight between Rousey and Cyborg was highly anticipated as the biggest in women\'s MMA history. Cyborg fights for Invicta, but is under contract with Zuffa, the UFC\'s parent company, with the agreement that if she can make 135 pounds she can move over to the UFC.
With Holm defeating Rousey, Cyborg\'s future is uncertain. The Invicta featherweight champion knocked out Daria Ibragimova at Invicta 15 and has dominated everyone in her path for years. Cyborg has not been to decision since 2008 and hasn\'t lost since 2005.
"She just attacks," Ortiz said. "There\'s no woman fighter in the world like her at all. She\'s bred to fight. She comes from Brazil and Brazilians are the toughest fighters in the world. She loves this. This is fun for her."
Few would argue that Cyborg is the best dominant fighter in the world. The big question, though, is her level of competition and who is next. Invicta president Shannon Knapp said she would look into a superfight between Cyborg and Invicta bantamweight champion Tonya Evinger. Ortiz thinks Cyborg just needs to stay the course.
"Just keep giving her fights as the UFC did with Ronda," Ortiz said. "Ronda just kept getting fights, getting fights. The other girls huff and puff and scream and yell. Those are the ones that are the weakest, but they look good for pay-per-view, they look good for interviews. When it\'s fight time, Holly Holm, Ronda Rousey, Cris Cyborg are at the top of the world. The rest of the women are looking up at them."
Maybe a fight between Cyborg and Rousey could still happen. Right now, though, Ortiz said Cyborg\'s team (she\'s managed by George Prajin of Primetime 360 Entertainment & Sports Management) is very interested in a bout with Holm at a 140-pound catchweight. There\'s no longer any chance of Cyborg moving to 135, which is an issue because the UFC doesn\'t have a 145-pound weight class.
"Holly Holm said she would come up and Cris would cut that extra five pounds," Ortiz said. "That extra five pounds is hurting her a little bit, but Cris is willing to do it. Just to give it to the fans. That\'s the kind of fighter Cris is, to give the fans fights. That\'s what she wants. She\'ll fight anybody, man."
She just needs some legitimate opponents to fight.
Deontay Wilder vs. Alexander Povetkin possible for May 21
By Scott Gilfoid: A working date of May 21 is the possible date for the huge fight between the talented 6'7" WBC heavyweight champion Deontay "Bronze Bomber" Wilder (36-0, 35 KOs) and #1 WBC mandatory challenger Alexander Povetkin (30-1, 22 KOs). Deontay had been talking recently of wanting to get the fight against Povetkin over with by April, but it doesn't look like that's going to happen.
However, May 21 is still a good date for the fight. At least it won't get dragged out until the summer months like the Wladimir Klitschko vs. Tyson Fury rematch, which unbelievably still doesn't have a date or a venue after all this time.
Deontay's promoter Lou Dibella told RingTV that the 5/21 date is when they'd like to have the Wilder-Povetkin fight take place, an d they're looking at staging it at the Barclays Center in Brooklyn, New York.
There is a large Russian community in New York that could potentially come see the fight, so that's one of the many benefits of having the fight take place there rather than in Deontay's home state of Alabama.
Deontay just wants to get the Povetkin fight out of the way so that he's free and clear to get the bigger fights against the likes of Tyson Fury and Charles Martin. Deontay can't get to the big money fights until he takes care of the aging 36-year-old Povetkin first.
"I got Alexander Povetkin lined up," Wilder said to RingTV.com. "That's what I know of right now. I want to get Povetkin out of the way."
Some boxing fans see the Wilder-Povetkin fight as a 50-50 affair, as they feel that Povetkin's power, experience and talent will give Wilder problems. To be sure, Povetkin has a nice four-fight winning streak going for him since his one-sided 12 round decision loss to Wladimir Klitschko in 2013.
Povetkin has since beaten Manuel Charr, Mike Perez, Carlos Takam and Mariusz Wach. Unfortunately for Povetkin, none of those guys are named "Deontay Wilder," and none of them have the one-punch power that Deontay possesses. As such, it doesn't matter how many tune-up opponents that Povetkin beats, if they're not named Deontay, then it's all a waste.
All I know is Povetkin looked horrible in his last fight against the 6'7 ½" Wach last November. Povetkin looked too small in the ring compared to Wach, and he was getting nailed by right hands and jabs all night long from the Polish born Wach. If that had been Deontay in the ring with Povetkin, I think he would have been picking himself up off the canvas over and over again.
I don't see any improvement in Povetkin's game since his loss to Wladimir in 2013. If anything, Povetkin looks older, slower and easier to hit. The only thing that's changed with Povetkin is he's faced four easy opponents since that fight to pad his record. Povetkin hasn't improved, and I see him in a lot of trouble when he gets inside the ring with Deontay.
Wilder is coming off of an impressive 9th round KO victory over Artur Szpilka last January in New York. Szpilka was running all around the ring trying not to get knocked out. Finally, Wilder caught Povetkin with a big right hand in the 9th that knocked him clean out. Szpilka was then taken out of the ring on a stretcher.
Gay boxer Orlando Cruz to Pacquiao: Get to know me as a human being
Openly gay boxer Orlando Cruz has reacted to Manny Pacquiao's words against the lesbians, gays, bisexuals, and transgender (LGBT) community.
He invited the eight-division world champion for some peaceful one-on-one and a sparring session to sway Pacquiao to "think differently" after the Filipino boxer's comparison of gays to animals.
READ: Puerto Rico gay boxer Orlando Cruz to marry
"I invite you to meet me to get to know me as a human being first and I guarantee you that you will think differently," Cruz told BoxingScene.com. "Maybe afterwards we can do a sparring session."
"Take care and I will be praying for you and your family."
Pacquiao said that gays are "worse than animals" in an interview which has caused a major backlash around the world.
READ: Gay sportsmen Cruz, Rogers make mark but Collins waits
Cruz, who came out in the open in 2012, said Pacquiao's comments were "irresponsible" and he should not judge people on their lifestyles.
"For [Pacquiao] to say that homosexuals are like animals is very irresponsible," Cruz said. "I'm a homosexual and you don't judge me for my lifestyle."
READ: Magic Johnson commends Nike for axing Pacquiao over gay slur
Pacquiao, a devout Christian, always uses the Bible in his views and he applies it to almost everything and Cruz too used the collection of books to give his insight.
"Jesus said about adulterous women, 'He who is without sin among you, let him throw a stone at her first,'" Cruz referenced John 8:7. "God asks us to love one another unconditionally."
Wanderlei Silva vs Fedor Emelianenko could go down – Check out "The Axe" Murderer's Poster
Wanderlei Silva is pushing any way he can for a fight with Fedor "The Last Emperor" Emelianenko that he's took it to photo-shop on his twitter feed. The fans have a say in this possible clash of champions.
Would you want to see this Rizin fight go down?
Nike cuts ties with Manny Pacquiao after derogatory comments
Nike terminated its endorsement contract with boxer Manny Pacquiao on Wednesday after he made derogatory remarks about same-sex couples.
"We find Manny Pacquiao\'s comments abhorrent," the company said in a statement. "Nike strongly opposes discrimination of any kind and has a long history of supporting and standing up for the rights of the LGBT community."
Based on Pacquiao\'s comments, a spokesman confirmed that he is no longer on the company\'s endorsement roster. Pacquiao, 37, had endorsed Nike for a little more than eight years.
On Thursday, Pacquiao said he respects Nike\'s decision to drop him but stood pat on his opposition to same-sex marriage and added that he is happy that "a lot of people were alarmed by the truth."
Pacquiao\'s original remarks were made to a Filipino television station earlier this week
"Have you seen any animal having male-to-male or female-to-female relations?" Pacquiao said. "If you have male-to-male or female-to-female [relationships], then people are worse than animals."
Pacquiao apologized on Twitter within hours.
"I\'m sorry for hurting people by comparing homosexuals to animals," Pacquiao tweeted. "Please forgive me for those I hurt. God bless!"
In the tweet, Pacquiao had a video message in Filipino wearing a Nike shirt with the special logo the company has for him.
Pacquiao\'s promoter, Bob Arum, CEO of Top Rank, said he understood Nike\'s decision to end the deal.
"Nike is in the business of selling its products to as wide of an audience as they can, and Manny\'s comments were insulting to a lot of people," Arum told ESPN.com. "His comments were made to a Filipino audience, where same-sex marriage is not as accepted as it is here, and Manny is a convert of enlightened Christianity, which does not believe in same-sex relationships. But to people in the United States, his words can only be viewed as hate speech.
"If I was running Nike, I would have to make the same decision they did."
Pacquiao was more of a billboard for Nike, which had its swoosh on his shorts for fights and on his shoes, instead of a true revenue stream. Few Pacquiao items reached the market.
Nike has been more active in terminating contracts of late than at any other time in company history. Over the past four years, it has severed deals with cyclist Lance Armstrong, running back Ray Rice, running back Adrian Peterson and sprinter Oscar Pistorius.
Arum, according to The Associated Press, said Pacquiao\'s message was "diametrically opposed to what I believe."
"I\'m in favor of gay rights and same-sex marriage," Arum said. "I\'m apologetic personally to the gay movement in the United States."
Pacquiao\'s fight against Floyd Mayweather in May 2015 became the richest fight in boxing history, breaking financial benchmarks for ticket sales, sponsorship and pay-per-view buys.
His fight against Timothy Bradley on April 9 is expected to be his last.
This week wasn\'t the first time Pacquiao has been involved in a furor over gay rights. In 2012 he was quoted as saying he was against same-sex marriage because "it\'s the law of God," though he denied implying that homosexuals should be put to death.
An eight-time champion, Pacquiao is the Philippines\' most famous person and most popular athlete. He has represented the Sarangani province in the country\'s House of Representatives since May 2010, though he has drawn criticism for seldom showing up for legislative duties.
Polls in the Philippines show he is a strong contender for a Senate seat, which many believe will eventually lead him to seek the country\'s presidency.
Information from The Associated Press was used in this report.
Ronda Rousey: I thought of \'killing myself\' after Holly Holm loss
UFC fighter Ronda Rousey was devastated following her November loss to Holly Holm.
"Honestly, my thought I was like, in the medical room and I was down in the corner. I was sitting in the corner like, 'What am I anymore if I'm not this?' " Rousey shared on Tuesday's The Ellen DeGeneres Show. "And I was literally sitting there and thinking about killing myself in that exact second."
Holm defeated the 29-year-old fighter with a kick to the head almost one minute into round 2 of the highly anticipated Nov. 14 match. Discussing the loss with DeGeneres brought tears to Rousey's eyes as she recalled her first UFC loss.
WANT MORE EW? Subscribe now to keep up with the latest in movies, television, and music.
"Maybe winning all the time isn't what's best for everybody," the Sports Illustrated Swimsuit Issue cover star said. "Everyone has their moment of picking themselves off the floor and I've gone through several of mine but no one had actually seen me go through it, so maybe I just had to be that example of picking myself off the floor for everyone. Maybe that's what I'm meant for."
Rousey — who went on to host Saturday Night Live in January — said looking up and seeing her boyfriend, fellow UFC fighter Travis Browne, helped her get through the moment, and now she doesn't consider herself a loser. "I really do believe I'm still undefeated," the California native explains, "because being defeated is a choice."