Sport review 3 july 2015
03.07.2015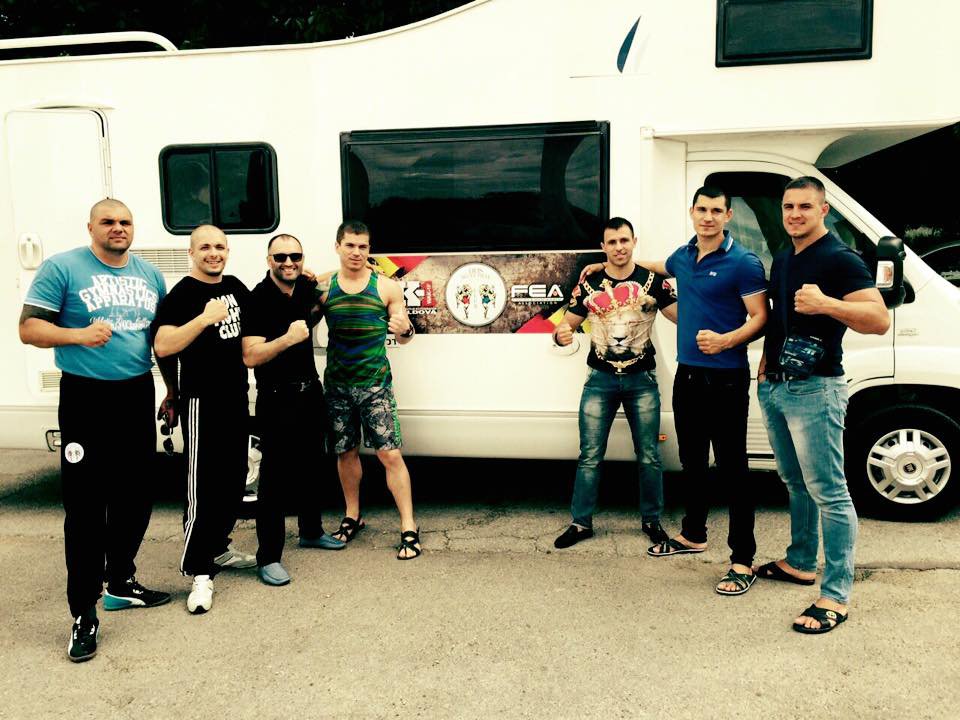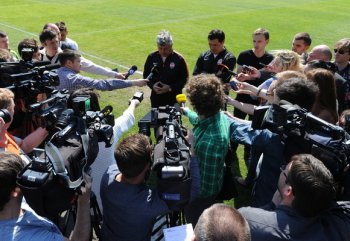 July 2 marks World Sports Journalists Day.
For many centuries sport has united not only individuals and cities, but also states and even continents. Wars stopped, when the Olympic Games started, and resumed, when they stopped. Football, boxing or figure skating would not be so exciting if sports journalists had not come up with their comments. This holiday has been celebrated in 130 countries since 1995 on the initiative of the International Sports Press Association (AIPS). The International Sports Press Association was formed in 1924. Today it unites almost 25 national associations of reporters.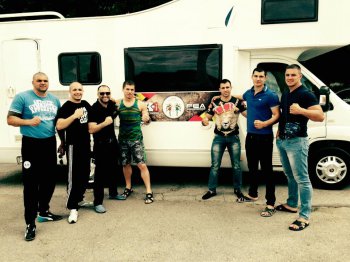 The team of the club Lyon going on vacation.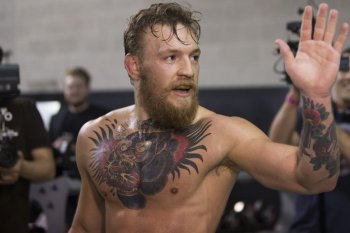 Morning Report: Arnold Schwarzenegger hopes to see \'one of the
greatest athletes of all time\' Conor McGregor join him in Hollywood
Move over, Jean-Claude Van Damme.
Leading
up to a title showdown July 11 at UFC 189, top UFC featherweight
contender Conor McGregor is gaining praise from another action star.
We\'re
still not sure if featherweight champion Jose Aldo will be well enough
to defend the belt, or if Chad Mendes will step in, but Arnold
Schwarzenegger is betting on McGregor, regardless.
"Conor is one
of the greatest athletes probably of all times," Schwarzenegger told
JOE.ie while promoting his upcoming Terminator sequel.
"He has
the right combination of the mind, the body and the talent. The two are
connected so well with him, which I think is so important in athletics
that you believe, 100 percent, in your victory. See it, believe it,
achieve it. That\'s the way it goes. He\'s a great athlete."
Schwarzenegger
says McGregor\'s bravado reminds him of his former self, along with
parlaying a successful athletic career into acting.
"He\'s also a
fun guy to hang out with and he\'s very good at improvisation. He reminds
me a little bit of the way I always was when I grew up in bodybuilding.
The only way you get noticed is if you say outrageous things. He does
that to get noticed and because of that, because he\'s a great fighter
and because of his personality, he now is becoming the hottest ticket.
"His fight will be sold out everywhere and will have the highest viewership."
Formerly the highest-paid actor in Hollywood, Schwarzenegger says he\'d love to see McGregor join him in Tinseltown.
"I
hope so," Schwarzenegger said of McGregor possibly starring in films.
"I think any athlete should always think about beyond their athletic
career. The athletic career only goes so far. You can sometimes push it
into the thirties or maybe get close to forty.
"From then on, it
should really start switching, even if it\'s within your own sport. If he
wants to become a promoter, an actor, commentator, politician or
running a famous charity. I think it\'s great to branch out."
McGregor fights July 11 in the main event at UFC 189 in Las Vegas, Nevada.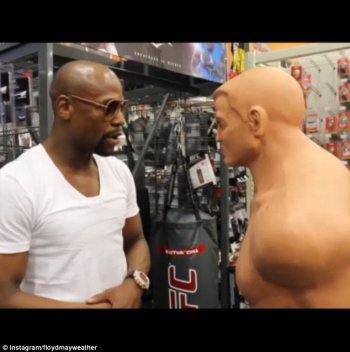 Floyd Mayweather pretends dummy is Manny Pacquiao before asking if its \'little arm is messed up\' and giving it a slap The video showed Mayweather face-to-face with a \'Bob Dummy,\' who he was pretending was Pacquiao, as he made digs about his post-fight excuses. He said in the video: \'So Manny, you out here telling people that I didn\'t win fair and square, that this little arm is messed up, is that right? Huh? Talk to me. Stop playing, stop playing.\' Mayweather still has one fight remaining on his contract but it\'s still to be announced who his next opponent will be.
Amir Khan is desperate for the big-money fight but Timothy Bradley and Andre Berto are also names being mentioned. Floyd Mayweather is clearly still peeved with Manny Pacquiao\'s claims following their $300million mega-fight on May 2. The undefeated fighter beat the Filipino on points at the MGM Grand Garden Arena in Las Vegas, in what was billed as the \'fight of the century.\' Pacquiao has claimed that an injured shoulder prevented him from fighting at his best but he still believes he won the bout.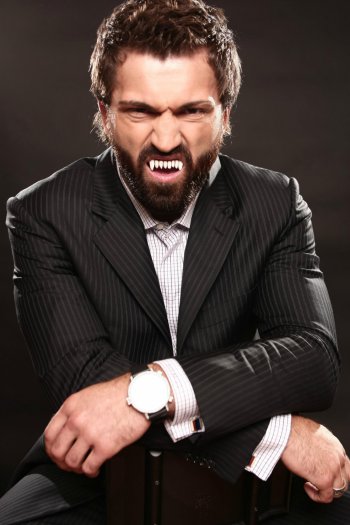 Fabricio Werdum-Cain Velasquez Rematch Happening? UFC News & Rumors Here!
Fabricio
Werdum did mention before that he would be open to a rematch with Cain
Velasquez but the latest word around is that he may not necessarily be
the first in line.
In a previous article, we did mention that
Werdum's coach Rafael Cordeiro believes that Velasquez deserves a
rematch considering his history and what he has given the UFC. However,
it apparently did not follow that the rematch would be at the top of the
list.
In the same post, Dana White did mention two names – Andre
Arlovski and Stipe Miocic – who could be Werdum's next opponent. Of the
two, a match with Arlovski would be interesting since Werdum may want
to avenge his previous loss to the Bealrusian mixed martial artist.
Known
as the Pit Bull, Arlovski won via unanimous decision over Werdum at UFC
170 in 2007. He is currently on a five-fight winning streak and his
momentum could be rewarded with a match against the reigning UFC
Heavyweight champion.
As far as Werdum is concerned, a match with
Arlovski is pretty much welcome. In fact he believes that a second
meeting will render a different result.
"I would like to fight
Arlovski because it was a close fight, a split decision, an ugly fight
that nobody liked, and I think I won. Arlovski next might be a good
idea," Werdum was quoted as saying.
If not Arlovski, another familiar name is being tossed in the mix – Junior "Cigano" dos Santos.
Like Arlovski, Cigano and Werdum have a history.
Back
in 2008, Cigano scored a first-round knockout on Werdum, a loss that
went as far as seeing him being released from his UFC contract.
"I
want this rematch with 'Cigano' because I was not a professional the
first time we fought. Not taking anything away from him. He went there
and knocked me out, and then he won the UFC title. He deserved it. But I
learned a lot with it. That loss changed my entire career," says
Werdum.
From the looks of it, it is turning out to be more of payback for Werdum. But of the two, he prefers to face Arlovski first.
His reason? Arlovsi is a former UFC champion and he believes that the fight will sell.
Mixing
revenge as well as a good selling point sounds well and good as far as
Werdum's next opponent is concerned. So does this mean that Cain
Velasquez may have to wait in line (third to be exact)?
For the second time in less than eight months, Russian striker Sergei "Paratrooper" Kharitonov defeated former M-1 Challenge champion Kenny Garner in a Heavyweight SuperFight, stopping the dangerous American in the opening round this past Friday night in M-1 Challenge 59: Battle of Nomads 5 live on Fight Network main event in Astana, Kazakhstan.
Kharitonov (23-5-0, 13 KO/TKO, 9 SUB) defeated Garner at the 4:11 mark of the first round via punches, setting the stage for a potential showdown with M-1 Challenge heavyweight Marcin Tybura
A pair of promising Kazakh prospects, Shavkat Rakhmonov and Sergey Morozov, gave their fellow countrymen in attendance plenty to cheer about. Rakhmonov (3-0-0, 1 KO/TKO 2 SUB), the 2013 WMMAA welterweight champion, locked in a guillotine choke on Polish welterweight Michael Wiencek (5-3-0, 0 KO/TKO, 2 SUB) only 49-seconds into their fight for a win by submission. In M-1 Challenge\'s inaugural bantamweight fight, Morozov remained undefeated with a second-round technical knockout of the United Kingdom\'s Andy "Naz" Young (6-7-0, 0 KO/TKO, 2 SUB) by way of a spinning back fist and punches.
In two other main event fights, American middleweight Luigi "The Italian Tank" Fioravanti (26-13-0, 10 KO/TKO, 7 SUB) used a rear-naked choke to force a second-found submission of previously undefeated Sergey Kovalev ,(5-1-0, 2 KO/TKO, 2 SUB), while Azerbaijan heavyweight Zaur Hajibabayev (4-1-0, 3 KO/TKO, 0 SUB) punched out Spaniard David Trallero (2-4-0, 2 KO/TKO) in round two.
On the preliminary card, Kazakh welterweight Rashid Dagaev (3-1-0) won a three-round unanimous decision over Daniel "The Gladiator" Tabera (18-8-3), of Spain, Russian lightweight Damir Ismagulov (4-1-0) registered a win by first-round technical knockout (punches) against Spain\'s Pedro Eugenio Granjo (3-2-0), Georgian middleweight Nodar Kudikhashvili improved his record to 10-1-0 with a decision over pro-debuting Ukrainian Aleksander Boyko (0-1-0), Russian light heavyweight Batraz Agnaev (3-0-0) remained unbeaten with a first-round technical knockout (punches) of Ukrainian Anton Pazenko (2-1-0), and Russian middleweight Artem Frolov (4-0-0) used a triangle choke to win by opening round decision over pro-debuting Russian Inshel Erkimbek (0-1-0).
Complete results below:
MAIN CARD
HEAVYWEIGHT SUPER FIGHT
Sergei Kharitonov(23-5-0), Russia WTHO1 (Punches – 4:11) Kenny Garner (16-9-0), USA
HEAVYWEIGHTS
Zaur Hajibabayev (4-1-0), Azerbaijan WTKO2 (Punches – 4:37) David Trallero (2-4-0), Spain
MIDDLEWEIGHTS
Luigi Fioravanti (26-13-0), USA WSUB2 (Reared Naked Choke – 1:56) Sergey Kovalev (5-1-0), Russia
WELTERWEIGHTS
Shavkat Rakhmonov (3-0-0), Kazakhstan WSUB1 (Guillotine Choke – 0.49) Michal Wiencek (5-3-0), Poland
BANTAMWEIGHTS
Sergey Morozov(6-0-0), Kazakhstan WTKO2 (Spinning Back Fist & Punches – 3:50) Andy Young (6-7-0), UK
PRELIMINARY CARD
LIGHT HEAVYWEIGHTS
Batraz Agnaev (3-0-0), Russia WTKO1(Punches – 3:00) Anton Pazenko (2-1-0), Ukraine
MIDDLEWEIGHTS
Nodar Kudukhashvili(10-1-0), Georgia WDEC3 Aleksander Boiko (0-1-0), Ukraine
Artem Frolov (4-0-0), Russia WSUB1 (Triangle Choke – 1:15) Inzhel Erkimbek (0-1-0), Russia
LIGHTWEIGHTS
Damir Ismagulov(4-1-0), Russia WTKO1 (Punches – 2:53) Pedro Eugenio Granjo (3-2-0), Spain
WELTERWEIGHTS
Rashid Dagaev (3-1-0), Kazakhstan WDEC3 Daniel Tabera (18-8-3), Spain