Sport review 26 may 2015
26.05.2015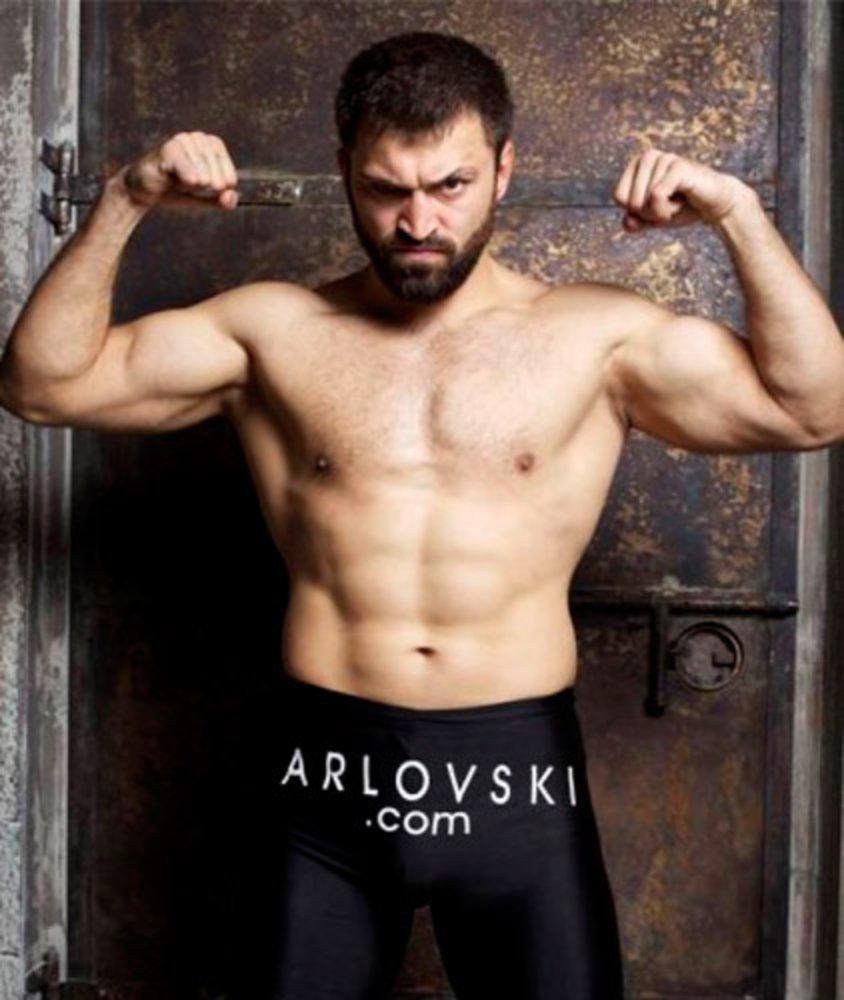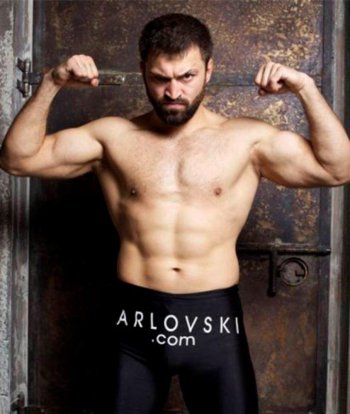 With \'a few more years left,\' UFC 187 upset winner Andrei Arlovski wants to be champ
LAS
VEGAS – Former heavyweight champ Andrei Arlovski came into Saturday's
UFC 187 bout with Travis Browne with a lot of weight on his shoulders.
One
of his training partners, light heavyweight champ Jon Jones, was
stripped of the title and booted from the event in the wake of an
alleged hit-and-run accident.
He was booked to fight Browne
(17-3-1 MMA, 8-3-1 UFC), a man with whom he'd lived for six months in
his adopted home of Albuquerque, N.M. The two trained side-by-side at
Jackson-Winkeljohn's MMA and were close friends.
Then his
longtime manager, Leo Khorlinsky, was hit by a car and suffered several
broken bones. And in the final days before the fight, he suffered a torn
calf muscle that nearly forced him to withdraw from the card.
"I found out after the fight it was actually being discussed to not let me fight tonight," Arlovski (24-10 MMA, 13-4 UFC) said.
Like
the best competitors, Arlovski took all that negative energy and
channeled it into his performance, knocking Browne around the cage and
surviving danger to earn his third straight UFC victory since returning
to the promotion after a six-year absence. The two both earned a $50,000
"Performance of the Night" bonus for a bout likely to earn a spot on
"Fight of the Year" lists.
The fight aired live on pay-per-view at Las Vegas' MGM Grand Garden Arena.
Four
years ago, many were calling – loudly – for Arlovski to retire
following a string of four losses, three by way of knockout. But now,
some are wondering whether he might improbably be in line for a shot at
the UFC heavyweight title.
Arlovski was once considered the face
of the promotion's big-man class in 2005 when he won the interim and
then undisputed belt. He was felled twice by the now-retired Tim Sylvia,
and briefly recovered only to make a precipitous fall.
This go around, Arlovski is making no predictions and asking no one for any special consideration in what comes next.
"One
step at a time," he said. "Somebody is going to call me tomorrow from
the UFC about my next fight, and it's going to be my next opponent.
"Of
course, in the future, I want to be UFC champion, but sooner or later,
it doesn't matter. I can be in line, so I'm good. I still have a few
more years in the UFC."
At 36, Arlovski may never shake questions
of whether he can ever regain his former stature. There are plenty of
tough matchups out there for him, not the least of which champ Cain
Velasquez. He would be a serious underdog in that matchup, and against
most in the division's top-five.
But "The Pitbull" just stopped a
dangerous, if uneven, heavyweight in Travis Browne, and the challenges
are likely to get bigger from here.
"It's totally up to the UFC," Arlovski told MMAjunkie. "I can wait, I can fight forever."
Alexander Povetkin blasts Perez in one, is Deontay Wilder next?
On
Friday, May 22, in Moscow, Russia, former WBA Heavyweight belt holder
Alexander Povetkin (29-1, 21 KOs) stopped highly ranked contender Mike
Perez (21-2-1, 13 KOs) just a minute and a half into their scheduled
twelve round, WBC eliminator contest
The Cuban southpaw was
initially hurt with a "Sasha" straight right hand during the second
minute of the prizefight, and ultimately leveled with a short, compact
shot to the chin shortly thereafter. Although Perez was able to beat
referee Massimo Barrovecchio's count, the visiting pugilist was
ostensibly unable to continue fighting. The third man in the ring
officially called a halt to the bout at the 1:31 mark of the opening
stanza.
With the impressive, first round TKO victory, the 35 year
old Russian native earned the right to challenge newly crowned WBC
champion Deontay Wilder (33-0, 32 KOs), subsequent to the Alabama
native's voluntary title defense against Eric Molina on June 13.
And
while most fight fans and boxing scribes will anxiously await the
terrific match-up, Klitschko head trainer Johnathon Banks advises every
interested party not to hold their breath before the fight becomes a
reality.
Boxing enthusiasts could be waiting a very long time for
this bout to materialize, according to the insightful Heavyweight
contender.
"Although this is a great match-up, don't be surprised
if it doesn't take place any time soon," states the Detroit, Michigan
based fighter. "I can't see the current WBC Heavyweight title holder
defending his title abroad, and I definitely don't see the challenger
fighting outside of Russia in the near future."
Since inking a
three-year promotional deal with influential Russian businessman Andrei
Ryabinsky in February of 2014, the former Olympic Gold Medalist has done
quite well for himself, competing exclusively in Moscow, Russia.
Banks doesn't see the former WBA champion's current situation changing for an opportunity to face Deontay Wilder.
"Povetkin
and Ryabinsky didn't even want to go to Germany to face Wladimir
Klitschko in 2013," professes the knowledgeable, young boxing coach.
"And
he was the universally recognized Heavyweight Champion. Wladimir was
the overwhelming A-side in the match-up, and they still didn't want to
concede."
"They basically made Wladimir an offer he couldn't refuse,
and put down over $20 million to secure venue rights for that fight. So I
just can't see them agreeing to travel to the United States to face
Deontay Wilder anytime soon."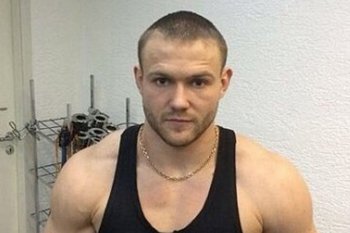 Missing in Novosibirsk world champion in karate found dead
The
body of missing 21 may world champion in karate Kyokushin-Kan Anton
Krivosheev was found in Novosibirsk. On Monday, may 25, reports
"Interfax with reference to the press service of GU Ministry of internal
Affairs in the region.
"The body with damage to the head found
in a plastic bag in the streets of Vysotsky\'s Oktyabrsky district near
the entrance to the holiday community", — said the press officer.
Arrived at the scene by police and investigators. The cause of death will be determined by the forensic examination.
Earlier
it became known that on Thursday, may 21, at around 14:00 local time
(11:00 GMT) Krivosheev left home on a personal Porsche Cayenne. Last
time I talked to him at 14:35. Later he didn\'t answer, and at 21:00, the
phone has been turned off.
The sportsman car was later found on a
street in the Oktyabrsky district of Novosibirsk. The machine was
closed for alarm. The police opened her second set of keys, but neither
the documents nor the mobile phone was not there.
Krivosheev — champion of Russia and world karate Kyokushin-Kan in weight to 65 kg.
In April of 2013, the
Russian mogul made a purse bid of $23,233,330 to host the
Klitschko/Povetkin Heavyweight showdown at "Olimpyskiy" Stadium in
Moscow, Russia, virtually tripling the purse bid offered by K2
Promotions.
So if history repeats itself, and Team Povetkin
throws down another absurd amount of money to secure a WBC title fight
in Sasha's homeland, would the current champ be willing to defend his
title on foreign soil?
Johnathon doesn't see that scenario playing out either.
"I
can't see Wilder's people agreeing to a title defense in
Moscow…especially against a fighter like Alexander Povetkin," claims Mr.
Banks. "It's a great Heavyweight fight…I just don't see it happening."
Would
Deontay elect to ditch the WBC title before agreeing to face the hard
punching, Russian native in his home country? Or would Povetkin's people
be willing to travel to the US for shot at Wilder's coveted
distinction?
The Heavyweight drama will inevitably unfold within the next several months.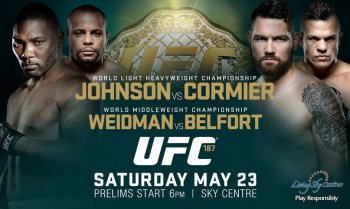 UFC 187 Results: Johnson vs. Cormier
MMA Fighting has UFC 187 results for the Johnson vs. Cormier fight card May 23, plus live coverage from Las Vegas, live blogs of all the fights, and live UFC 187 twitter updates.
In the main event, Anthony Johnson and Daniel Cormier will square off for the UFC light heavyweight title. UFC middleweight champion Chris Weidman will try to retain his title against Vitor Belfort in the co-main event.
Check out the UFC 187 results below.
Main card
Daniel Cormier def. Anthony Johnson via submission (rear-naked choke) (live blog)
Chris Weidman def. Vitor Belfort via first-round TKO (live blog)
Donald Cerrone def. John Makdessi via second-round TKO (live blog)
Andrei Arlovski def. Travis Browne via first-round TKO (live blog)
Joseph Benavidez def. John Moraga via unanimous decision (live blog)
Undercard
John Dodson def. Zach Makovsky via unanimous decision (live blog)
Dong Hyun Kim def. Josh Burkman via submission (arm triangle) (live blog)
Rafael Natal def. Uriah Hall via split decision (live blog)
Colby Covington def. Mike Pyle via unanimous decision (live blog)
Islam Makhachev def. Leo Kuntz via submission (rear-naked choke) (live blog)
Justin Scoggins def. Josh Sampo via unanimous decision (live blog)