Sport review 18 may 2015
18.05.2015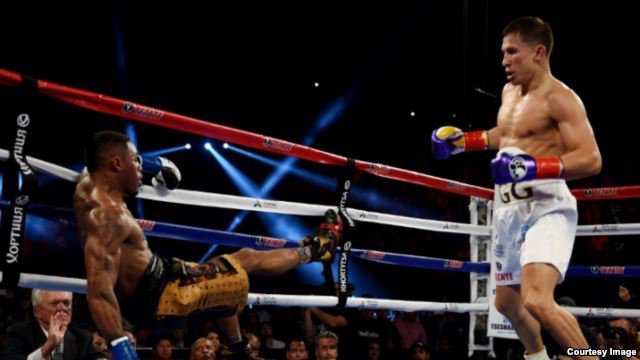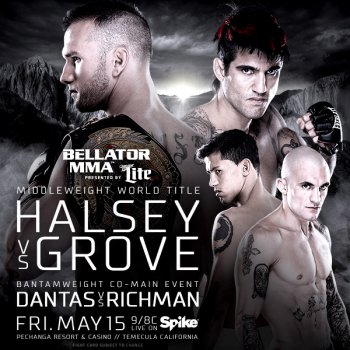 Bellator 137 results
Brandon Halsey had little trouble
dispatching of Kendall Grove in the main event of Bellator 137, but his
victory resulted in a rare situation where a champion won a fight only
to lose his title.
Halsey (9-0 MMA, 7-0 BMMA) failed to make
weight on Thursday night, coming in more than three pounds overweight
for his middleweight title defense with Grove (21-15 MMA, 2-2 BMMA).
Bellator MMA made the dramatic move to strip Halsey of his title. This
meant that, while Grove could win the title should he emerge victorious,
Halsey would leave the cage without his belt, win or lose.
Bellator
137 took place at Pechanga Resort & Casino in Temecula, Calif. U.S.
The main card aired on Spike TV following prelims that streamed live at
MMAjunkie.
Halsey scored with a quick takedown and moved to
mount all in the first minute of Round 1. It took mere moments for him
to attempt to finish the fight with an arm-triangle choke, but Grove
managed to survive the terrible opening. Still, Grove was stuck on his
back for almost every second of the round while the much larger Halsey
smothered and pounded away with heavy strikes from inside the guard.
Grove
opened up Round 2 with some success on the feet but the wrestling game
of Halsey was, once again, the story of the frame. Halsey took Grove
back to the mat and controlled the action while seeing his ground
striking output drop slightly.
Grove was able to tough out some
bad situations, however, Halsey scored with a big right hand that
appeared to rock Grove as Round 4 got underway.
After the big
shot, Halsey took Grove back to the mat and began to pound away with
heavy punches. There was little Grove could do on the ground as it felt
like the finish was creeping closer.
As Halsey continued to drop
heavy right hands to a seemingly defenseless Grove, referee Mike Beltran
was left with no choice but to jump in and call a halt to the fight at
2:25 of Round 4.
Eduardo Dantas takes narrow decsion over Mike Richman
Eduardo
Dantas (17-4 MMA, 7-1 BMMA) charged across the cage to take down Mike
Richman (18-6 MMA, 7-5 BMMA) in their 139 pound catchweight fight. It
was a moment that appeared to encapsulate some animosity from Dantas for
Richman who badly missed weight for the bout, resulting in the
catchweight.
Richman survived the initial onslaught and worked
back to his feet only to be taken down again. The two would yo-yo back
to the feet and ground a few more times in the frame before Richman
began to figure out the takedown game of Dantas and stuff the incoming
takedown attempts.
Round 2 was more to Richman's liking, it
seemed. Much of the fight was contested on the feet with Richman
threatening with a guillotine choke and landing with some big strikes
while Dantas had increasing difficulty scoring with takedowns or
strikes.
The final frame saw both men have success on the feet,
starting with a spinning backfist from Dantas. Richman scored with some
good shots, doing some damage and opening up a cut over the left eye of
Dantas. The round was the closest of the fight and the way the judges
saw it was going to determine who emerged as the victor.
It was good news for Dantas when the fight hit the scorecards as all three judges gave him the nod 29-28.
The victory was Dantas' first since dropping his bantamweight title to Joe Warren at Bellator 128.
Richman had his two-fight winning streak snapped with the loss.
Fernando Gonzalez scores come-from-behind submission
Fernando
Gonzalez (24-13 MMA, 4-0 BMMA) and Curtis Millender (7-2 MMA, 0-2 BMMA)
tried to live up to the on-paper potential of their welterweight fight
from the opening bell, both throwing big strikes from the jump.
As
the much taller fighter, Millender looked to strike from distance while
Gonzalez looked to close distance as he threw looping overhand strikes.
Millender also used straight kicks to the knees and shins of Gonzalez.
Gonzalez
continued to struggle in the second round. failing to work his way in
with tact, instead winging overhand lefts while Millender slipped and
worked from better striking angles and eventually scored with a takedown
and then tagged Gonzalez as he rose to his feet.
Everything came
off the rails for Millender in Round 3. Gonzalez pounced on an
opportunity to pull guard with a guillotine choke and, while unable to
finish the first attempt to get the tap, readjusted and managed to force
Millender to submit.
It was a shocking come-from-behind victory
that showcased a gap in the game of Millender. The submission looked to
be preventable, but he remained in a dangerous position for too long and
paid the price.
The win was Gonzalez's fourth consecutive victory, all four wins coming in the Bellator cage.
Millender has now dropped two consecutive fights, his only two fights in Bellator.
Darrion Caldwell grinds out win over Rafael Silva
Darrion
Caldwell (7-0 MMA, 4-0 BMMA) looked to mimic the success of Joe Warren
against Rafael Silva (22-5 MMA, 3-2 BMMA) to kick off the Spike TV main
card broadcast. Caldwell worked his takedowns from the first round,
fending off the sweep and submission attempts of Silva to remain in top
position where he worked his ground and pound game.
Silva went to
leg lock attempts multiple times in the opening frame but each time
found him back stuck to the canvas with Caldwell using the opportunity
to pass guard.
Clearly down one round coming into Round 2, Silva
looked to keep the fight on the feet until an opportunity presented
itself for him to jump guard while looking to finish a guillotine choke.
Instead of getting the submission, Silva found himself underneath
Caldwell again. He would manage to spend the final minute of the round
on top, holding position and throwing only a handful of strikes from
dominant position.
Caldwell was measured in the early parts of
the final round, not overcommitting to his attack and leaving Silva
frustrated at the lack of opportunities to get back in the fight.
Caldwell would score with a takedown later in the round, holding the
position until stood up by the referee. The stand-up only led to yet
another takedown for Caldwell as he coasted to the final bell.
Caldwell took the unanimous decision, winning the fight 29-28 on the scorecard of all three judges.
The
victory kept Caldwell undefeated and ran his Bellator record to 4-0.
Silva is a tough opponent, having only lost to Warren in Bellator
competition. With the victory, Caldwell steps closer to title
contention.
Official Bellator 137 results include:
MAIN CARD (Spike TV, 9 p.m. ET)
Champ Brandon Halsey def. Kendall Grove via TKO (punches) – Round 4, 2:25
Eduardo Dantas def. Mike Richman via unanimous decision (29-28, 29-28, 29-28)
Fernando Gonzalez def. Curtis Millender via submission (guillotine choke) – Round 3, 1:14
Darrion Caldwell def. Rafael "Morcego" Silva via unanimous decision (29-28, 29-28, 29-28)
PRELIMINARY CARD (MMAjunkie, 7:45 p.m. ET)
Joe Taimanglo def. Antonio Duarte via KO (punch) – Round 3, 1:00
Jordan Parsons def. Julio Cesar Neves Jr. via submission (arm-triangle choke) – Round 3, 4:09
Virgil Zwicker def. Razak Al-Hassan via KO (punch) – Round 1, 3:51
Ricky Rainey def. Jesse Juarez via KO (knee) – Round 2, 1:13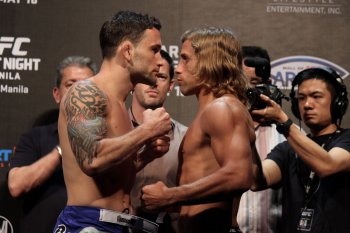 UFC Fight Night 66 Results: Edgar vs. Faber.
MMA
Fighting has UFC Fight Night 66 results for the Edgar vs. Faber fight
card Saturday at the Mall of Asia Arena in Pasay, Philippines.
In
the main event, Frankie Edgar and Urijah Faber will square off in a
featherweight contest. Gegard Mousasi and Costas Philippou face each
other in the co-main event.
Check out the UFC Fight Night 66 results below.
Main card (FOX Sports 1 at 10 a.m. ET)
Frankie Edgar def. Urijah Faber via unanimous decision (50-45, 50-45, 50-45)
Gegoard Mousasi def. Costas Philippou via unanimous decision (30-27, 30-27, 30-27)
Mark Munoz def. Luke Barnatt via unanimous decision (29-28, 30-27, 30-27)
Neil Magny def Hyun Gyu Lim via TKO (strikes) (1:24, R2)
Phillipe Nover def. Yui Chul Nam via split decision (29-28, 28-29, 29-28)
Levan Makashvili def. Mark Eddiva via split decision (29-28, 28-29, 30-27)
Undercard (FOX Sports 1 now)
Jon Tuck def. Tae Hyun Bang via first-round submission (rear-naked choke, 3:56)
Kajan Johnson def. Zhang Lipeng via unanimous decision (30-27, 29-28 x2)
Li Jingliang def. Dhiego Lima via first-round TKO (1:25)
Ning Guangyou def. Royston Wee via second-round TKO (4:59)
Jon Delos Reyes def. Roldan Sangcha-An via submission (rear-naked choke) (R2, 3:13)
Yao Zhikui def. Nolan Ticman via split decision (29-28, 28-29, 29-28)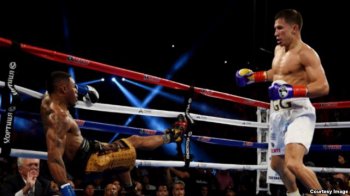 Gennady Golovkin stops Willie Monroe Jr. in 6th for 20th straight KO win
Golovkin
scored three knockdowns and stopped Willie Monroe Jr. in the sixth
round to retain his world title as he continued his reign of terror
across the 160-pound division on Saturday night at the Forum.
Golovkin
(33-0, 30 KOs), who has the highest knockout percentage in middleweight
title history, registered his 20th stoppage in a row as the wild crowd
of 12,372 chanted and cheered his every move.
In retaining his
title for the 14th time in a row, Golovkin tied Hall of Famer Carlos
Monzon for second place in middleweight history; Bernard Hopkins holds
the division record with 20.
"Willie is a good fighter, a tough
fighter. I feel great. My performance was special for you guys,"
Golovkin told the adoring crowd. "This was a very good drama show. This
was for you."
Monroe was the rare fighter who asked for a shot at
Golovkin when no top fighters would accept a fight against him. He
hoped for the upset, the way his great uncle, 1970s middleweight
contender Willie "The Worm" Monroe, had once upset the great Marvin
Hagler. But although Monroe, the winner of the 2014 eight-man,
single-elimination ESPN Boxcino middleweight tournament, showed enormous
heart, he was outclassed by Golovkin, the most feared fighter in
boxing.
Wearing Los Angeles Lakers-colored gloves and trunks,
Golovkin, who recently moved to Los Angeles from Germany with his wife
and son, came out strong in the first round, landing some hard right
hands, backing Monroe up and cutting the ring off on him so he had no
escape. Without seemingly even getting much steam on his shots, he was
physically moving Monroe with his punches.
Golovkin cranked up
the offense in the second round and Monroe (19-2, 6 KOs) didn\'t seem to
know what hit him as he got knocked down twice – hard.
First it
was a left hook that badly hurt Monroe, 28, of Rochester, New York, and
deposited him on the mat as the crowd chanted "Triple G! Triple G!"
Monroe was woozy and wobbly when he got to his feet, and moments later
he was down again from a big overhand right.
"We were both in
motion and he hit me with a good shot," Monroe said. "He is strong.
Golovkin did a good job. He was easy to hit but he takes a good shot."
Golovkin was on the attack for the rest of the second round, staggering Monroe, whose right eye was swelling, with a left hook.
But
Monroe, showing immense heart, not only survived but mounted a bit of a
rally in the fourth and fifth rounds. He caught Golovkin with some
solid punches, but Golovkin took them well.
In the fourth round,
Monroe, whose southpaw style did not remotely trouble Golovkin, even
managed to outland GGG, 33-30, according to CompuBox punch statistics.
"First
of all, I showed him, No. 1, who is the real champ," Golovkin said.
"Second step, I give him a chance and stay here and say, \'Come on bring
it on, let\'s do it.\'
"I knew I did not lose control. This is my big
present for you. Saturday night, this is not five minutes. I wanted to
show my people. Just show them."
Golovkin wanted to extend the fight and give the fans a good show, which he did.
"Gennady
had him out in the second round but it looked like he let him get back
in the fight. He said he wanted the fans to get more of their money\'s
worth and then he broke him down," said Tom Loeffler, managing director
of Golovkin promoter K2 Promotions.
Whatever brief success Monroe
had was short-lived. In the sixth round, Golovkin smashed Monroe with a
right hand during a flurry to drop him for the third time. He made it
to his feet, but was in bad shape.
Golovkin, 33, a 2004 Olympic
silver medalist from Kazakhstan, was on the attack again as Monroe went
into the ropes and took a barrage of left hands to the head, finally
going down to all fours. He made it to his feet again, but leaned
against the ropes and told referee Jack Reiss, "I\'m done," so Reiss
waved it off 45 seconds into the round.
For the fight, Golovkin
connected on 133 of 297 punches (45 percent), according to CompuBox, and
Monroe landed 87 of 305 (29 percent), and there was no doubt that GGG
was the much heavier puncher.
"I stay here. I am the real
champion," Golovkin said. "I want unification. Let\'s go, let\'s do it
guys. Who is No. 1 right now? Bring it on. I will show you."
Golovkin
has not been able to get a top fighter in the ring with him but
desperately wants one to fight him. In particular, Golovkin wants to
face champion Miguel Cotto, junior middleweight star Canelo Alvarez and
eventually super middleweight champion Andre Ward. Cotto defends his
title against Daniel Geale on June 6 and then is likely to face Alvarez
in the fall. Ward returns from a 19-month layoff on June 20 to fight
Paul Smith in a non-title bout.
Without one of the big names
willing to fight him next, Golovkin and his team are planning a busy
schedule. He has already fought twice this year – he also knocked out
top contender Martin Murray in the 11th round in Monte Carlo in February
– and Loeffler said he would return in September, possibly in Mexico,
England or Germany, with a fourth fight back in the United States in
December.
"We will keep doing what we are doing while we try to get a
big one," Loeffler said. "People love to come out and come to see him
fight regardless of who he fights. People just want to see him in the
ring because he is so exciting.
"It\'s not realistic to fight
Canelo until at least next year. [Alvarez promoter Golden Boy says] the
fight needs to be built, but the way Canelo sold 31,000 tickets last
week and the way Gennady sells here in L.A., I don\'t know how much more
it needs to be built."
In the meantime, Golovkin continued to
beat the drums for a big-time pay-per-view fight, one he wants and one
fans are clamoring for.
"I respect Miguel Cotto. Miguel is a
great champion," said Golovkin, who also owns an interim title that
makes him Cotto\'s mandatory challenger. "After this fight, I don\'t know
who wins, but I stay here and wait for my big fight."
There\'s
Alvarez, who knocked out James Kirkland in the third round last week
before a crowd of more than 31,000 at Minute Maid Park in Houston in a
spectacular performance. Cotto would also be a huge fight.
"Canelo?
Not the future – right now I am ready for the big fights," Golovkin
said. "Miguel and Canelo. Right now. Not in the future. I am ready for
the big fights right now. The next show."
As for Ward down the road?
"I respect Andre," Golovkin said. "Maybe right now he is not ready. Right now Canelo and Cotto, then Ward."
Canelo. Cotto. Ward. All really big drama shows.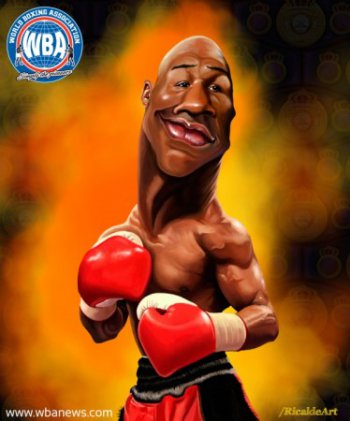 Floyd Mayweather – WBA Boxer of the month 04-2015
Other Boxers of the Month this year were
Darleys Pérez WBA Lightweight Interim Champion Boxer of the Month – January 2015
Gennady Golovkin WBA Middleweight World Champion Boxer of the Month – February 2015
Sergey Kovalev Undisputed WBA/WBO/IBF Light Heavyweight Champion Boxer of the Month – March 2015