Sport review 22 oct 2014
22.10.2014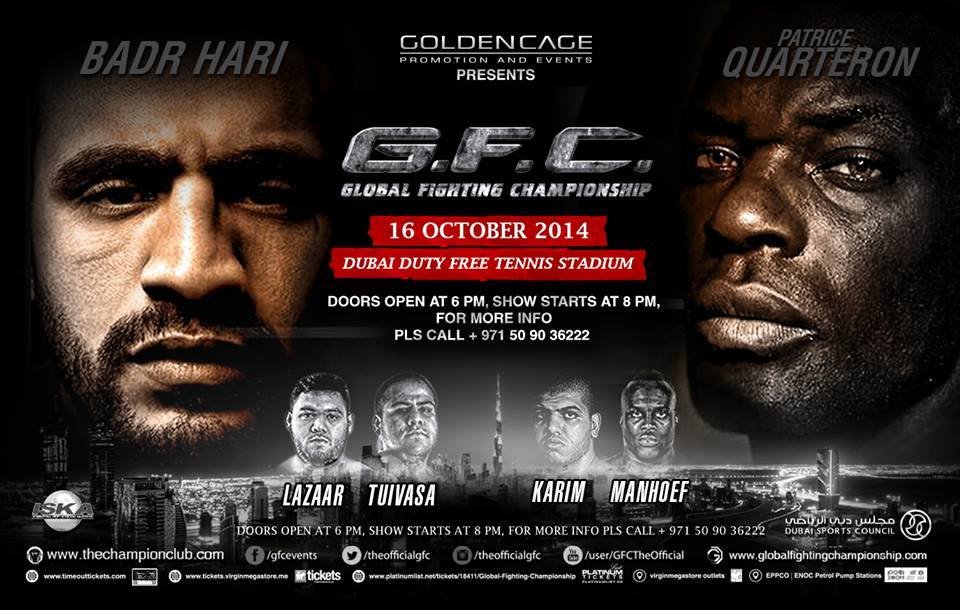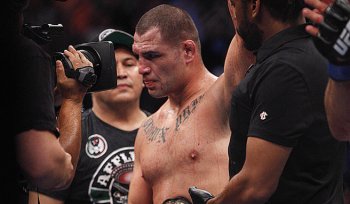 Cain Velasquez out, Mark Hunt-Fabricio Werdum set for interim title at UFC 180
UFC heavyweight champion Cain Velasquez is injured and unable to fight Fabricio Werdum at UFC 180, a UFC official today confirmed to MMAjunkie.
Yahoo! Sports' Kevin Iole first reported that the champ injured his knee and Mark Hunt has stepped in to fight Werdum for the interim title at the pay-per-view event in Mexico City. UFC brass subsequently made an official announcement.
A source close to Velasquez's camp also confirmed the injury and said the fighter injured his right meniscus. Velasquez was benched for several months in 2012 after injuring his knee prior to a TKO loss to Junior Dos Santos at UFC on FOX 1.
UFC 180 takes place Nov. 15 at Arena Mexico in Mexico City. The main card airs on pay-per-view following prelims on FOX Sports 1 and UFC Fight Pass. Velasquez, as a Mexican-American champion, was to be the long-talked about major draw for the UFC for its first event in Mexico.
For Hunt, Velasquez's withdrawal is an improbable turn of events. The 40-year-old former kickboxer went on a four-fight win streak that put him on the radar for a title shot, only to be knocked out by Dos Santos in a title eliminator.
Hunt went on to wage a draw and "Fight of the Year" candidate with Antonio Silva before becoming the first in the UFC to knock out Roy Nelson in a September fight.
Meanwhile, luck continues to elude Velasquez, who's sat out most of 2014 while recovering from a torn labrum he suffered in a third fight with Dos Santos, which he won via decision at UFC 166. The champion suffered a torn rotator cuff in his title-winning victory over Brock Lesnar at UFC 121 and was sidelined for over a year.
The news presents the latest of injury withdrawal setbacks for the UFC, which mounted a Spanish-language version of "The Ultimate Fighter" featuring Velasquez and Werdum as opposing coaches. The promotion booked the fight after Werdum outpointed Travis Browne in April.
With the change, the latest UFC 180 card now includes:
Mark Hunt vs. Fabricio Werdum – for interim heavyweight title
Jake Ellenberger vs. Kelvin Gastelum
Joe Lauzon vs. Diego Sanchez
Dennis Bermudez vs. Ricardo Lamas
Marcus Brimage vs. Erik Perez
Edgar Garcia vs. Hector Urbina
Jessica Eye vs. Leslie Smith
Chris Heatherly vs. Augusto Montano
opponent TBA vs. opponent TBA – "TUF: Latin America" featherweight final
opponent TBA vs. opponent TBA – "TUF: Latin America" bantamweight final
For more on UFC 180, stay tuned to the UFC Rumors section of the site.
W5 Grand Prix Moscow: Sergey Kharitonov vs. Anderson Silva
Croatian boxer knocked Judge (Video).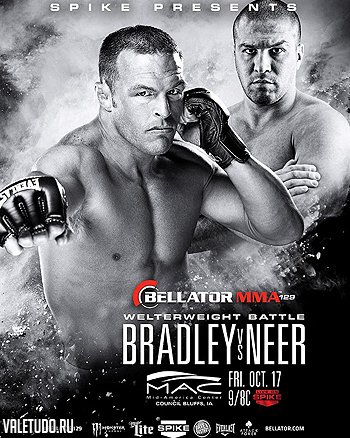 MMA Fighting has Bellator 129 results for the Bradley vs. Neer event Friday night at the Mid-American Center in Council Bluffs, Iowa.
In the main event, Paul Bradley squares off against Josh Neer in a welterweight battle. Houston Alexander faces Virgil Zwicker in the co-main event.
Check out the Bellator 129 results below.
Main card
Paul Bradley def. Josh Neer via unanimous decision (30-27 x3)
Houston Alexander vs. Virgil Zwicker declared a majority draw (29-28 Alexander, 28-28, 28-28)
Andre Santos def. James Terry via unanimous decision (30-27 x3)
Joe Vedepo def. Davin Clark via TKO (strikes) at 2:27 of R3
Undercard
John DeVall def. Chris Lane via submission (triangle) 4:40 of R1
Eric Howser def. Tim Bazer via submission (due to strikes) at 4:11 of R1
Michael McBride def. Kevin Morris via submission (rear naked choke) at 4:32 of R1
Martin Trey Brown def. Bryan Corley via KO (punch) at :42 of R2
Jozette Cotton def.Holly Lawson via unanimous decision (30-26, 30-27, 30-27)
Anthony Smith def. Brian Green via unanimous decision (29-28, 30-26, 30-26)
Victor Moreno def. Marcos Marquez via unanimous decision (30-27, 30-27, 30-27)
More from MMA Fighting
Video: Conor McGregor, Chad Mendes have heated exchange
Daniel Cormier: \'I don\'t feel bad for Alexander Gustafsson at all\'
Royce Gracie: 'Do this rubber guard stuff and I'll punch you in the nose'
An open letter to Georges St-Pierre of Montreal, Quebec, Oct. 2014
Cung Le\'s suspension for elevated levels of HGH rescinded by UFC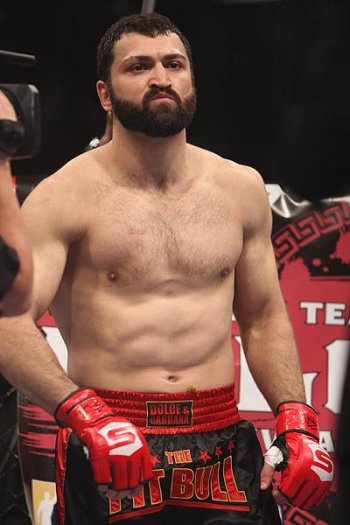 Andrei Arlovski: They wanted to cut my throat and shoot me.
UFC Heavyweight Andrei Arlovski (23-10) who successfully returned to the Ultimate Fighting Championship early this year by winning TUF: Heavyweights Finalist Brendan Schaub and avenged his Strikeforce loss against former UFC Heavyweight contender "Bigfoot" Silva (18-6) talks about his future goals, his recovery time after the last figtht, his Brazilian fans, fighting Sergey Kharitonov and Alexander Emelianenko, starring movies and much more.
– Andrei, first of all congratulations with a spectacular victory. What are your feelings now, when a successful debut in the UFC was replaced with a confident victory over former offender (the first meeting was in May 2010 when "Bigfoot" celebrated a unanimous decision victory) at his homecountry?
– Most importantly, I now feel – this moral satisfaction. I longed for a victory after the first defeat in a fight with Silva, and went to Brazil with only one thought – the victory. Winning not only a rehabilitated me, but it seriously helped up in the rankings. Now I look forward with optimism to the next, I\'m sure at least, interesting fight.
– After defeating Silva you were on the list of fighters who can get long-term medical suspension. According to the Brazilian athletic commission you have seriously injured your wrist.
– Add also to this my left shoulder and my back … on October 24 I am scheduled for operation. As the doctor promised, after six weeks I will be able to return to full training.
– In this case, when can we expect your return to the Octagon?
– If all goes according to plan, at the end of February or beginning of March, I will fight again. Much will depend on the UFC, in particular the choice of the event and fighters remains up to the matchmaker.
– Who do you want to fight next?
– I do not care with who to fight. For example, I was offered the fight on November 10 in New Zealand against a local fighter Mark Hunt. Who knows, maybe his candidacy will be available until my return to the business.
– After winning in Brazil you showed a rude gesture to Brazilian crowed. What do you mean by that?
– The gesture was addressed to a particular fan who gestured in my address, who said that they will cut my throat or shoot me. Anyway I should not have done it, I was just about emotions. Like it happens to me first time, I never did it before. I hope in the future this will not happen again.
– Did you target Silva\'s head, or was it a lucky punch?
– I connected with a short right, and then immediately went to finish him. Of course it wasn\'t a lucky punch. My boxing skills came in handy in this match.
– What did "Bigfoot" Silva say to you after the fight, was he angry for your finishing strikes?
– Antonio Silva left a good impression, he behaved with dignity. I told him, "It\'s nothing personal, we\'re in this business, someone wins, someone is not." He understood me, we shook hands and wished each other luck in the future.
– The rematch with Silva is done, do you consider any rematches with the other guys? For example, Russian Sergei Kharitonov who knocked you out in the first round? (at Strikeforce Heavyweight Grand Prix)
– Did Kharitonov sign with the UFC? If that happens, I am very happy to fight him. And this applies not only Kharitonov, but also many other fighters, whom I\'ve lost to at different times.
– Speaking beyond the UFC and to speculate on possible fights, in particular meetings with Alexander Emelianenko, who once avoided to fight with by the rules of boxing. Now would you be interested in this fight?
– Definitely not. Before, two years ago, this meeting was really interesting. Now times have changed, and this fight is no longer relevant.
– How long are you planning to perform at this high level?
– I do not know. Now, thank God, everything is getting better. I don\'t even think about retirement.
– What brings you to Moscow, meeting with friends or a business meeting?
– Both. Kamil Hajiyev (Fight Nights CEO) and Batu Hasikov (co-founder of Fight Nights) made ​​me an offer to star in a movie, so I\'m here. Details I do not know yet, but I think in the near future I will tell you all.
– How do you feel about the UFC President Dana White, do you think he is an honest man?
– I think Dana White is a sincere person. Everything he does is coming from his heart. If he doesn\'t like something, he can express his point of view, even in a hard form. Dana White never says something in a temper, he will think several times before giving his answer to a particular question.
– How often do you visit your homeland (Belarus), particularly in your native Bobruisk?
– I try to come home after each fight. In a year, three or four times.
– How is your dog Maximus, how old is he now?
– Eight years. I miss him, as my child and wife.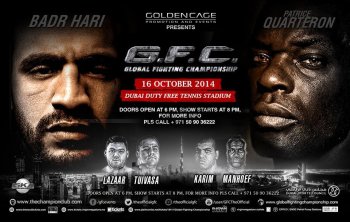 Badr Hari beats Arnold Oborotov in GFC 4's event in Dubai.
Dutch-Moroccan former K-1 heavyweight champion Badr Hari beats Lithuanian heavyweight Arnold Oborotov at the Global Fighting Championship 4 in Dubai, United Arab Emirates on Thursday night.
Also watch: Moroccan boxer Badr Hari strikes in Dubai to win 1 million dirhams