BELLATOR 121 RESULTS
09.06.2014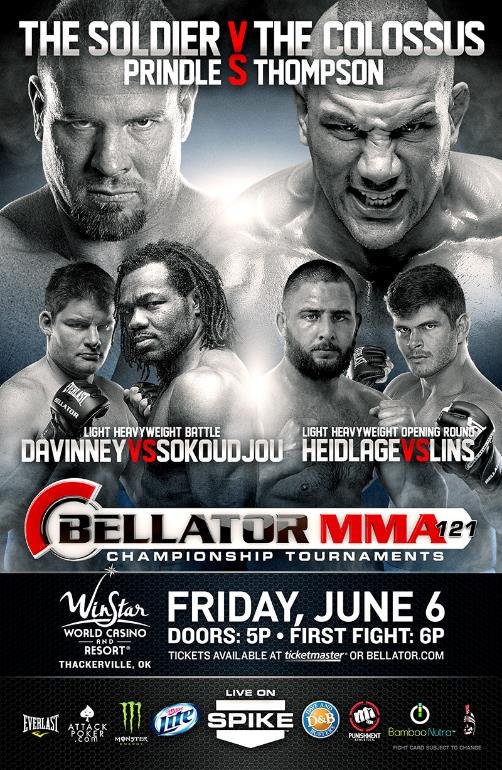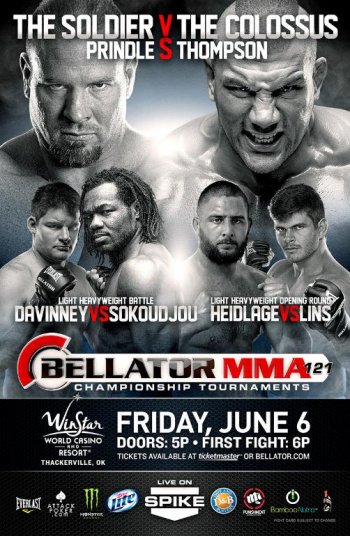 205 lbs.: Philipe Lins def. Austen Heidlage via submission (rear naked choke) at 2:45 of R1
265 lbs.: James Thompson def. Eric Prindle via technical knockout (punches) at 1:55 of R1
205 lbs.: Rameau Thierry Sokoudjou def. Terry Davinney via submission (rear naked choke) at 4:16 of R1
205 lbs.: Egidijus Valavicius def. Carlos Eduardo via split decision (29-28×2 28-29)
SPIKE.COM "PRELIMS" UNDER CARD
205 lbs.: Kelly Anundson def. Rodney Wallace via unanimous decision (30-27×2, 29-28)
185 lbs.: Joe Vedepo def. Cortez Coleman via majority decision (29-27×2, 28-28)
145 lbs.: Stephen Banaszak vs. Treston Thomison
170 lbs.: William Florentino def. Guillermo Martinez Ayme via split decision (29-28×2, 27-30)
140 lbs.: Steve Garcia def. Cody Walker via knockout (punches) at 0:39 of R1
190 lbs.: Bubba McDaniel def. Matt Jones via unanimous decision (30-27×2, 30-26)
205 lbs.: Ray Sloan def. Jamelle Jones via submission (rear naked choke) at 0:48 of R1
BELLATOR 121
205 lbs.: Austen Heidlage vs. Philipe Lins
Round 1: Both out orthodox. Heidlage opens up with a hard leg kick. Another from Heidlage, but Lins comes forward and misses. Heidlage swings and misses. Lins lands with a left, but misses with the right. Good combos from Lins. Heidlage goes to clinch, but the Brazilian trips him and takes the back. Heidlage trying to get up, and Lins holds on with a standing body triangle. Heidlage has Lins on his back against the fence, and the American looks at the referee. Lins smiles. Lins just waiting for an error he can capitalize on. Lins looking for the choke. He gets the right arm underneath, and after waiting patiently, he sinks in the choke. Heidlage almost passes out. Anyway, he tapped and the fight\'s over.
Final result: Philipe Lins def. Austen Heidlage via submission (rear naked choke) at 2:45 of R1

265 lbs.: Eric Prindle vs. James Thompson
Round 1: Both out orthodox, keeping their distance. Thompson comes forward and lands a takedown right away. They\'re close to the fence. Prindle controlling Thompson\'s head from the bottom, and while Thompson in side control, Prindle attacks with a toehold, but Thompson easily escapes. Thompson in side control, landing punches. Prindle is covering up well, and Thompson starts kneeing the body. Prindle is turtling up, while Thompson keeps the pressure on. Thompson landing some big punches, and Prindle isn\'t answering. The referee steps in and that\'s it.
Final Result: James Thompson def. Eric Prindle via technical knockout (punches) at 1:55 of R1

205 lbs.: Terry Davinney vs. Rameau Thierry Sokoudjou
Round 1: They touch gloves, and both are out orthodox. Davinney presses forward and misses a punch, while Sokoudjou makes him spin with a leg kick. Davinney goes for a takedown and lands it, but Sokoudjou using his Judo base to stay on top of his foe. Sokoudjou drills him with some punches to the head, and he\'s trying to turn him away from the cage. Sokoudjou is up while Davinney is holding on. He lifts Sokoudjou up and takes him down, but he\'s stuck in the full guard. Davinney not doing much from the top, while Sokoudjou is ready to clock him if he tries anything. Sokoudjou works his way out of it, and is now in side control. He laces him with some big punches, elbows and keeps decking his opponent with crushing left hands. Davinney flat on his back, with his left arm trapped underneath his adversary. Sokoudjou is now sitting on top of him, and gets full back mount. Sokoudjou punching, and locks in a rear naked choke. Davinney taps, while showing heart for not giving up.
Final result: Rameau Thierry Sokoudjou def. Terry Davinney via submission (rear naked choke) at 4:16 of R1
205 lbs.: Egidijus Valavicius vs. Carlos Eduardo
Round 1: Just to let you know, Valavicius will be knows as "Vala" in this play-by-play. Ok, here we go. They touch gloves. Both are hesitant to engage. Vala opens up with a leg kick. Jab from Vala, but Eduardo takes him down and he\'s got him down near the fence. Vala makes his way back to his feet, yet his opponent is sticking on. Vala rolls for a kneebar, and now the Brazilian is in half guard. The Brazilian isn\'t doing much, since Vala isn\'t letting him pass. Eduardo takes the back as his foe tries to get back up, looking for a rear naked choke. Vala is landing with punches, even though his opponent is behind him. Eduardo transitions and almost locks in an arm triangle. The Brazilian is in full mount now, content with landing some shots here and there. Eduardo opens up with punches, but Vala reverses and now he\'s in the Brazilian\'s guard. He\'s working the body, looking for an opening somewhere. Vala gets up, and says screw that, basically. Back on their feet, Eduardo has a punch blocked while Vala stalks his foe until the bell.
Round 2: Vala threatens with a jab, while Eduardo is looking to land right hands. Vala mixing it up with kicks, while Eduardo misses a combination. Vala goes high, and Eduardo takes him down. Vala gets right back up. Some nice jabs from Vala back Eduardo up. Eduardo comes forward by attacking the body, but he\'s having trouble getting on the inside. The Brazilian goes for a takedown, and Vala stuffs it but gets a warning from the referee for grabbing the cage. Nice left hook lands for the Brazilian. Eduardo misses with a right hand. Eduardo eat a jab, and works hard for a takedown. He secures it, but Vala flips him over and walks away after landing a punch. Vala lands a solid right hand. Good left from Eduardo in an exchange, and Vala presses forward. They come together, with the Lithuanian landing a knee. Vala is cut over his right eye. They trade jabs to end the round.
Round 3: Vala needs to clear up some Vaseline out of his eye before the round. Replay shows it was caused by a headbutt. Eduardo goes for a takedown, yet his opponent stuffs it again. A left hook lands from Eduardo, who continues to trade viciously. Another takedown stuffed by the Lithuanian, who\'s bleeding out of his eye. Vala stuffs another takedown, and continues to stalk his adversary. Vala with a low kick, followed by a sloppy trade of strikes from both guys. They look tired. Vala lands the jab, and lands a serious left hand when the Brazilian tries to tie him up in the clinch. He chases him down, but he doesn\'t do anything risky after trying to land big blows. Vala keeps coming forward, avoiding Eduardo\'s huge punches. Eduardo hasn\'t been attacking with combos, and gets another takedown stuffed. He remains on the floor, asking his foe to come into his guard. Vala kicks his thighs and walks away. Back on his feet, the Brazilian is back peddling, while Vala presses forward with punches and a flying knee that just misses.
Final result: Egidijus Valavicius def. Carlos Eduardo via split decision (29-28×2 28-29)