Interview with Sergei Kharitonov
30.04.2014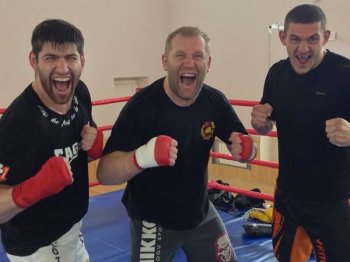 Preparing for the upcoming battle took place in a period of two weeks. It was enough time?
Of course, two weeks – it\'s not enough We chose a height of 2200 meters in the mountain village Terskol there and worked over this period. I feel fine.
What is different about training in the mountains?
In the mountains, load in two or three times more, because the more difficult to breathe due to oxygen starvation. So we made a good start for the next fights. Well, the main thing now tune in and spend a duel in America.
How fast is your opponent?
We must be realistic. Silva clearly faster younger, but I have experience.
Recall that the Moldovan heavyweight fighter Maxim Bolotoff been sparring partner of Sergei.