Wladimir Klitschko has once again defended their titles
29.04.2014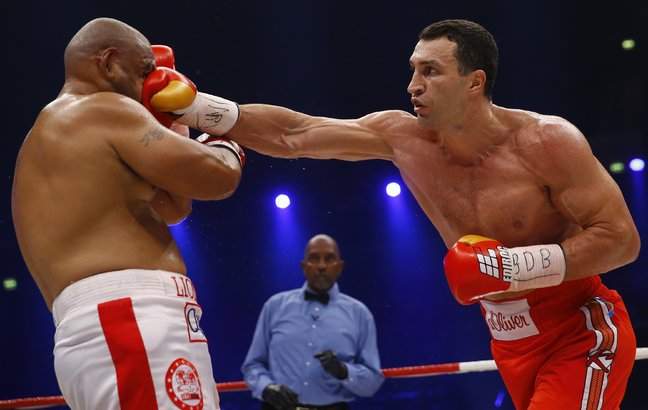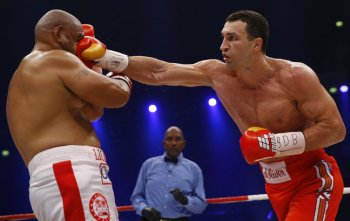 Despite what was at stake as many as five championship belts, interest were only three of them – WBA, IBF and WBO. Time owned Leapai – WBA Asia-Pacific region – a third-rate, however, as does its owner, ranking at the end of the second ten of the world rankings. It was enough to look at the statistics Aussie to understand his level – thirty wins, four defeats, three of them by knockout, and three fights, he brought in a draw.
It is clear that such a dream boxer to fight with the undisputed champion of which only some 52 knockout wins, anyway, that dream the flight to the moon. But after defeating Denis Boytsov Leapai all of a sudden become the mandatory challenger, and just all of a sudden Klitschko team very quickly confirmed its willingness to hold Ukrainian mandatory title defense. Although last year, before there was a struggle with the other mandatory challenger – Alexander Povetkin – negotiations were very long and until the appearance on the scene of Andrei Ryabinsky with its millions of dollars and it was not clear whether this fight will take place or not.
For example: Bulgarian Kubrat Pulev two years is the intercontinental champion, IBF and number one contender in the ranking of the organization, but something far nothing has been heard, at least at the level of rumors about any management arrangements Klitschko and bullet on mandatory title defense.
For comparison Leapai won Boytsova November 23 last year and February 3 already signed a contract to conduct an Australian fight with Klitschko. The whole process took a little over two months – amazing efficiency. Povetkin and bullet is not even dream: the first one is gone for registration of rights to a championship fight for several years, and a bullet is still unknown how long it will stand in line and do not know with what the final result.
How can we explain such responsiveness in the case of Leapai? Only that the meeting with, so to speak, the "enemy" Klitschko is not threatened by anything – he could not lose by definition, since the Australian inferior to him in all respects. Physical data, experience, support for the German public, for which the Klitschko brothers have long since become his – everything was on the side of absolute champion. So when we went into the ring, he risked nothing but money earned traditionally good.
The German public shaft knocks on Klitschko fights, while it does not matter who the opponent – Mike Tyson or anyone unknown Australian, the existence of which three months ago was known only to specialists, but does not really the thousands of German burghers, who came to take a look at how their champion Klitschko will beat any overseas geezer who dared to step in the ring with the greatest of the greats.
course, he can hardly be called a duel otherwise, except as something like sparring. Leapai already from the first seconds of the fight showed that he was no match for Klitschko in the first round, he was on the floor, absolutely nothing in the ring are not shown, except for some ridiculous poluprisede and attacks from a position bent double. Klitschko played with him like a cat with a mouse until the fifth round, then knocked. He had to provide almost native German public at least some sight? Klitschko and provided, having another "champion" fight, which is nothing but anguish and sadness did not cause and could not call.
Thus, when Klitschko completely rivals such as former cancer patient Francesco Alex Leapai or get drunk, it becomes difficult to say something about his skill level. If a boxer is constantly met with frank "bags", he-he is at what level? After growth of skill in boxing comes from meetings with strong opponents, and if reason logically, the perennial meeting with obviously weak opponents must inevitably lead to degradation.
Although, apparently, Klitschko seriously believes that to continue to grow he had nowhere and he has long reached every conceivable vertices. After all, he is the undisputed champion, and not someone else. Interestingly, would look like an absolute champion, going to fight even against another absolute champion, such as for example, Lennox Lewis, but at least against Andrew Golota and Riddick Bowe during their heyday? Something tells us that meager arsenal, whom Klitschko speaks clearly would not be enough to defeat such opponents. With them a lot of jabs not naboksiruesh.
Unfortunately, in recent years heavyweight division literally degenerated. Time such striking champions like Tyson, Holyfield and Lewis have passed and been replaced by a so-called "era of Klitschko." Probably the most boring and little interest in the history of time heavyweight division. Because of the great sportsmen took place businessmen. And "fight" with Liepaja is the best proof.
But the saddest thing is that this situation can go on for years and Klitschko will take the ring, not when there are worthy opponents, which still need to try to get to the championship fights and when he wants it. And it can happen like in three years, and ten years later.