Runets Kiryll vs Ionel Sergiu EAGLES MMA CHAMPIONSHIP FIGHT.
27.11.2013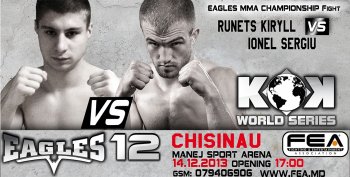 Kiryll Runets vs Serghei Ionel EAGLES MMA CHAMPIONSHIP FIGHT.
In a fight under MMA rules a Belarusian athlete Kiryll Runets will enter the ring and will fight against our Moldovan fighter Serghei Ionel. The weight category of the fight is up to 71kg. The Moldovan fighter Serghei Ionel was the participant of the tournament OPLOT where he confronted a very experienced fighter. Serghei trains with the club LION MUAY THAI under the guidance of Vitaliy Matei. The fighter Kiryll Runets from Belarus has previously participated in 2 MMA fights, one of which he lost.