Emelianenko made ??a drunken brawl on board
12.11.2013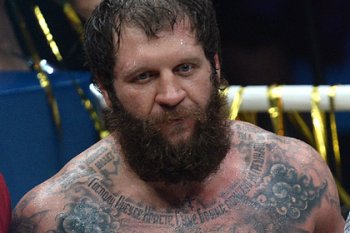 Federation of mixed martial arts Tyumen region almost terminated the contract with the Russian fighter Alexander Emelianenko , who the day before the competition arrived in Tyumen in a drunken state and made a riot on board the aircraft.

Immediately after landing, the famous Russian fighter flew in Tyumen in advance to prepare for a fight with American Eric Prindlom , came to the police station . Application to bully wrote stewardess complained that the athlete not only that smoking on board , so more and insulted her .

General President of the Russian Federation Tyumen branch of the MMA – Mixed Martial Arts Federation Elena Mukhamedshina confirmed that on November 10 , Alexander Emelianenko arrived in Tyumen under the influence. The host country was extremely dissatisfied defiance athlete , and was thought to terminate the contract , but was unable to reach an agreement .

– I myself was not on board , did not see what was going on because I can not do this due to truthfully say – told "RG" Elena Mukhamedshina . – Alexander lit during flight e-cigarette, and where the conflict began . Written as a flight attendant application I also did not see. I can only say that the contract is not terminated with an athlete and a fight that promises to be a highlight of the program will be held . We agreed that Alexander would take myself in hand and act with dignity , because his American rival is now very serious about fitness . Alexander has promised that this will not happen again , that in the time remaining before the fight , and the fight is scheduled for December 22 , pick up a form . I think that if he \'s the man , the word keep . Prior to that, he had problems with alcohol, but he flew to Tyumen almost six weeks before the event to pull myself together and recover. These two days are exactly the athlete did not drink alcohol . This morning he started training. He began with a jog . Trainings will be held twice a day.

Fans athlete meanwhile condemned the behavior of their idol. " I do not know of one . Would like to have Russian nation was an idol – a strong , courageous, self-respecting yourself and others , your home , possibly intelligent . And expectations are not met . Obtain a Neanderthal with no brakes . Which can then be respect for our people ? Here and stamp – alcoholics , bears … Sorry , sorry ! " – Written by one of the fans of the athlete on an Internet forum .

By the way , this is not the first time such a trick of Alexander Emelianenko. In March of this year, the athlete was fined for similar behavior on board aircraft, " Moscow- Barnaul ," and a few weeks ago, disgraced , beating a pensioner in a Moscow restaurant .