LEGEND "PART 2: INVASION" FIGHTING SHOW FIGHT CART, November 8, 2013:
05.11.2013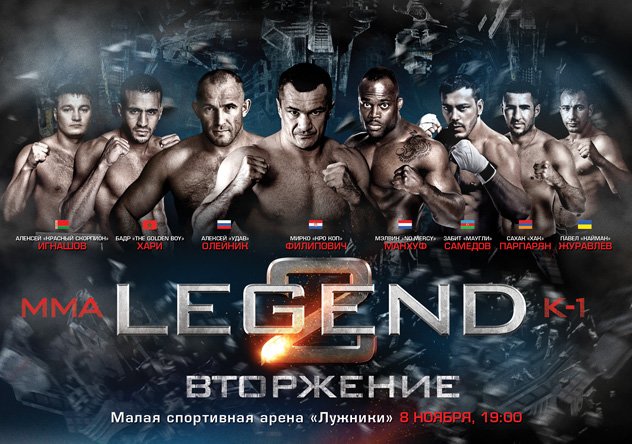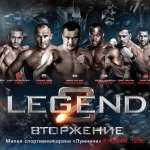 The second edition of the LEGEND Show headed "Part 2: Invasion" will be held on November 8, 2013 at the Luzhniki Minor Sports Arena in Moscow.
The fight between the well-known Russian heavyweight Alexey "The Boa Constrictor" Oleinik and the MMA and K-1 legend, Croatian striker Mirko "Cro Cop" Filipovic will be the focal point of the night.
Alexey Oleinik, who has replaced Alexander Emelianenko in this bout, is a professional mixed martial artist nicknamed "The Boa Constrictor" who has fought at М-1 Global, KSW, BodogFight, YAMMA Pit , Bellator Championships, as well as at grappling and combat sambo tournaments. Just a little while ago Oleinik faced Dion Staring and defeated him. In June 2013 Alexey Oleinik defeated Jeff Monson. Today Alexey Oleinik is in top shape, he is training with world stars Badr Hari and Alistair Overeem, and he is one of the few Russian heavyweights who is well prepared to demonstrate a truly spectacular and competitive fight with Mirko "CroCop".
Another teaser in the MMA fights is the bout between the British knockout artist Paul "Semtex" Daley and the Novgorod "finisher" Alexander "Bad Boy" Yakovlev. Last July Daley, who is always dangerous in standing position, knocked out Lukasz Chlewicki, and last April Yakovlev, an experienced tactician, defeated Murad Abdulaev on points.
«Combat Sports Club No 1» prodigy, Eduard "Lion Heart" Vartanyan will meet the French submission master Floren Betorangal. Vartanyan skunked Sergey "Honda" Khandozhko from "Р.О.Д.Ъ." Club in the first edition of the Legend show ; in November Eduard will have to test himself in his bout with the dangerous European grappler.
K-1 fans will also have a sight worth seeing.
Romanian heavyweight Andrei Stoica will have a rematch with the spinning up Croatian prospect Agron Preteni. Their first bout at K-1 World GrandPrix in 2012 in Zagreb was very close; the fight in Moscow will have to set the record straight.
Warren Stevelmans, South African kickboxer from the Netherlands, champion of K-1 MAX 2008, who defeated Dzhabar Askerov at a tournament in Italy in 2012 and was the winner of the first LEGEND in K-1 Grand Prix last May, will face Chingiz Allazov fighting out of the famous Chinuk who, in spite of his young age (20 years old) is a 5 times world champion and is considered to be one of the most promising kickboxers in the world.
And, of course, the much-expected comeback – Moroccan heavyweight Badr Hari, whose defeat to Zabit Samedov was a sensation, will perform in Moscow again. In November the notorious "Golden Boy" will fight with the true K-1 legend, the titled knockout master from Belarus, Alexei "Red Scorpion" Ignashov.
LEGEND Promotion has the pleasure of presenting to you the participants of the K-1 heavyweight (under 93 kg) Grand Prix. Semifinals: Dutch knockouter Melvin "No Mercy" Manhoef will meet Zabit "Mowgli" Samedov who made a sensation by defeating Badr Hari, and Armenian muay-thai master Sahak "Hak" Parparyan will fight the 2012 SuperKombat World Grand Prix Champion Pavel "Caiman" Zhuravlev from Ukraine.
As a reminder: the first edition of the Show took place on May 25. All the martial arts fans were impressed with its magnitude and style, and the novel – for the Russian promotions – concept of the event. For the first time ever Moscow welcomed on one night such an impressive group of stars as its guests: Jon Jones, Alexander Gustafsson, Andy Souwer, Gago Drago, Mike Zambidis, and many others. The show was held in two categories: 5 K-1 bouts and 3 MMA bouts.
The second tournament will be broadcast live on November 8, 2013 by the Russia-2 TV channel.
LEGEND "PART 2: INVASION" FIGHTING SHOW FIGHT CART, November 8, 2013:
1. Reserve fight, K-1, -93 kg
Andrei Stoica VS Agron Preteni
2. Super Fight, K-1, -70 kg:
Chingiz "Chinga" Allazov VS Warren Stevelman
3. Super Fight, ММА, -77 kg:
Eduard Vartanyan VS Florent Betorangal
4. Big 4 First Semifinal, K-1, -93 kg:
Zabit "Mowgli" Samedov VS Melvin "No Mercy" Manhoef
5. Big 4 Second Semifinal, K-1, -93 kg:
Sahak "Hak" Parparyan VS Pavel "Caiman" Zhuravlev
6. Super Fight, MMA, -77 kg:
Paul "Semtex" Daley VS Alexander "Bad Boy" Yakovlev
7. Super Fight, K-1, 93+ kg:
Badr "The Golden Boy" Hari VS Alexey "Red Scorpion" Ignashov
8. Big 4 Final, K-1, 93+ kg
9. Super Fight, MMA, 93+ kg:
Alexey "The Boa Constrictor" Oleinik VS Mirko "Cro Cop" Filipovic