Bellator 96 results: 'King Mo' Lawal devastates, 'Babalu' Sobral retires
20.06.2013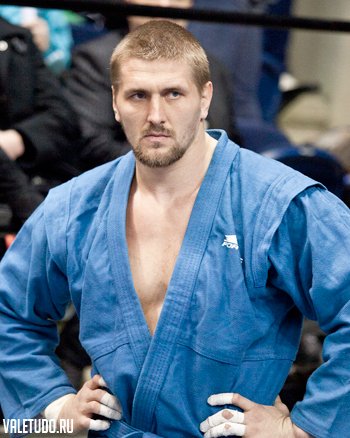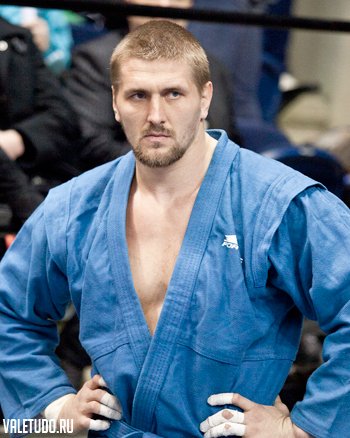 Returning to action for the first time since a devastating February loss to Emanuel Newton, it was Muhammed "King Mo" Lawal who earned a highlight-reel knockout.
Lawal scored an incredible one-punch knockout of Seth Petruzelli in the headliner of Wednesday\'s Bellator 96 event, which took place at WinStar World Casino in Thackerville, Okla. The night\'s main card aired on Spike TV.
The light-heavyweight tourney bout started in odd fashion, as Lawal shot in on the legs, and a sprawling Petruzelli fell forward, resulting in a clash of heads. While it appeared inadvertent, referee "Big" John McCarthy stepped in to halt the fight. On the restart, Lawal made sure no such issue would happen again.
Scoring another takedown, Lawal looked to strike from the top position, and he did so in emphatic fashion. Pushing the legs aside, Lawal drive in with a laser beam of a right hand that left Petruzelli cold. Lawal walked off after the impressive finish, realizing the strength of his blow at the 1:35 mark.
With the win, Lawal (10-2 MMA, 2-1 BFC) advanced to the finals of the Summer Series playoff and put the sting of the Newton loss behind. Meanwhile, Petruzelli (14-8 MMA, 1-2 BFC) falls to 2-4 in his past six fights.
For the second time in two Bellator tournament opportunities, MMA veteran Renato "Babalu" Sobral was bounced in the opening round of the playoff. This time, it was enough to make him call it quits.
in the co-feature of Wednesday\'s Bellator 96 event, Sobral suffered a third-round TKO loss to Jacob Noe.
As the fight opened, Sobral chipped away at the bigger Noe with leg kicks and looked to move in and take the fight to the floor. Noe used his strength to defend the attempts well and looked to return fire with bombs in the pocket. A few punches landed cleanly, but neither fighter made a clear claim to the first round.
Noe looked to work form the clinch in the second, but a Sobral knee to the groin – the second of the fight – drew some anger from his opponent on a brief restart. Sobral landed a few power shots in the latter stages of the fight, but Noe\'s strength advantage was evident as he landed huge punches. Still, a gritty Sobral continued to chop away at the legs while also scoring with a few straight punches the bloodied his foe\'s nose.
The pair taunted each other a bit to close the second, setting up an interesting final round.
In the third, Sobral moved into a few clinches and looked for takedown opportunities that wouldn\'t come. Instead, Noe teed off with heavy hands that saw "Babalu" stagger around the cage. As Sobral wobbled around the cage and seemed to put referee Kerry Hatley between himself and his opponent, the official waved off the contest at the 3:32 mark. Sobral disagreed with the call and briefly pushed the official, but the stoppage seemed justified.
Noe (12-2 MMA, 3-1 BFC) bounces back from a disappointing February loss and now meets Lawal later this summer. Sobral (37-11 MMA, 0-2 BFC), who falls to 2-4 in his past six fights, announced his retirement in the cage following the result and left his gloves in the center of the cage.
Minakov blasts Sparks, books tourney final with Martinez
Undefeated Russian Vitaly Minakov kept his perfect mark intact with a quick TKO win of slugger Ron Sparks in a heavyweight tournament semifinal bout.
The sambo specialist quickly landed a crisp right to the chin that sent Sparks tumbling to the floor, and a flurry of follow-up punches saw "The Monster" go flat and earning the stop from referee "Big" John McCarthy just 32 seconds into the fight.
Minakov (11-0 MMA, 2-0 BFC) is now expected to meet Ryan Martinez later this year in the Summer Series tourney finale. Martinez earned the slot with a first-round knockout win over Rich Hale on the Bellator 96 preliminary card. Sparks (8-0 MMA, 3-2 BFC) has now dropped consecutive fights after opening his career at 8-0.
War Machine victorious in return fight
for the first time in 19 months, War Machine made quick work of six-time WEC veteran Blas Avena.
War Machine looked to strike early, and the pair traded early takedowns before exchanging shots on the feet. But rather than brawl carelessly, War Machine scored an outside trip, advanced to a crucifix position and rattled off punches until the contest was waved off at the 3:55 mark of the opening round.
"I want that belt," War Machine said after the win. "I\'m coming. I\'m going to hurt some people."
Following a successful Bellator debut, War Machine (13-4 MMA, 1-0 BFC) now boasts a two-fight win streak. Avena (8-7 MMA, 1-1 BFC) falls to 2-5 in his past seven outings.
Complete Bellator 96 results include: MAIN CARD RESULTS
Muhammed Lawal def. Seth Petruzelli via knockout (punch) – Round 1, 1:35 – light-heavyweight tournament opening round
Jacob Noe def. Renato Sobral via TKO (punches) – Round 3, 3:32 – light-heavyweight tournament opening round
Vitaly Minakov def. Ron Sparks via TKO (punches) – Round 1, 0:32 – heavyweight-tournament opening round
War Machine def. Blas Avena via TKO (punches) – Round 1, 3:55
PRELIMINARY CARD RESULTS
Chas Skelly def. Jarrod Card via unanimous decision (29-28, 29-28, 29-28)
Keith Berry def. Cortez Coleman via split decision (28-29, 29-28, 29-28)
Mike Maldonado def. Chavous Smith via submission (rear-naked choke) – Round 1, 2:27
Damon Jackson def. Keith Miner via TKO (punches) – Round 1, 2:00
Raphael Butler def. Jeremiah O\'Neal via TKO (punches) – Round 1, 2:57
Ryan Martinez def. Rich Hale via knockout (punches) – Round 1, 2:19 – heavyweight-tournament opening round
Brandon Halsey def. Joe Yager via split decision (30-28, 28-30, 30-28)
Derek Campos def. Brandon Girtz via unanimous decision (29-28, 29-28, 29-28)
Justin McNally def. Steven Artoff via verbal submission (triangle choke) – Round 1, 2:44
For more on Bellator 96, check out the MMA Events section of the site.