SuperKombat New Heroes takes place on May 10 from Vienna, Austria
02.05.2013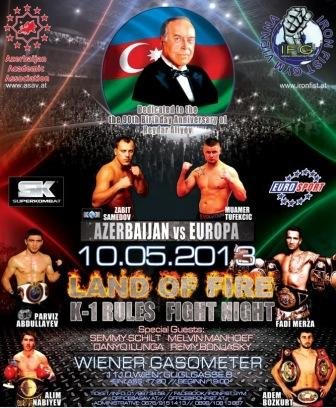 The next edition of SuperKombat New Heroes takes place on May 10 from Vienna, Austria. The concept of the event is Azerbaijan vs. Europe and the fight card will see 11 fights.
The main event sees Zabit Samedov in action two weeks before his rematch against Badr Hari, as he takes on Wieslaw Kwaniewski in a heavyweight contest. As well, SuperKombat tryouts selectee Janosch Nietlishpach is on the card, along with SuperKombat New Heroes and SuperKombat tournament winner Muamer Tufekcic.
Other names on the card include rising young prospect Alim Nabiev, and long time veteran Fadi Merza. Full information can be found here on SuperKombat\'s website.
Heavyweight: Zabit Samedov (Azerbaijan) vs. Wieslaw Kwasniewski (Poland)
72.5kg: Parviz Abdullayev (Azerbaijan) vs. Fadi Merza (Austria)
81kg: Kamil Sharifov (Azerbaijan) vs. Niels Wilmnik (Netherlands)
72.5kg: Alim Nabiyev (Azerbaijan) vs. Adem Bozkurt (Turkey)
95kg: Zamiq Atakishiyev (Azerbaijan) vs. Sam Tevette (Netherlands)
Heavyweight: Aghalar Sadiqhov (Azerbaijan) vs. Muamer Tufekcic (Bosnia and Herzegovina)
91kg: Anar Mammadov (Azerbaijan) vs. Janosch Nietlishpach (Switzerland)
72.5kg: Ismat Agazade (Azerbaijan) vs. Husnu Sari (Turkey)
91kg: Vuqar Kazimov (Azerbaijan) vs. Mirko Kulacsik (Hungary)
86kg: Etiram Rzayev (Azerbaijan) vs. Uros Bogoyevic (Serbia)
72kg: Ramal Aslanov (Azerbaijan) vs. Cristian Milea (Romania)