Errol Zimmerman. Special guest of tournament FEA presents Vol.10 K-1 WORLD GP 2013 Middleweight Tournament in Moldova.
09.03.2013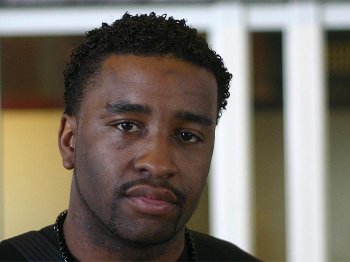 ERROL ZIMMERMAN
Date of birth 20-April-1986
Weight 110 kg
Height 1.90 m
Country Surinam
Record 100 – 9 – 1
Full Biography
Sometimes it is hard to believe Errol Zimmerman only turned 25 early in 2012. That's because he has been knocking people out since 2001, when he fought under professional kickboxing rules aged just 15. Four years later, at an age when most of his peers were only just graduating into full-contact fights, he was having his first battles under the K-1 mark. He is nicknamed 'The Bonecrusher' and its not hard to see why – he has 76 wins overall, 41 by knockout. Zimmerman has ridiculous power in both hands and can literally end a fight in an instant with one jaw-shattering blow that leaves his opponent face-down on the canvas, or flat on their back staring at the ceiling with sightless eyes. As is often the case with sportsmen who have a high level of natural ability, Zimmerman went through phases where he relied on his power to win fights and preferred the nightclub to the training room. That loss of focus was reflected in patchy runs of form which saw him lose fights he should have won, at the same time adding unnecessary defeats to his record or leaving tournaments earlier than he should have. The lesson sank in. Zimmerman always prided himself on his knockout power and the way he thrills the fight fans, but he had other ambitions within the sport. For one, he wanted his name to be recorded alongside the all-time greats and that wasn't going to happen if he was not giving the sport the respect and discipline it required. He gained a new focus at the start of 2011 and the results became apparent immediately. Since the start of that year he has won eight consecutive fights – seven of them with thunderous stoppages. One of the wins was over one of his own icons, the equally powerful and aggressive Jerome Le Banner, who he stopped in the first round.