K-1 Events 2013
01.03.2013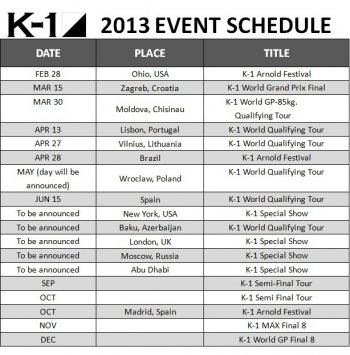 On March 15th, 2013, K-1 World Grand Prix Final will be held in the city of Zagreb, Croatia. This is the home country of kick boxing and MMA legend, Mirko "Cro Cop" Filipović.
The Arena Zagreb has a seating capacity of over 22.000. This will be the first time in history that Croatia has hosted a sporting event of this magnitude. The event will be broadcast worldwide and standing room only crowds are anticipated.
The K-1 WGP will feature world's premier kickboxers, Badr Hari, Cro Cop, Hesdy Gerges, and many more.
More K-1 Events for 2013:

K-1 World Qualifying Tour (WQT) begins on March 30th, 2013 at Chisinau Moldova. After that, K-1 will visit at Lisbon Portugal on April 13th for another WQT.
The city of Vilnius Lithuania will get a visit from K-1 on April 27th for a World Qualifying Tour, and immediately after that, Wroclaw Poland on May 18th.
Tenerife Spain on June 15th, and Baku Azerbaijan TBD.

K-1 Semi-Final Tour is scheduled in September and October, and K-1 Max Final 8 in November, and the World Grand Prix Final 8 will be held in December, but the details of venues for the final tours will be announced when more information is available.
K-1 is also to host special shows in various locations; New York, NY; London, UK; Moscow, Russia; and Abu Dhabi.