Ramon Dekkers: Alistair Overeem took his beating 'like a b*tch'
09.02.2013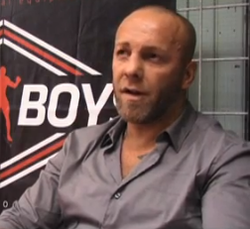 Golden Glory trainer Ramon Dekkers was quick to bury former GG fighter Alistair Overeem after his UFC 156 loss, saying that he didn\'t take his beating from Antonio Silva like they taught him to.
When a fighter acts quite arrogant before a fight and ends up getting knocked out, a lot of people come out of the woodwork to criticize him or her. This week, that fighter happens to be Alistair Overeem.
Overeem was the victim of a brutal third-round knockout at the hands of Antonio Silva, and Golden Glory trainer Ramon Dekkers threw the hammer down via twitter:
Alistair Overeem I thought we\'ve teached him to take a beat like a man….not like a BITCH! twitter.com/diamonddekkers…
— ramon dekkers (@diamonddekkers) February 5, 2013
Overeem split with Golden Glory last year, and the breakup was not amicable. Overeem sued Golden Glory, they countersued, and they almost took some of his UFC 141 paycheck.
They finally reached a settlement in November. There has been a lot of ill will from GG\'s side in regards to Overeem, and this statement from Dekkers (a Muay Thai legend – read T.P.
Grant\'s awesome Gods of War article about him for a lot more info) is just another example.