At UFC 156, heavyweight titans Alistair Overeem and Antonio Silva clashed.
04.02.2013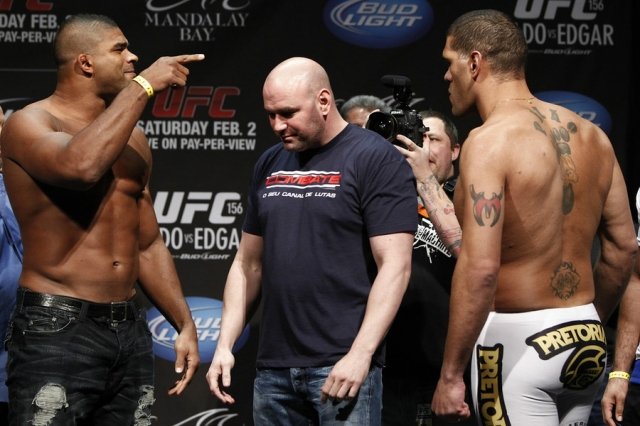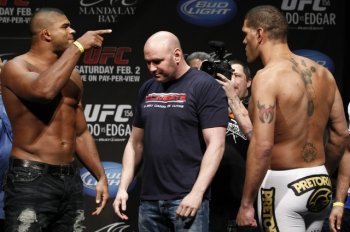 At UFC 156, heavyweight titans Alistair Overeem and Antonio Silva clashed. It was the horse-eater vs. the giant. It was a children\'s fantasy novel come to life.
Overeem (36-12-1) was a heavy favorite when he stepped into the fight. Silva (18-4), a previous upset winner over the likes of Fedor Emelianenko and Travis Browne, was comfortably ensconced in his angry-underdog role.
For a while, everything unfolded the way it was supposed to. Overeem did not appear to be quite the irresistible force as he had in some of his previous fights, but he was still controlling the fight. He landed knees, pulled off a take down, worked some solid side control and ground-and-pound and absorbed no substantial damage from "Bigfoot."
But then a funny thing happened on the way to Cain Velasquez. Overeem started taunting a little. Then he started taunting a lot. Nothing silly or exaggerated, but a lot of smirking. A lot of scoffing (and seriously, when was the last time you saw a fighter actually scoff in a cage). A lot of dropping of the hands. A lot of, I don\'t know, loafing. And it all followed on the heels of a week of disrespect shoveled Silva\'s way by The Reem.
The script began to deviate from the center line in the waning seconds of the second round. Referee Herb Dean stood Silva up as Overeem stood over him throwing half-hearted leg kicks. Silva used the opportunity to land a big knee from the clinch just before the horn. At the start of the third, Silva capitalized on the slight momentum shift. Silva landed a few short rights, and Overeem appeared almost stunned. Silva whooshed in. A head kick led to a right hand. The din of the crowd began to rise. The right led to an uppercut, then another uppercut. Each blow was more vicious, and more flush than the last. Twenty seconds into the barrage, it was over. Dean stepped between them, called the KO and ushered Bigfoot away. And the crowd goes wild.
But Bigfoot still needed to ice this cake. He came back. Silva tromped back over to Overeem\'s crumpled body. He stood over that mohawked mountain of muscle and mahogany. And in his booming, unrefined baritone, the giant shouted some stuff down at him. Some angry stuff. It was a moment of catharsis as much as elation. Silva had to let it out. Then he let Dean carry him back away. Bigfoot contented himself by climbing to the top of the cage to soak up the deafening roar of the crowd, which was never louder at any point that night.
By the time Silva\'s lovable, broken-English post-fight interview with Joe Rogan was complete, he had a new fan. And when I say that he had a new fan, I mean myself. I\'m now a fan of yours, Antonio "Bigfoot" Silva.
I have no doubt that Silva delivered both the Knockout of the Night (he did win, for the record) and the story of the night. Sometimes, headlines just write themselves: Giant Beats Down Bully. Sometimes, in glorious settings like MMA, life really is as simple as a matter of good over bag.