Muay Thai Mania V went down yesterday in The Hague
04.09.2012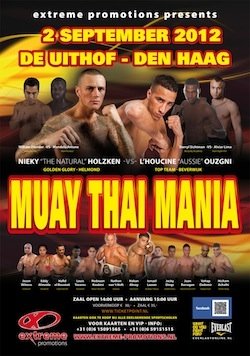 Muay Thai Mania V went down yesterday in The Hague, Netherlands and the card was headlined by a rematch that was a long time in the making between L\'houcine "Aussie" Ouzgni and Nieky Holzken.
In their first fight, Aussie quickly won in the first round with a flying knee back in 2010 at It\'s Showtime. Holzken had wanted this rematch for a long time, saying that he wasn\'t his best for the first fight. Well yesterday, Aussie won again, but this time by decision. It wasn\'t just a regular decision though, as the fight had to go to an extra round.
There were some other intriguing match-ups on the card, including the man who recently upset Robin van Roosmalen, Hafid el Boustati, who took on Shemsi Beqiri\'s brother, Hysni Beqiri. In another fight that had to go to an extra round, Hafid el Boustati won a decision.
Albert Kraus made his pro boxing debut and it was a success. His opponent from Romania, Valentin Cimpoero, could not continue after the third round so Kraus won by TKO. K-1 and SuperLeague veteran Aalviar Lima showed he still has some gas left in the tank as he stopped the Remy Bonjasky-trained Darryl Sichtman with a body shot. In other action, Fred Sikking defeated Hakan Aksoy by decision and Jason Wilnis defeated Louis Tavares, although the decision seems to have been hotly disputed. Thanks to FightStarTV for results.
25 A-Class Abdullaev (Team Super Pro) WOP vs Vahap Ozdemir (Dragon Gym)
26 A-Class Remon Bonte (Team Pasztjerik) vs Ismael Lazaar (Budokai Tilburg) WOP
27 A-Class Juan Baragan (Sportcentrum 010) vs Jacky Dings (Golden Glory Helmond) WOP
28 A-Class Hicham Achalhy (TB Den Haag) WOP vs Eddy Almeida (Team Pasztjerik)
29 A-Class Albert Kraus (Team Super Pro) WTKO vs Vali Cimponu (Roemenie)
30 A-Class Luis Tavares (Team Pasztjerik) vs Jason Wilnis (The Colosseum) WOP
31 A-Class Fred Sikking (The Coloseum) WOP vs Hakan Aksoy (Siam Gym)
32 A-Class Hafid el Boustati (Mousid Gym) WOP vs Hysni Beqiri (Team Super Pro)
33 A-Class Darryl Sichtman (Bonjasky Academy) vs Mandela Antone (Team Furious) WMI
34 A-Class Abdullaev (Team Super Pro) WOP vs Vahap Ozdemir (Dragon Gym)
35 A-Class Nieky Holzken (Golden Glory Helmond) vs L'houcine Aussie (Topteam Beverwijk) WOP