Buakaw Por Pramuk
23.08.2012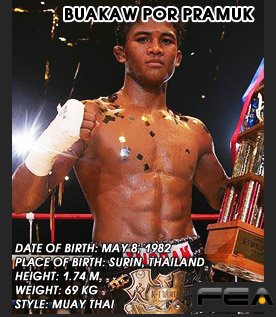 Buakaw Por Pramuk
Biography К1-MAX
Buakaw Por Pramuk or Sombat Banchamek born on May 8, 1982 in Buriram (north eastern province of Thailand). Since he started his fighting career at the young age of 8, Buakaw has fought over 400 fights, starting in his home province of Buriram and then moving onto Bangkok after he moved to Por. Pramuk gym at the age of 15.
Buakaw has collected several belts to his name since fighting in Bangkok. The Omnoi Stadium featherweight title was his first belt, after that he would go on to take the featherweight champion of Thailand title. Buakaw then proceeded to win another Omnoi Stadium title belt, this time at in lightweight division. In December 2002, Buakaw won the Toyota Marathon 140 lb. tournament at Lumpini Stadium, beating the highly regarded Kobayashi of Japan in the final.
In July of 2004 Buakaw Por Pramuk became the K-1 MAX World champion beating John Wayne Parr, Takayuki Kohiruimaki and previous champion Masato, all on the same night. In 2005 he nearly repeated his run for tournament champion but lost a controversial extra rounds decision to Dutch shoot-boxer, Andy Souwer in the finals. In the 2006 K-1 MAX World Grand Prix, Buakaw again faced Andy Souwer in the finals, but this time defeated Souwer by KO with a flurry of punches, thereby winning his second K-1 MAX Grand Prix title and becoming the first man to win that title twice.
Boxing Carrier Accomplishment
Buakaw Por Pramuk marked his name on many champion titles through out his 14 years boxing carrier.
•Omnoi Stadium Featherweight Champion
•Muay Thai Authority of Thailand Featherweight Champion
•Omnoi Stadium Lightweight Champion
•Lumpinee Stadium Lightweight 2nd place
•Toyota Muay Thai marathon tournament 140 lb. class winner
•KOMA GP Lightweight Champion
•K-1 WORLD MAX 2004 Champion
•K-1 WORLD MAX 2005 Finalist
•S1 Superwelterweight World Champion
•WMC Midlleweight World Champion
K-1 and Kickboxing Records