Arthur Kishenko
23.08.2012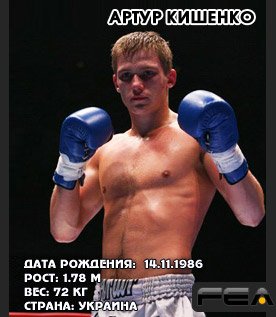 Arthur Kishenko
K1-MAX
* TITLES *
World Champion of Arts 2004
European Cup of Amateur Muay Thai Champion
Ukraine Muay Thai Championship 2nd Place
* BOUT RESULTS *
25 fights 22 Wins 3 Losses 16 KOs
K-1 2 Fights 2 Wins
Name: Arthur Kishenko
Weight: 72 kg.
Height: 173 cm
Date of birth: 13.11.1986
Country: Ukraine
Ukrainian Artur Kishenko (Odessa, SK "Captain"), four times world champion in Thai boxing amateur IFMA, not so long ago, Jordan Taya the winner in the selection battle for the right to speak at the tournament K-1 Max 2008 will hold his next fight July 7, 2008 year of the Japanese capital, the city of Tokyo. Ukrainian opponent in the 1 /4 final will be Japanese kick boxer Yasuhiro Kido. As part of the K-1 tournaments, the Japanese held 7 fights, with 6 wins (2 KO) and lost only once on points (his debut fight), held in 2005.
The winner of this battle priymet part in the semifinal and final match of tournament K-1 Max 2008, which will be held 1 October 2008.