"Are you ready for tomorrow's show? If not, get ready!!! On February the 15th, we will have an unforgettable evening!!!"
14.02.2020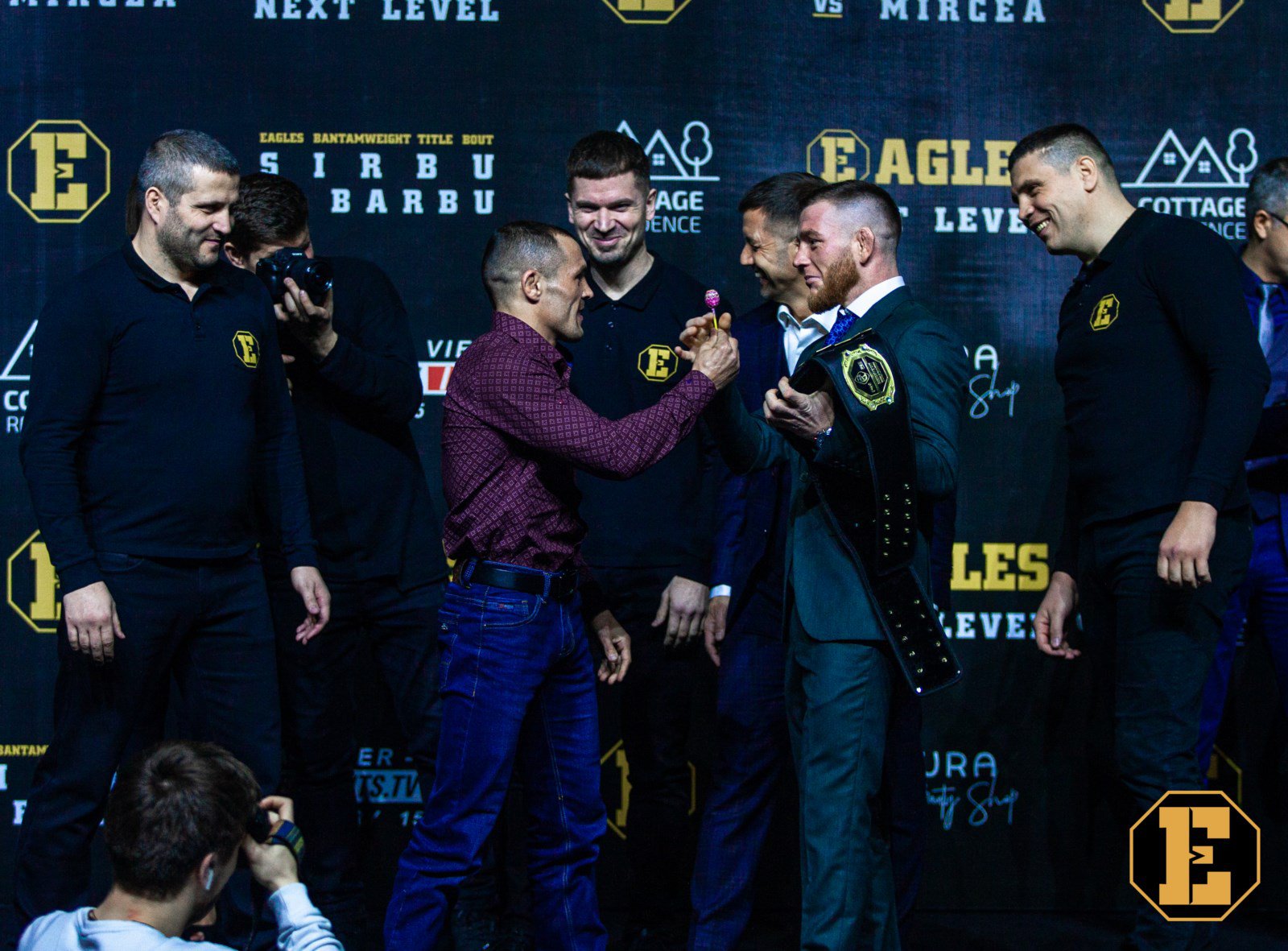 All the fighters were presented and the official weigh-in is over. All we have to do is to wait for tomorrow and see the real fighting show. Which will surely leave an impression with everybody. The tension was in the air during the fighters 'presentation. Some pairs of opponents were ready to burst and fight there and then. Donna Keli prepared a present for her rival, which was rejected.
Mihail Sirbu gave Bogdan Barbu a lollipop, after which he grabbed the belt and made it clear that the belt would be his. Sirbu was joined by his daughter, who gave another candy to her father's competition. And of course, the presentation of the Main Event of the evening of February the 15th, Valeriu Mircea against Martun Mezhlumyan, was spectacular. Mircea, as always, displayed his temper, character and boldness, making it clear to Mezhlumyan that tomorrow he will do everything possible to win and, for the first time in the history of the EAGLES project, will become a champion in two weight categories at once.
"Are you ready for tomorrow\'s show? If not, get ready!!! On February the 15th, we will have an unforgettable evening!!!" – stated Dorin Damir, FEA president, EAGLES FC founder.
"I was going to give her a present, but unfortunately she misunderstood, after all, today is Valentine\'s Day" said Donna Keli.
"I'm not particularly nervous. I am ready. The success lies in the fact that I come to the gym the first, and leave it the last." stated Tunzala Imanli
"I come from a place where Bogdan Khmelnitsky was born, the mace was his symbol. So, I\'m not afraid of maces or, as you call it in here, buzdugan," – noted Oleg Panchenko.
"Buzdugan (mace) represents our people, our strength and our unwavering Moldavian character. The victory will be mine" – said Petru Buzdugan.
"I don't care where my opponent comes from. The important thing is that he fights tomorrow. Tomorrow will be a great sight" – declared Omar Solomanov.
"Mihail Sirbu and I fought 2 years ago. At that time, I won. Now it's a rematch, I prepared well and worked on my mistakes. Tomorrow we will see who is the strongest" stated Bogdan Barbu.
"I gave my 100% while training. Now I'm on the last 100 meters, the weight is done. Tomorrow in the fight I will do my best to bring the belt back" said Mihail Sirbu.
"I don't speak in vain, and tomorrow you will see how I will become the champion in two weight categories, for the first time in the history of the EAGLES project" Valeriu Mircea assured everyone.
"Tomorrow we'll see who is the toughest. I'm ready, I came for the victory only" noted Martun Mezhlumyan.