Heavyweight bout. Soon at EAGLES 10.(Russia) Sultan Murtazaliev vs Alexander Romanov (Moldova)
23.10.2018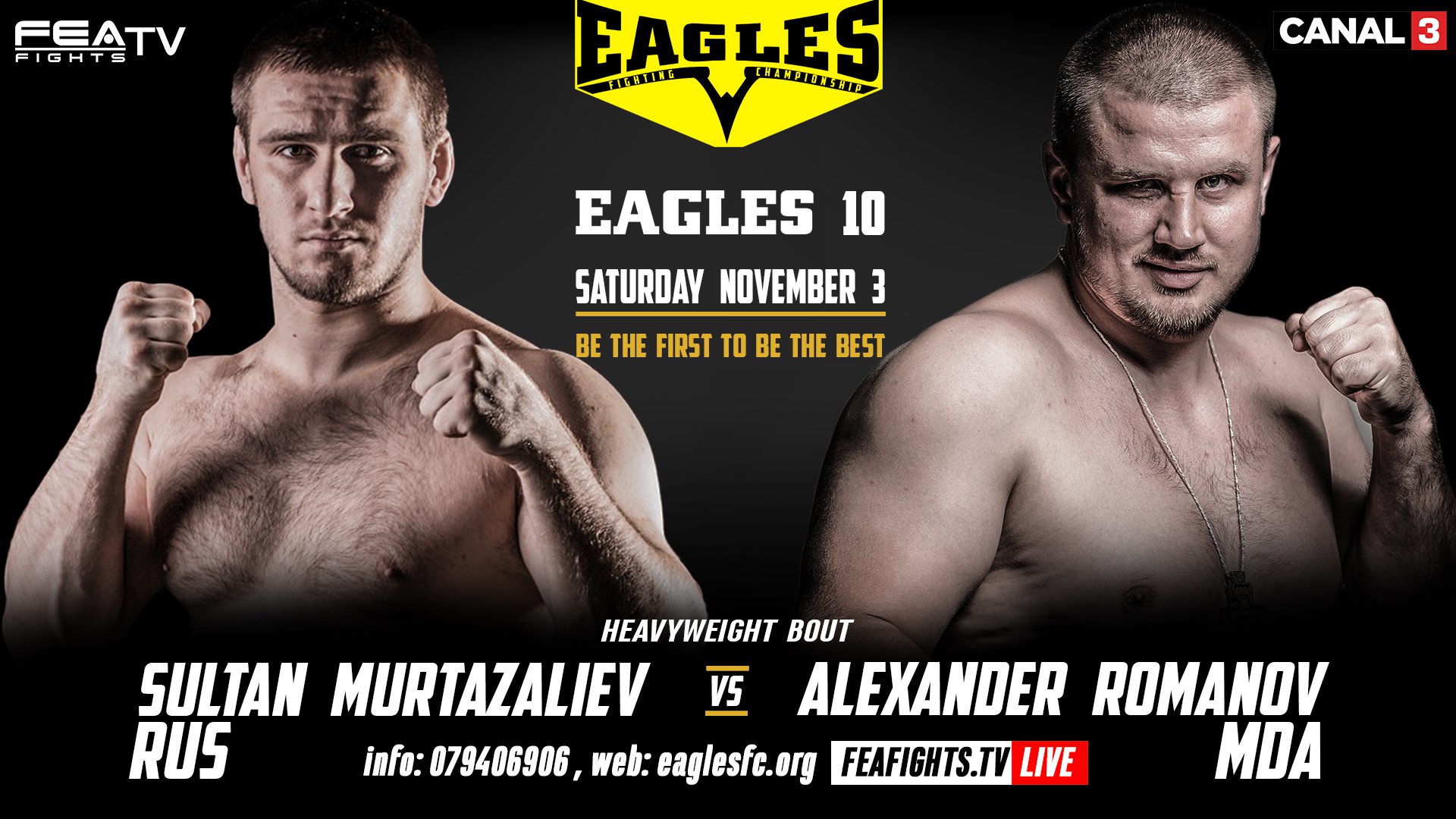 Heavyweight bout. Soon at EAGLES 10.(Russia) Sultan Murtazaliev vs Alexander Romanov (Moldova). November 3rd, Chisinau, Manej Arena. Infoline: 079406906,
Alexander Romanov versus Sultan Murtazaliev
Alexander Romanov versus Sultan Murtazaliev EAGLES 10 heavyweight division super fight.
On November 3rd, at Manej Arena within EAGLES 10 tournament, in the heavyweight division, Alexander Romanov, the winner of the EAGLES interim championship belt, and the representative of Russia, Sultan Murtazaliev, will compete for the supremacy.
"For the anniversary tournament, EAGLES 10, I will try to align my record to 10 victories without defeats. I will also try to round the sum up to 10 for Sultan. At this point he has 6 wins and 3 losses. I'm going to make sure he has 4 losses, which will result in a total of 10.
I spent a great deal of work, and I will do my best to finish the opponent while standing- up. As for the future, I plan to obtain the title of absolute championship within EAGLES project" – said Romanov.
"Of course we will see our favorite heavyweight, Alexander Romanov, on November 3rd. His opponent is a Russian fighter with whom Alexander has old scores to settle from his wrestling days. Therefore, the match will be twice as exciting," – stated the organizer and founder of EAGLES project, FEA president, Dorin Damir.
Alexander Romanov – 27 years old, weight – 120 kg, height – 183cm, scored 9 wins without a single loss. At the eighth EAGLES tournament, Alexander Romanov, in the title fight for the interim championship belt, finished Alexander Stolyarov. Thus, is currently the owner of the temporary championship belt in the heavyweight division of EAGLES.
Sultan Murtazaliev – 30 years old, weight- 110kg, height – 190cm, has 6 victories on his record and suffered 3 defeats.