Before their UFC 229 fight, McGregor and Nurmagomedov said their feud would continue no matter what happened in the Octagon.
07.10.2018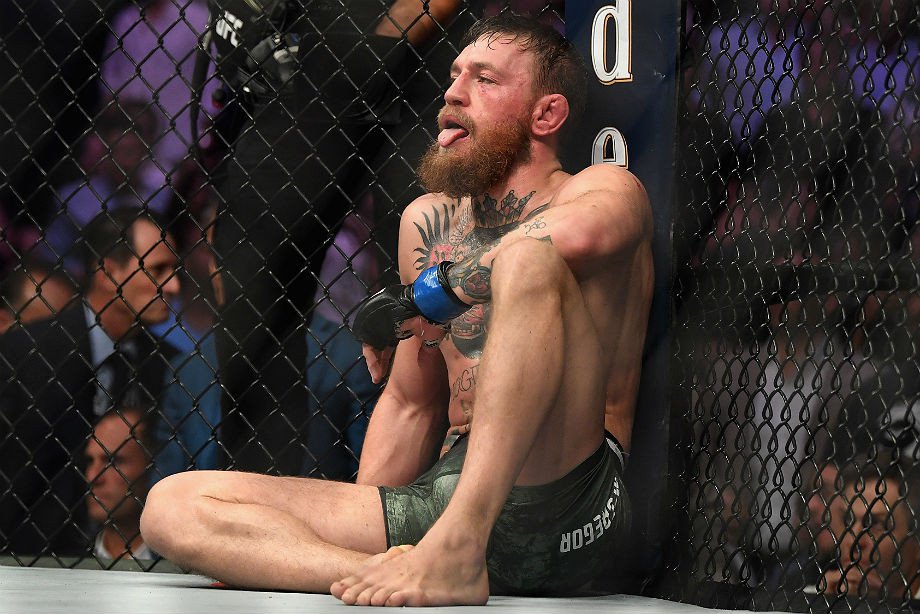 LAS VEGAS – UFC president Dana White says Khabib Nurmagomedov\'s lightweight championship could be stripped depending on if he is suspended and for how long after the Russian jumped out of the Octagon and went after Conor McGregor\'s jiu-jitsu coach Saturday night.
Before their UFC 229 fight, McGregor and Nurmagomedov said their feud would continue no matter what happened in the Octagon. No one thought it would continue literally seconds after the fight.
That\'s when a brawl inside and outside the Octagon involving both camps forced both fighters and multiple team members to be escorted out of the Octagon by security and police officers.
White said three members of Nurmagomedov\'s team involved in the incident were arrested and released late Saturday night. White said McGregor told him that he would not press charges.
White also said the Nevada State Athletic Commission is withholding Nurmagomedov\'s check pending an investigation but that McGregor was paid after the commission reviewed tape, interviewed McGregor and concluded there was no reason to withhold his check.
The state commission could also fine and suspend Nurmagomedov, the degree of which could result in his belt being stripped.
The fight ended in the fourth round when Nurmagomedov made McGregor tap to a rear-naked choke. Nurmagomedov, however, wasn\'t finished. After McGregor tapped, referee Herb Dean had to restrain Nurmagomedov and push him away from McGregor.
Nurmagomedov then pointed at members of McGregor\'s corner, threw his mouthpiece in their direction and started yelling at them. While he was being restrained by security, Nurmagomedov jumped out of the Octagon and went after Dillon Danis, a Bellator welterweight who also is McGregor\'s jiu-jitsu coach. Madness ensued with both camps going after each other and having to be restrained by security and police.
During the commotion, two men believed to be a part of Nurmagomedov\'s team – one in a black shirt and one in a red shirt – jumped into the Octagon. The man in the black shirt swung at McGregor from the front, while the man in the red shirt punched McGregor in the back of the head twice before security restrained him.
"It\'s bad," White said of the melee. "There\'s gonna be an investigation by the Nevada State Athletic Commission, and. … there\'s gonna be big money fines, and these guys are in big trouble.
"Again, we need to see how this plays out. Nobody has ever done that; nobody should ever do that."
A source told ESPN\'s Brett Okamoto that McGregor left T-Mobile Arena in the aftermath of the loss and brawl.
Nurmagomedov showed up the postfight news conference around midnight in Las Vegas. While he didn\'t take any questions, he did make a lengthy statement before leaving.
"First of all, I want to say sorry to the athletic commission, Nevada and sorry to Vegas," Nurmagomedov said. "This is not my best side. I\'m a human being but I don\'t understand how people can talk about jumping on the cage when he talks about my religion, he talks about my county, he talks about my father and he comes to Brooklyn and he broke the bus and almost killed a couple of people. What about this? Why are people talking about my jumping over the cage. I don\'t understand… You can not talk about religion, you cannot talk about nations, you cannot talk about this stuff. This is for me very important."
After the chaos had subsided, White said he told Nurmagomedov he wouldn\'t put the lightweight, 155-pound championship belt around Nurmagomedov\'s waist in the Octagon out of fear that people would throw drinks and other objects at him, potentially hurting other people in the process.
Violence was mostly contained, White said, though video of a sizable brawl in the arena concourse after the fight surfaced online. The 17-second clip shows several fights going on simultaneously, though it was unclear who was involved or if anyone was arrested or detained.
When ring announcer Bruce Buffer announced the result of the main event, neither fighter was in the Octagon because both had already been escorted out.
The rivalry between the McGregor and Nurmagomedov has been brewing for years and boiled over in April when McGregor attacked a bus Nurmagomedov was riding in at Barclays Center before UFC 223.
At Thursday\'s news conference, Nurmagomedov and McGregor said they would not shake hands after the fight and that their fight was more than just a battle for the UFC lightweight championship.
"Honestly for me, this is more than defending my title," Nurmagomedov said then. "For me, it\'s more than fight for the title, more than main event. For me, it\'s personal. Honestly, for me it\'s personal. Of course this is biggest fight in UFC history and we\'re going to break record numbers … but for me it\'s personal."
McGregor agreed that the rivalry between the two would extend past Saturday, which was certainly the case in the immediate aftermath.
"There is way deeper s– than just a fight on Saturday night," McGregor said Thursday. "I\'m going to settle this the noble way for myself and then see what happens after that … F– peace. There will never be peace here. I always say you should aim for peace but if you can\'t aim for peace, aim between the eyes. I\'m gonna to aim right between that man\'s eyes and this is never over. Never, ever, ever, over."
As anticipation builds for his return to the Octagon, former UFC light heavyweight champion Jon Jones has pumped the brakes on a potential trilogy bout with archnemesis Daniel Cormier.
Jones, in an interview with ESPN\'s Ariel Helwani, said he doesn\'t care to set up a third fight with Cormier, the current lightweight and heavyweight champion whom Jones already has beaten twice: by unanimous decision at UFC 182 in 2015 and by knockout at UFC 214 in 2017, though the latter victory was later ruled a no-contest due to a failed drug test.
"I already have all the marbles when it comes to Daniel Cormier," Jones told Helwani. "I\'ve beaten him twice. This game has never been personal. What is personal to me is chasing greatness, not individuals. So in the case of myself and Daniel Cormier, he needs to fight myself one more time if he ever wants to be considered one of the all-time greats. I don\'t need to fight him again to be considered one of the all-time greats. I have many more years to prove it."
Last week, Jones was given a 15-month suspension by the United States Anti-Doping Agency, retroactive to July 28, 2017, for testing positive for metabolites of an anabolic steroid. He is eligible to return to competition by Oct. 28.
Jones and Cormier exchanged heated words on social media in the days following USADA\'s announcement of the suspension. Jones threatened to "bury" Cormier in a third meeting; Cormier called Jones a "cheater and a snitch." Cormier also has been critical of USADA for handing out what he deemed a "joke of a punishment" to Jones.
Jones told Helwani that he doesn\'t think Cormier\'s criticism is warranted.
"I think this is just another way for him to blame something for him getting knocked out in our last fight," Jones said. "At the end of the day, the way it was described to me, the amount of steroids that were found in my body was the equivalent of throwing a pinch of salt in an Olympic-size swimming pool. There was so little of it in my body, there\'s no scientific way possible that this could have affected my performance. There\'s no reason for him to be mad at USADA. USADA didn\'t get him knocked out."
For Jones\' return bout, UFC president Dana White told ESPN last week that the promotion is hoping to set up a fight with Alexander Gustafsson at UFC 232 on Dec. 29 at T-Mobile Arena in Las Vegas.
Cormier, meanwhile, is expected to make the first defense of his heavyweight title against Brock Lesnar. He told Helwani on Monday that he hoped the Lesnar fight would happen in January.
ormier also told Helwani that he hoped to close out his career with a third fight with Jones, insisting he cannot leave the sport without fighting Jones one more time.
"I can\'t turn this off," he told Helwani on Monday. "It\'s what makes me uniquely me: my competitiveness and my desire to fight and compete against the best in the world."
Regarding a possible fight with Cormier for the heavyweight title, Jones told Helwani on Thursday that he is "not really" interested in that either.
"Challenging Daniel Cormier for the heavyweight championship would be me making it personal, and it\'s not personal," Jones said. "I\'m not the one who went home crying the first and second times we fought. That was him. There\'s nothing inside of me that wants to take things from him or make his life harder in any way. I just want what\'s rightfully mine. He can have what\'s rightfully his, and we can all get along."