Breaking news. Conor McGregor detained after UFC 223 bus attack, in NYPD custody
06.04.2018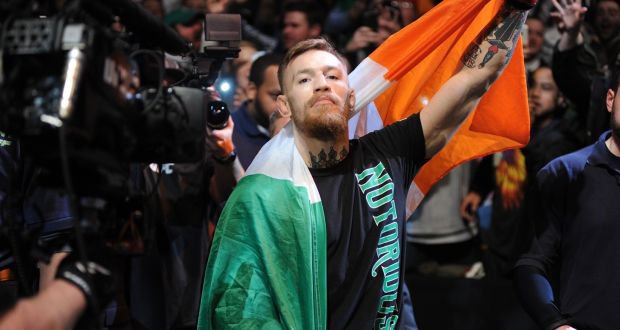 Conor McGregor has been detained and is in custody of the New York Police Department following a fracas earlier today in Brooklyn.
NYPD spokesperson George Tsourovakas tonight told MMAjunkie that McGregor is in the department's custody and the investigation is ongoing. McGregor turned himself in earlier tonight at the 78th Precinct in Brooklyn, Tsourovakas said. He has not yet been charged while the investigation continues.
NBC-4 News in New York reported McGregor is expected to be charged with assault.
McGregor's arrest came after a wild day in New York just two days ahead of Saturday's blockbuster UFC 223 event.
McGregor (21-3 MMA, 9-1 UFC) showed up at Barclays Center in Brooklyn, which will play host to Saturday's card, and allegedly was let into the facility by credentialed media members that UFC President Dana White said were from TheMacLife.com – McGregor's website. Once inside, McGregor, along with members of his team – including UFC 223 fighter and teammate Artem Lobov – managed to make their way to the loading dock.
Once there, chaos ensued when McGregor and his entourage went after a bus loaded with UFC 223 fighters, fighter teams and promotion personnel in pursuit of headliner Khabib Nurmagomedov (25-0 MMA, 9-0 UFC), who is scheduled to take on featherweight champion Max Holloway (19-3 MMA, 15-3 UFC) in the main event. The winner will become the new lightweight champion – meaning McGregor will be stripped of the title he won in November 2016, but has yet to defend.
McGregor can be seen on eyewitness videos attempting to throw a security barricade at the bus. After he was stopped, he picked up a wheeled dolly, video shows, and threw it at the bus window. It shattered the window, and the broken glass allegedly cut up the head and face of lightweight fighter Michael Chiesa and sent glass into the eyes of flyweight Ray Borg.
In the aftermath, Chiesa (14-3 MMA, 7-3 UFC) was ruled out of his main-card fight against Anthony Pettis (20-7 MMA, 7-6 UFC) due to the cuts. Borg (11-3 MMA, 5-3 UFC), too, was removed from his fight against Brandon Moreno (14-4 MMA, 3-1 UFC) on the prelims. In addition, White already had removed Lobov (13-14-1 MMA, 2-4 UFC) from his featherweight fight against Alex Caceres (13-11 MMA, 8-9 UFC) for his participation in the attack.
That means three fights in total were scrapped as a direct result of McGregor's alleged attack on the bus.
McGregor has interest in the UFC 223 main event, given the winner will have the lightweight title he currently holds. But Wednesday, Lobov had an altercation with Nurmagomedov, and that may be what set the incident into motion more than anything else.
Earlier today, White told reporters in Brooklyn the attack on the bus was "the most disgusting thing that has ever happened in the history of the company." The UFC issued a statement earlier tonight saying consequences will follow.
UFC 223 will take place Saturday at Barclays Center in Brooklyn, N.Y. The main card will air on pay-per-view following prelims on FS1 and UFC Fight Pass.