'CERTIFIED KILLA VS CERTIFIED B****' Floyd Mayweather hints at UFC showdown against Conor McGregor
16.02.2018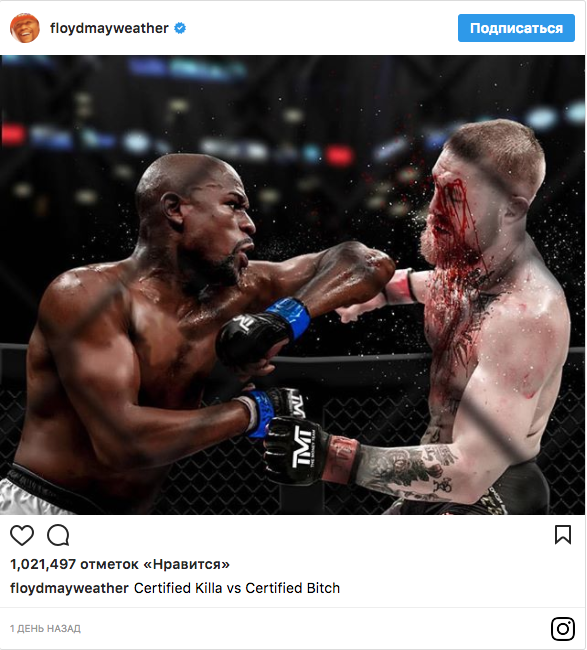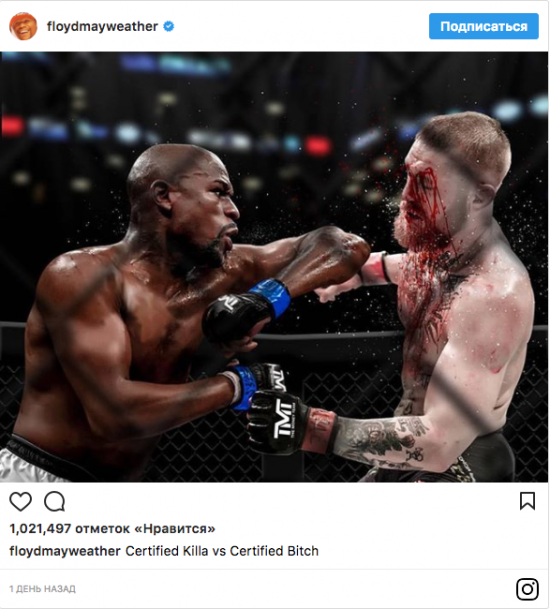 \'CERTIFIED KILLA VS CERTIFIED B****\' Floyd Mayweather hints at UFC showdown against Conor McGregor as hype surrounding rematch builds
Money posted a photoshopped image on Twitter showing himself beating a bloodied Notorious in the octagon on Sunday
FLOYD MAYWEATHER has hinted at an eagerly-anticipated UFC showdown with Conor McGregor.
"Money", 40, posted a photoshopped image on Twitter showing himself beating a bloodied Notorious in the octagon on Sunday, captioned: \'Certified Killa v Certified B****\'
Later in the day, McGregor replied with venom, posting an image of him actually elbowing an opponent in a UFC bout.
He captioned the snap: "A real elbow in a real fight."
American boxer Mayweather beat Irish MMA star McGregor, 29, in the boxing ring in an 11-round stoppage in Las Vegas in August.
Ever since, speculation surrounding a rematch, either in the ring or in the octagon, has intensified.Last month, Money uploaded a video to Twitter of him bounding into an octagon – wearing Paddy Power shorts, suggesting it could be another publicity stunt.
However, it caught the attention of Notorious, who replied on Twitter, saying: "Hahahaha very good. Keep up the good work my son. Yours sincerely, Senior."
Mayweather has already created a new hashtag just for McGregor, as he continues his social media beef with the UFC lightweight champion.
The undefeated boxer – now boasting a 50-0 career record – posted an image of him stopping the Irishman in their mega-fight last year, captioned: "#MCM Mayweather Crushes McGregor."