The First Mayweather/McGregor Presser Is In The Books, And It's 1-0 Conor
12.07.2017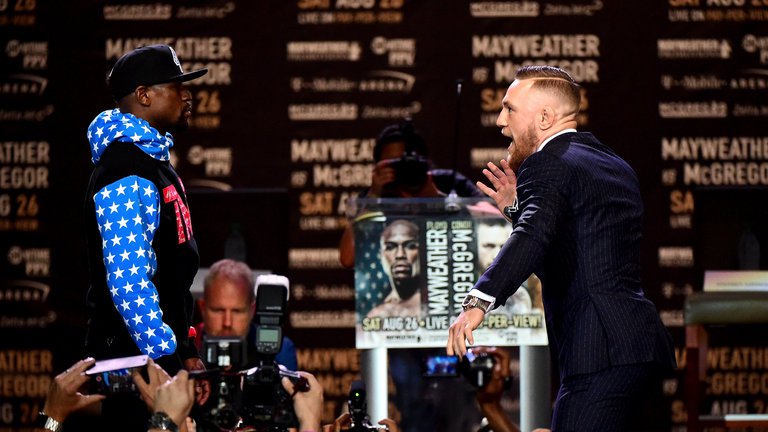 What a trip! Pretty much everyone in the Barstool Sports office stuck around and migrated to our bar TVs to watch this press conference, and we had a fun time with it. To speak to how much of a "big fight feel" this had, Dave Portnoy (media mogul) parked his seat right next to mine and watched instead of doing his usual millionaire shit.
Before we got started, Aloe Blacc did a big ol' song and dance, and that was fuckin' weird.
Then things kicked off with The Notorious One stepping on the stage with a "FUCK YOU" pinstripe suit on, stuntin' on EVERYONE, dancing to Floyd's theme.
After that, The Money Team walked their boy out to the stage, and for the first time ever, Floyd Mayweather and Conor McGregor stood face to face.
We throw this word around a lot, but I'm hitting a hard one here: ELECTRIC. I got chills up and down my spine during that whole staredown. This is the biggest money fight we'll ever see in our lifetime. This is our Ali/Frazier…if one of those two had never boxed ever and the fight was actually horrible.
After some big wigs bored everyone with analytics of pay per view stats, Dana White gave an UNBELIEVABLE introduction to the real show, and Conor stepped up to the podium and guaranteed he'd knock Floyd Mayweather out within 4 rounds.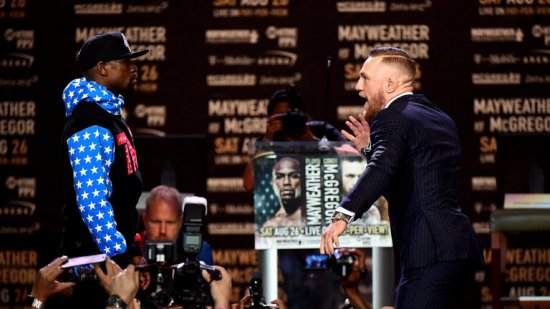 There was a weird technical issue halfway through that made it look like Karen Bryant and Kenny Florian were fucking or something…
…and then, when it was Floyd's turn to step up to the mic, he was incredibly rattled about the IRS thing, showed that he wrote a check for a hundred million dollars, and thought that'd smooth things over.
He rambled and rambled and rambled, did his "HARD WORK" chant with the 12 people in the crowd that were cheering for him, and walked away from the microphone after every sentence like it was a mic dropper. It was legitimately cringeworthy. His no brain cell trash talk used to cut it, but the chirp game has passed him by now.
We closed the presser with a 90 second staredown, and they answered questions for the media afterwards.
Floyd's presser was HORRENDOUS because all of his answers were the same (he has a limited vocabulary, sad) but Conor's was insane due to Floyd Mayweather Sr shouting at him from the back of the room the whole time.
Biggest takeaways:
-This press tour is more lopsided in Conor's favor than the fight is in Floyd's.
-Floyd Mayweather Sr. should be speaking for his son at all times.
-Floyd Mayweather is a liar for saying he'd fight MMA after this.
-Conor McGregor is so happy to be making enough money for a lifetime, but also actually thinks he's gonna win.
-This is a shitshow, but it's a DAMN FUN SHITSHOW.
Onto the next one in Toronto tomorrow! Same bat time, same bat channel.