Ion Cutelaba's fast start made for a quick night for Henrique da Silva.
11.06.2017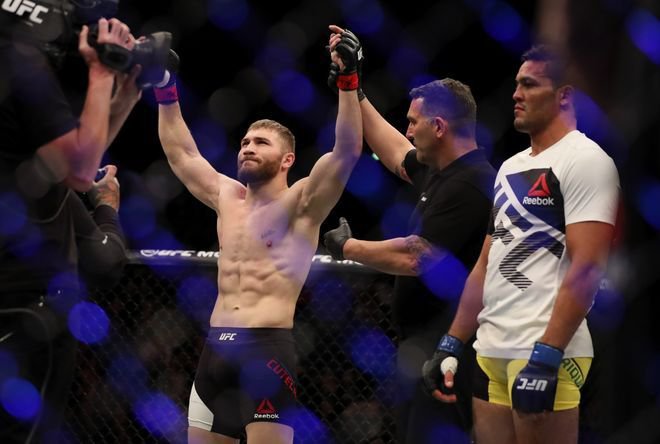 Cutelaba (13-3 MMA, 2-2 UFC) needed just 22 seconds to knock down da Silva (12-3 MMA, 2-3 UFC) and put him away with punches on the mat for a violent finish.
The light-heavyweight bout was part of today's UFC Fight Night 110 main card, which took place at Spark Arena in Auckland, New Zealand. It aired on FS1 following early prelims on UFC Fight Pass.
In one of the first punching exchanges of the fight, Cutelaba pressed forward behind a right hand followed by a left hook to the jaw that dropped da Silva. Cutelaba wasted no time jumping on his wounded foe, and as he stood in da Silva's open guard he rained down punches as a woozy da Silva searched for some shelter.
He would find none, and with the punishment coming fast and furious, referee Mark Craig had no choice but to step in and wave it off, giving Cutelaba a fast finish and sudden victory.
The win is Cutelaba's first since a decision loss to Jared Cannonier in December. It's the third straight loss for da Silva.
Up-to-the-minute UFC Fight Night 110 results:
Ion Cutelaba def. Henrique da Silva via knockout (punches) – Round 1, 0:22
Ben Nguyen def. Tim Elliott via submission (rear-naked choke) – Round 1, 0:49
Alexander Volkanovski def. Mizuto Hirota via unanimous decision (30-27, 30-27, 30-27)
Vinc Pichel def. Damien Brown via knockout (punches) – Round 1, 3:37
Luke Jumeau def. Dominique Steele via unanimous decision (29-28, 29-28, 29-28)
John Moraga def. Ashkan Mokhtarian via unanimous decision (30-25, 30-27, 30-27)
Zak Ottow def. Kiichi Kunimoto via split decision (29-28, 28-29, 29-28)
J.J. Aldrich def. Chanmi Jeon via unanimous decision (30-27, 30-27, 30-27)
For more on UFC Fight Night 110, check out the UFC Events section of the site.