Fedor Emelianenko explains why he chose to sign with Bellator MMA instead of UFC
15.02.2017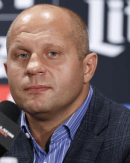 Fedor Emelianenko will make his return to the cage this weekend (Sat., Feb. 19, 2017) at Bellator 172, which takes place in San Jose, Calif., against Matt Mitrione in Spike TV\'s main event. The Heavyweight bout will mark Emelianenko's first of a multi-bout contract he signed with the Viacom-owned company last year. In the process, it essentially ended the possibility of him ever competing inside Ultimate Fighting Championship's (UFC) Octagon.
So why did "Last Emperor" opt to sign with Bellator rather than finally fulfill the dreams fight fans and compete for UFC? The hard-hitting Heavyweight appeared on "The MMA Hour" earlier this afternoon to explain his decision.
"We had made great relations with Scott Coker," Emelianenko said through an interpreter (via MMA Fighting). "I received a very good offer from Bellator. In addition, Bellator invited my entire team. So all of the guys will be performing as well."
While Fedor doesn't deny talks were ongoing with UFC, at the end of the day, the two sides couldn't come to terms on a contract, but admits they were close.
"A lot of time you can be close, but then go around and around and never get to it," he said. "That's what happened. There were some things that were not satisfactory for UFC. There were some things that were not satisfactory for me, and we never came to an agreement.
"One of the main reasons was the ability to have my teammates to perform, and the others were financial reasons , as well as some smaller things, as well," he continued.
You can't knock "Last Emperor" for looking out for his team. That said, the 40-year old mixed martial arts (MMA) legend says while he didn't contemplate retirement following his brutal war against Fabio Maldonado last June (see it), he knows his time in the sport is coming to an end. And he plans to end his storied career under the Bellator umbrella.
"I would like to end my career with Bellator," he said. "I would like to work in accordance with my contract. The relations with people is of great importance with me. I value highly the relations with myself and Scott. So I do want to end my career with Bellator."
Emelianenko is currently enjoying a five-fight win streak, though he hasn't exactly faced the level of competition he'll meet head on when he steps into the cage against "Meathead."