Floyd Mayweather responds to Conor McGregor: 'Let's give the fans what they want to see'
30.01.2017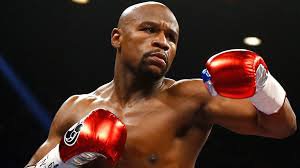 Conor McGregor seems to be all in on a boxing match with Floyd Mayweather. He said as much Saturday during a Q&A in England.
Mayweather got a chance to respond to those comments Saturday night during a Showtime Boxing broadcast. And "Money" seems to be on the same page as "The Notorious."
"I truly believe the fans want this fight," Mayweather told reporter Jim Gray. "The fans have been asking for this fight. It's all about entertainment. He's very entertaining. He's very outspoken, like myself. So let's give the fans what they want to see."
McGregor, the UFC lightweight champion, said Saturday during his pay-per-view interview that he envisions himself next competing in boxing, not MMA.
"One-hundred percent," McGregor said. "I believe the next time I step into a combat arena will be through the ropes wearing 10-ounce or eight-ounce gloves. I believe so.
"The sound of laughter and the sound of doubt motivates me. So I'm enjoying that. I seek that. I don't feel that going to fight any of these other UFC bums right now. They need to rise up. Right now, they're down there. I've got this situation where people are truly doubting me, like they doubted me at the very, very beginning, and that's motivating for me. That's what's going to drive me to the gym when I need to go to the gym, and to put in that work to get that win. So that's where we're at right now."
There remain plenty of obstacles standing in the way of the bout happening, but it's no longer just a pipe dream.
"I believe the fight could happen," Mayweather said. "Conor McGregor, like I said before, he's a tough competitor. He proved throughout the years in the UFC that he can fight standing up. So we'll just have to see what the future hold."
UFC president Dana White brushed off the latest comments after UFC on FOX 23 on Saturday night. White said there was a better chance of him backing up Tom Brady in the Super Bowl next week than McGregor fighting Mayweather. And the UFC boss warned McGregor that it would be a mistake if McGregor tried to venture outside the UFC's promotional to make the bout happen. McGregor is currently under contract with the UFC as his sole combat sports promoter.
"You know how I feel about Conor, I've always shown Conor nothing but respect, and if he wants to go down that road with us, let me tell you, it will be an epic fall," White said.
Meanwhile, Mayweather seems keen on downplaying the UFC's potential involvement. He said Saturday night that he'd want it to be on Showtime, which has a deal with his own promotional company. The UFC has never been in favor of co-promoting events.
"Can we make this fight happen? Absolutely," he said. "That's what everyone wants to see. And of course, Showtime is the biggest and the best in the business. So hopefully Showtime pay-per-view, we can make it happen."
There is still quite a long way to go.