Anderson Silva explains why he wants to fight Conor McGregor
26.01.2017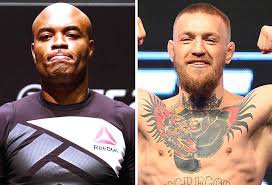 Anderson Silva needs to get back on track after going winless for more than three years, but he still has an eye on a superfight.
Slated to meet Derek Brunson at UFC 208 in Brooklyn, on Feb. 11, "The Spider" says he fights for fun now, and mentioned someone he would like to test himself against UFC lightweight champion Conor McGregor one day.
"I\'d like to test myself against Conor because he's an interesting martial artist," Silva said during a UFC 208 media scrum in Rio de Janeiro, Brazil. "His stand-up game is an intelligent game. Not because he's champion now, but for the martial arts challenge. I'd like to see how these stand-up techniques, his and mine, would mix, and how that would go. But not to fight for a belt or anything like that. For the challenge, an interest, that thing about knowing how a fight like this would go."
McGregor became the first fighter in the history of the UFC to hold two belts at the same time after knocking out Jose Aldo at featherweight and Eddie Alvarez at lightweight, but Silva isn't interested in belts anymore.
"The Notorious" is currently fighting at 155 pounds, but competed twice at 170 pounds against Nate Diaz. Silva held the UFC 185-pound title for years, and also scored multiple wins as a light heavyweight in the UFC. For a clash with the Irishman, Silva says he would cut extra pounds.
"I believe he can make 176, 178 pounds, right? That's a weight I can get," said Silva, who mentioned recently that he could get closer to 170 pounds. "We started this work and I got to 174, but we thought it would be better now to do these tests.
"There was no fight booked, we made 174, and master (Rogerio) Camoes said 'man, you don't need this, you're fine, so go back to your division.' I know I can make 174 now, but my team and my doctor, Marcio Tannure, decided to stay in my division."