Khabib Nurmagomedov's 2017 goals: Win 'interim bullsh*t belt,' fight Conor McGregor
10.01.2017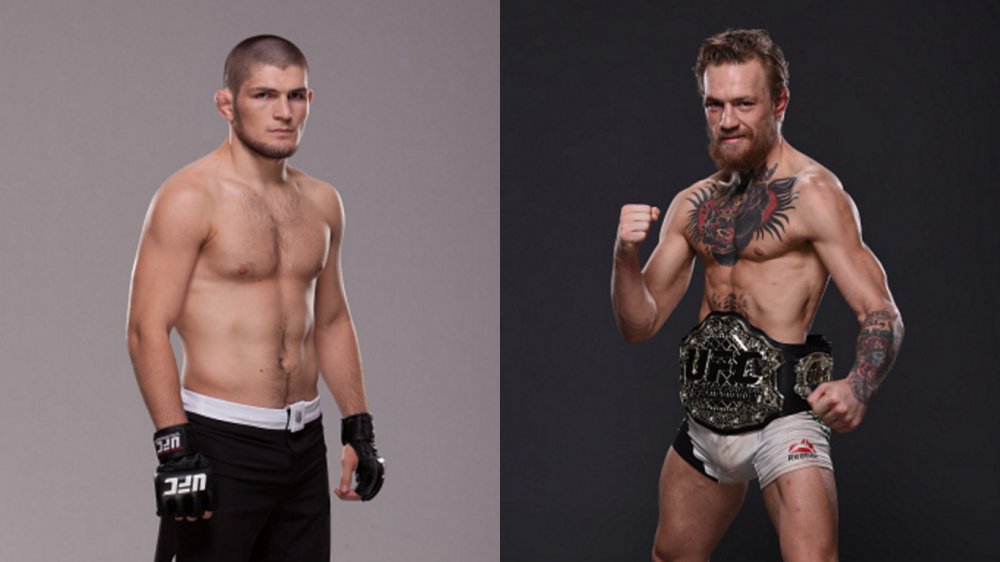 Like just about everyone else, Khabib Nurmagomedov doesn't put much stock into the UFC's newfound habit of handing out interim belts like they're Halloween candy.
So if his rumored bout with Tony Ferguson at UFC 209 on March 4 in Las Vegas – a perfectly fine No. 1 lightweight contender's fight all on its own for which the UFC is expected to crown an interim titleholder anyway – comes to pass, he'll see it as a means to an end.
That end? A title fight for the real belt with newly crowned kingpin Conor McGregor.
"I want to beat Tony Ferguson, take the interim bullsh*t belt, and I will fight with Conor for real belt," Nurmagomedov said on Monday's edition of The MMA Hour. "This is what I want to make in 2017."
After demolishing Michael Johnson at UFC 205 at Madison Square Garden, just hours before McGregor clipped Eddie Alvarez to win the lightweight title, the 24-0 Nurmagomedov proclaimed he would only accept a title shot, nothing less.
But he also understands how the business works. And with McGregor sitting out while his girlfriend has their first child, he knows the bout with Ferguson, a tremendous matchup on paper, is the next best option.
"If the UFC would ask me about Conor, of course I would take this fight," Nurmagomedov said. "He has the belt now. I want to take his belt. … It's my belt. Everybody knows I deserve a title shot. But, Tony Ferguson is on nine win streak, he deserves [a chance] too."
The UFC has reportedly been in talks to stage a card in Russia. Nurmagomedov, for his part, believes they could fill a soccer stadium in his homeland if a fight with McGregor was on the card. But he also believes the biggest-money show would be made in the USA.
"I think if I fight with Conor, UFC makes it New York or Vegas. Madison Square Garden or T-Mobile Arena, because these are two biggest arena for pay-per-view shows," he said. "Russia, not good for pay-per-view, Ireland, not good for pay-per-view. Here, everybody understands this sport and good fights, but number one, UFC is a business, they're in business to make money.
"But if you make this fight in Russia, Moscow, Sochi or maybe Dagestan, then maybe 100,000 [fans]. Why not? I fight in Russia, and I have to say, Conor is famous in Russia too. I think 100 percent we would sell all those tickets."
Of course, McGregor didn't defend his featherweight belt after winning it, so Nurmagomedov won't hold his breath waiting for him to defend the lightweight belt, either. He pegged the chances of meeting McGregor this year at 50/50.
"I think 50/50. I think maybe he takes the fight at 170, if he loses at 170, he comes back to 155. He does this all the time. He never defends his belt. He never defended his belt in Cage Warriors, he never defends his belt in UFC, he's all the time playing games because he has good pay-per-view and that's why he has power in the UFC."