Conor McGregor to Eddie Alvarez: 'Show up, take your ass whooping'
19.10.2016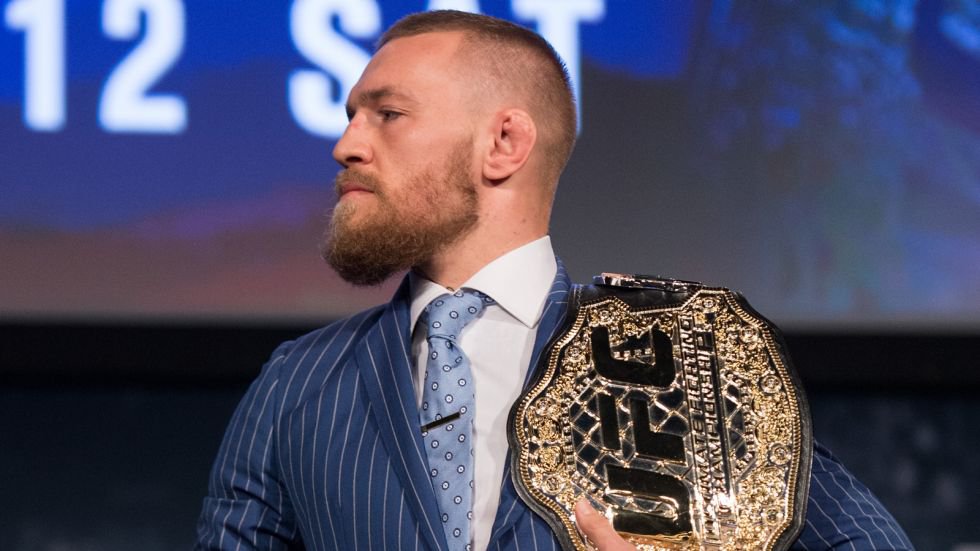 Conor McGregor will never be accused of lacking confidence.
The outspoken Irishman will attempt to become the first-ever simultaneous two-division champion in UFC history when he faces lightweight king Eddie Alvarez in the main event at UFC 205 in November.
Alvarez is one of the most experienced veterans on the UFC roster and just recently dispatched former champion Rafael dos Anjos inside one round by TKO to win the lightweight title. Alvarez has 28 career wins — 22 by either knockout, TKO or submission.
Still, McGregor just doesn\'t see him as a serious threat and he plans on dispatching Alvarez in impressive fashion when they meet at Madison Square Garden in just a few short weeks.
"I don\'t think he poses any threat," McGregor said in a recent Facebook chat with LAD Bible. "He\'s tough. He\'s a tough kid. He\'s got some good fights under his belt, good experience.
"I\'m expecting him to come in and fight with his heart but I don\'t see it going well it for him. I feel he\'ll be unconscious."
For his last fight against Nate Diaz in August, McGregor pulled out all the stops in preparation and spent in excess of $300,000 on travel and training partners to get him ready. McGregor fell to Diaz in March and wanted to leave nothing to chance for the rematch so he brought in sparring partners who could emulate the tall, lanky fighter from California throughout his training camp.
While McGregor isn\'t cutting any corners for the fight with Alvarez, he says this is the same kind of matchup he\'s faced throughout his career so it didn\'t require nearly as much preparation or financial investment.
"The last fight I trained very specific — 6-foot plus southpaws in the middleweight to light heavyweight range. So this contest, this one we\'ve gone back to 5-foot-7 stocky, stuffed wrestlers with mediocre boxing," McGregor said. "That\'s the opponent I\'m going up against.
"We\'ve got solid boxers, we\'ve got solid wrestlers, that is a body type that is very easily found. I\'ve been facing this new opponent, the body type, the attacks, I\'ve been facing that style my whole life. It\'s easy. It\'s a lot better for me. You don\'t have to source out these taller, bigger (fighters), they\'ve got to be southpaws also, they\'ve got to react a certain way. There\'s a million training partners that replicate this next opponent\'s style so I\'m very happy with it."
McGregor has become synonymous with making bold predictions for his fights and the matchup with Alvarez is no different.
When the fight was first announced, McGregor said that he would finish Alvarez inside the first five minutes and that prognostication hasn\'t changed one bit. If anything, McGregor is even more confident that Alvarez won\'t see the second round after they start trading punches on Nov. 12.
"I think my fist is bigger than his head. I think I\'ll plant him with a shot and it\'s going to be goodnight," McGregor said. "I feel it\'s going to be early and it\'s going to be devastating."
McGregor and Alvarez has swiped at each other in a number of interviews leading up to the fight and things will obviously only get more intense as the card draws near.
When asked to pass along a message to his opponent, McGregor kept things simple and more or less told Alvarez that he should just accept his fate and be prepared to be humbled at UFC 205.
"I have no message. It\'s over. They know it\'s over too," McGregor said. "They\'re apologetic. They said this, they said that, they said everything, now it\'s \'he\'s the best striker I\'ve ever seen, we apologize, I apologize.'
"Show up, take your ass whooping and I\'ll see you later."