Ion Cutelaba didn't remove the green paint for UFC Fight Night 96 fight; he painted himself white
03.10.2016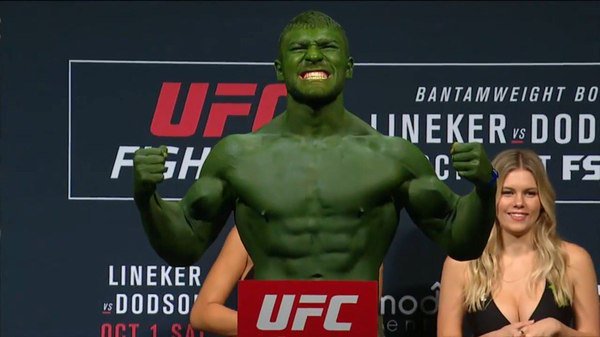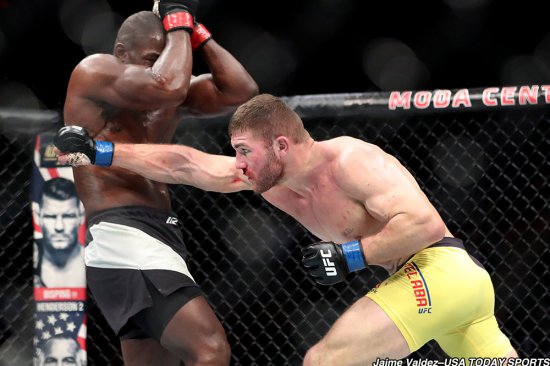 Apart from three rounds worth of a gas tank, UFC Fight Night 96 had Ion Cutelaba showing some serious commitment to his alias.
The day after showing up entirely covered in green paint at Friday's official weigh-ins, a fully rinsed Cutelaba (12-2 MMA, 1-1 UFC) managed to edge out Jonathan Wilson (7-2 MMA, 1-2 UFC) to secure his first octagon win.
The question, of course, had to be asked: How exactly did "The Hulk" manage to get rid of all the green?
"I am actually naturally green and I only put white paint on today," Cutelaba answered with the help of an interpreter.
The light heavyweight bout was part of the preliminary card of Saturday's UFC Fight Night 96 event at Moda Center in Portland, Ore. It streamed on UFC Fight Pass ahead of additional prelims on FS2 and a main card on FS1.
The result against Wilson was not only Cutelaba's first octagon win, but also the first time that the light heavyweight ever had to go to the judges' scorecards in his professional career.
That doesn't mean, however, it will be the last. While he may have a penchant for finishes, Cutelaba clarifies that going numerous rounds is certainly not an issue.
"I think I proved that last time and in my fight against Misha (Cirkunov)," Cutelaba said. "I think I can fight even more. When we train, I only stop after five, six rounds, or when my trainer tells me. So I'm going to be able to fight even more, that's absolutely not a problem."
Though the Moldovan athlete managed to overwhelm Wilson for the majority of their 205-pound affair, Cutelaba did take a few lumps along the way.
But, after "hulking" his way past them, he says he wasn't surprised with how the scrap unfolded.
"Of course it was going to be a difficult fight and I expected that," Cutelaba said. "After all, the UFC is the most difficult and the most serious. So here you have the most difficult competition because it's the most serious organization in MMA.
"Of course I was aggressive … because I'm Hulk."
While he made no specific reference to names or timeframe, the Moldovian fighter is ready for a quick – and victorious – turnaround.
"I'm going to go home, see my dear wife, my dear child," Cutelaba said. "And in two weeks I'm going to be ready to get back to win again, against another opponent."
For more on Cutelaba's thoughts on his first UFC win and the green paint, check out the video above.
And for complete coverage of UFC Fight Night 96, check out the UFC Events section of the site.