Conor McGregor sent Nate Diaz – and his 'stupid black T-shirt' – a message during his appearance on Conan
29.07.2016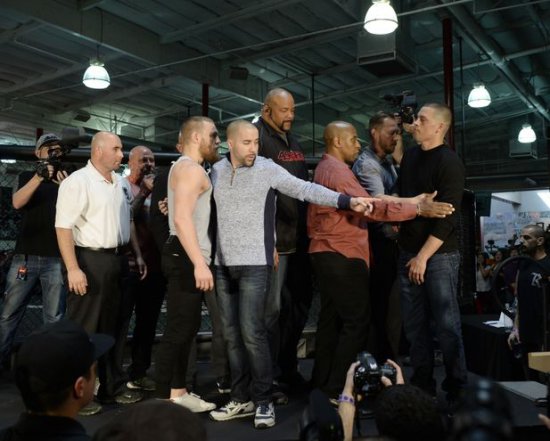 Nate Diaz has been making the media rounds ahead of his UFC 202 rematch with Conor McGregor.
During
an appearance on Conan, Diaz (19-10 MMA, 14-8 UFC) was delivered a
video message from the man he upset at UFC 196. McGregor (19-3 MMA, 7-1
UFC) took a few shots at Diaz's style while also stressing he was taking
the rematch seriously.
"What's up, Conan?" McGregor said. "Sorry
I couldn't make the show this week. As a present, I sent Nate in my
place. I just hope he's not up on that stage wearing that stupid black
T-shirt he's never out of. The boy has been wearing that same damn
T-shirt the last 20 years or something.
"I'm taking this contest
very, very seriously. I've flown in specific body types to replicate
Nate's skinny, tall frame. The boy won the lotto last time, he knows it,
I know it. Well, August 20, I get my revenge and I look forward to it."
The
main event rematch between Diaz and McGregor is set for UFC 202, which
takes place Aug. 20 at T-Mobile Arena in Las Vegas with a main card on
pay-per-view following prelims on FS1 and UFC Fight Pass.
Diaz
took the fight the first time around, overcoming a strong start by
McGregor to land some big shots and take the fight to the floor where he
was able to quickly lock up a rear-naked choke and force the
submission.
The result of the first fight seemed to make Diaz's response to Conor's video simple. "The truth came out," Diaz said. "The truth will be August 20 when it goes down again." Check out the video above.
Press Coference Diaz-McGregor