Amir Khan tees up Conor McGregor bout and potential for MMA career move
20.07.2016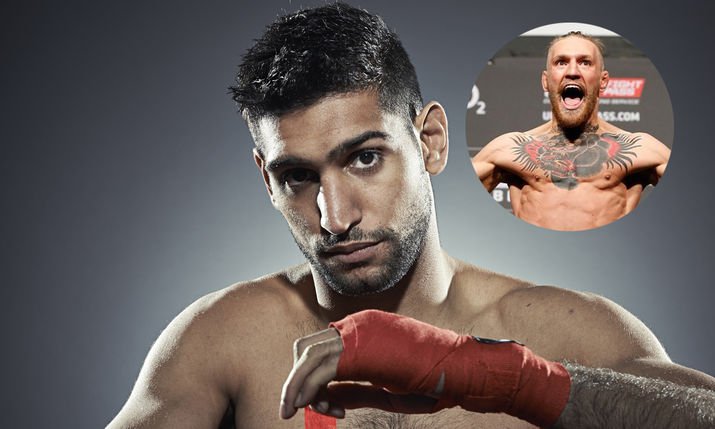 Amir Khan does not think Floyd Mayweather will enter the octagon with Conor McGregor, but said he would be more than happy to.
A fight between Mayweather, one of the greats of boxing history, and UFC featherweight champion McGregor has been talked up in boxing and Mixed Martial Arts (MMA) circles.
Khan was often on the other end of reports linking him with a fight against Mayweather, but that never materialised before the American retired with a perfect 49-0 record after he beat Andre Berto last September.
He believes talk of Mayweather versus McGregor was "little more than a publicity stunt" but, at the age of 29, feels he still has time to develop himself into an MMA fighter.
And Khan feels taking on the Irishman, who was a youth boxing champion before switching to MMA, would be the kind of fight the world wants to see.
Speaking to flocombat.com, Khan, who was beaten by Saul Alvarez in May, said: "I would definitely give it a go. It\'s something to learn, as well.
"I\'m at that age where I\'m still learning, adapting and getting better. So I still have time under me as well. I\'m still a young lad and got loads left in me.
"It just depends on the weight category. But look, as a fighter, that\'s a fight I would take. McGregor is a massive name in MMA, and I\'m a big name in boxing, so globally, I think it would be a massive fight.
"Sometimes, you have to put friendship aside and you have to take it in the cage or in the ring. But yeah, if that fight comes up to me, I\'m not one to back away from it.
"With MMA, it seems quite easy to make fights that the fans want to see. I was chasing Mayweather for two years, and the fight never happened. The fans wanted to see it, but he didn\'t want it. So that\'s the difference between MMA and boxing.
"Even if I started to train MMA next year, I\'d only be 30 years old. I could stop and train for a full year and become a good MMA fighter. It\'s in our blood to fight. I\'ve been fighting all my life, so for me, I don\'t think it\'d be a problem for me to learn and switch over to the sport."