UFC Fight Night 91 results: Daniel Omielanczuk upsets Aleksei Oleinik with majority decision.
14.07.2016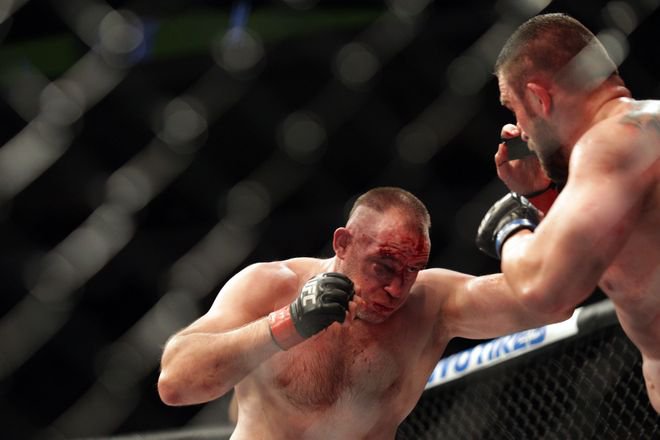 Daniel Omielanczuk and Aleksei Oleinik shed more than their share of blood on the mat over three slow, grueling rounds.
In the end, it was Omielanczuk (19-5-1 MMA, 4-2 UFC) who did enough to convince the judges, as he battered Oleinik (50-10-1 MMA, 2-1 UFC) en route to a majority decision victory, taking the bout with scores of 28-28, 29-28, and 29-28.
The heavyweight bout was part of the main card of today's UFC Fight Night 91 event at Denny Sanford Premier Center in Sioux Falls, S.D. It aired on FS1 following prelims on FS1 and UFC Fight Pass.
Oleinik's plan in this one was fairly straightforward. He wanted to take Omielanczuk down and submit him on the mat, using his advantage in the jiu-jitsu department to avoid his opponent's damaging strikes.
For the first round, that seemed like a promising approach. Oleinik was clearly the better grappler, but while he was focused on the submission finish, Omielanczuk punished him with strikes at every opportunity. By the second round, as Oleinik tried to inch toward one submission after another, Omielanczuk opened his face up with strikes and left him looking significantly worse for wear by the end of the frame.
That trend continued in the final round, as the blood continued to flow and Oleinik's submission attempts continued to come up short. By the end, keeping his mouthpiece in his mouth was more than he could do, and while Omielanczuk couldn't finish him, he was perfectly capable of tenderizing his face with punches and hammerfists.
When the fight went to the judges, one scored it a draw, while the other two gave two of the three rounds to Omielanczuk, resulting in a majority decision.
"MMA is quite popular already in Poland and it is growing fast," Omielanczuk said. "Poland has a lot of good fighters. Joanna Jedrzejczyk is from Poland and she's a UFC champion. There are plenty of guys on their way up who will surely be in the UFC soon. I work for the UFC. When they call, it is my job to fight and I will be ready when I get that call next."
The win makes it three in a row in the UFC for Omielanczuk. The loss for Oleinik snaps an 11-fight winning streak.
UFC Fight Night 91 results:
Daniel Omielanczuk def. Aleksei Oleinik via majority decision (28-28, 29-28, 29-28)
Keita Nakamura def. Kyle Noke via submission (rear-naked choke) – Round 2, 4:59
Louis Smolka def. Ben Nguyen via TKO (strikes) – Round 2, 4:41
Katlyn Chookagian def. Lauren Murphy via unanimous decision (29-28, 29-28, 29-28)
Sam Alvey def. Eric Spicely via submission (guillotine choke) – Round 1, 2:43
Cortney Casey def. Cristina Stanciu via TKO (strikes) – Round 1, 2:36
Scott Holtzman def. Cody Pfister via unanimous decision (30-27, 30-27, 29-28)
Rani Yahya def. Matthew Lopez via submission (arm-triangle choke) – Round 3, 4:19
Alex Nicholson def. Devin Clark via knockout (punches) – Round 1, 4:57