Floyd Mayweather: Rumors you've been hearing are rumors I started
10.05.2016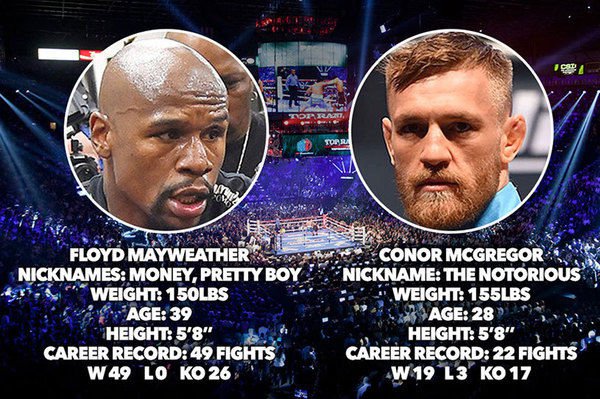 Floyd Mayweather said Saturday that a potential fight with UFC star Conor McGregor is "possible," but added that the rumors of the fight are ones "I started."
Mayweather made his comments to FightHype.com in Las Vegas before Canelo Alvarez\'s sixth-round knockout of Amir Khan. He was asked by the website about the talk that he might fight an MMA fighter.
"It\'s possible. It\'s possible. There was a name that was shot at me. But the rumors that y\'all have been hearing [are] the rumors I started," Mayweather said in video posted by FightHype.com. "It may not be a rumor. Keep your fingers crossed. It may be a boxer versus an MMA fighter. So we just don\'t know."
Mayweather, 39, didn\'t mention McGregor by name, and there are no indications a potential fight is looming. The Sun reported last week that Mayweather and McGregor were discussing a fight against each other, but UFC president Dana White shot down the report, telling Yahoo! Sports, "It\'s not true. It\'s just a tabloid story."
The 27-year-old McGregor, perhaps responding to Mayweather\'s comments, on Sunday tweeted a mock promotional poster for a fight between him and Mayweather.
Mayweather recently has hinted at coming out of retirement. On May 1, he told Showtime that he had talks with CBS and Showtime about a possible return to the ring. In addition, Mayweather Promotions filed for trademarks to TMT 50 and TBE 50 on April 21. "TMT" stands for "The Money Team," and "TBE" stands for "The Best Ever." If Mayweather fights again, it would be the 50th fight of his career.
Promoter Bob Arum, meanwhile, said last week that a rematch between Mayweather and Manny Pacquiao is a "possibility."
Mayweather said Saturday that if he returns to the ring, he\'ll expect a huge payday.
"Every time I go out there and compete, my number is, of course, $100 million or better," he told FightHype.com. "I feel I can demand that."
McGregor, the UFC\'s featherweight champion, was left off UFC 200. White explained during a news conference that he was pulled from the card after he refused to fly to Las Vegas for a news conference. McGregor was slated to fight Nate Diaz at UFC 200 on July 9, but the event will instead be headlined by a light heavyweight title unification bout between Daniel Cormier and Jon Jones.
Mayweather, who retired in September with a perfect 49-0 record, would break Rocky Marciano\'s 49-0 record if he were to return and win his 50th fight.