UFC Fight Night 87 results: Head kick leads to Alistair Overeem TKO of Andrei Arlovski
09.05.2016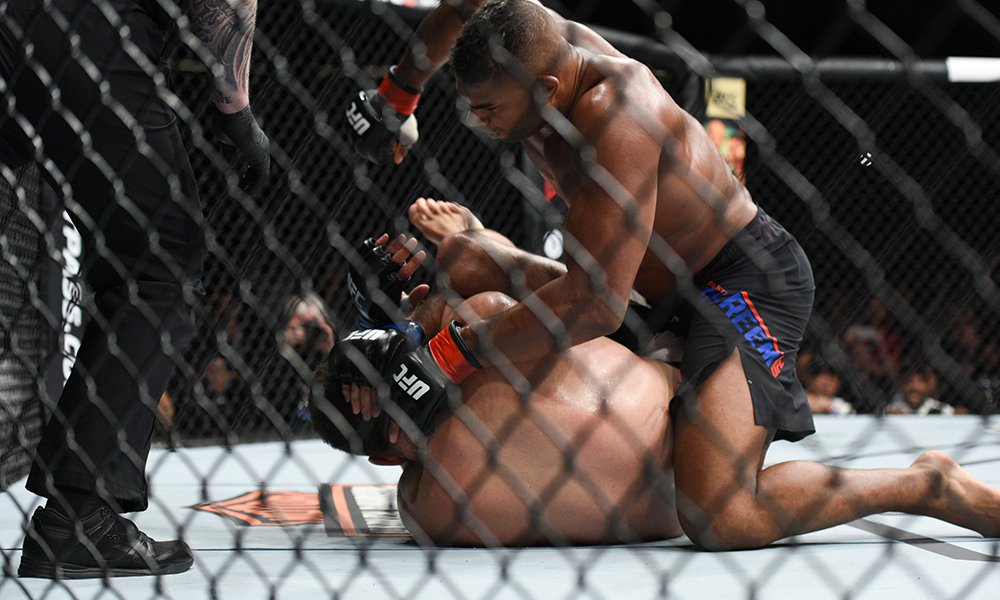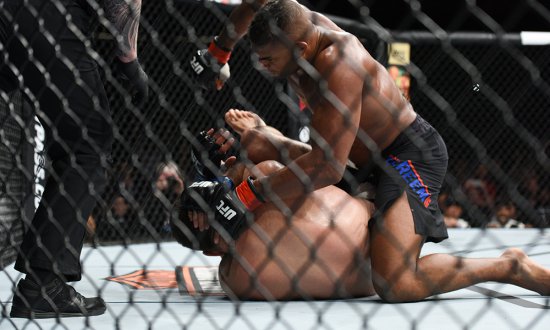 ROTTERDAM,
Netherlands – Fighting on home soil for the first time in seven years,
Alistair Overeem gave his countrymen a thrill and moved up UFC
heavyweight ladder at the expense of teammate and ex-champ Andrei
Arlovski.
Overeem (41-14-1 MMA, 6-3 UFC) pulled off a Karate
Kid-style jumping front kick on Arlovski (25-12 MMA, 14-6 UFC) –
dislocating his toe in the process – and brashly called for the winner
of this month's title bout between champ Fabricio Werdum and Stipe
Miocic at UFC 198.
The heavyweight bout was the main event of
today's UFC Fight Night 87 event at Ahoy Rotterdam in Rotterdam,
Netherlands. It aired on FOX Sports 1 following prelims on FOX Sports 1
and UFC Fight Pass.
The fight was called off at the 1:12 mark of
the second round as Overeem, the No. 7 fighter in the USA TODAY
Sports/MMAjunkie MMA heavyweight rankings, answered several unanswered
blows on the mat to the No. 5 Arlovski.
Afterward, the cageside doctor popped Overeem's toe back into place so he could make public his championship aspirations.
"We're
going to get that belt in November," said Overeem, who walked to the
cage to the Dutch national anthem and translated his words before
issuing them in his native tongue. "Nov. 12, Madison Square Garden (at
UFC 205) – Werdum (versus) Stipe, may the best man win. But I'm going to
take on that winner.
"I'm going to beat that winner, and then next year, 2017, we're going to be defending the belt here in Amsterdam Arena."
Overeem
and Arlovski both had title hopes under the same roof of the famed
Jackson-Wink Academy in Albuquerque, N.M. Arlovski criticized Overeem
for breaking ranks and requesting the fight, splitting the team's
coaches on fight night. The pair brushed off a friendship in the
buildup.
Now, things could be a lot more awkward at the gym. With
his win, Overeem now owns a four-fight win streak – second only to
champ Werdum, who's won his past six – and emerges as a contender as
Arlovski continues to falter, dropping his second straight fight.
With
the previously surging Ben Rothwell recently taken out by Junior Dos
Santos, whom Overeem stopped his previous fight, the pathway to the
nomination is now clear for the Dutch fighter.
Overeem weathered
early pressure from Arlovski, who cornered his foe with a flurry and
looked to land his vaunted right hand. The clinch allowed Overeem to
advance as he landed knees to the head in close and then tripped the
Belarusian fighter to the canvas, where he worked sporadic ground and
pound. Arlovski did not get to his feet when the opportunity presented
itself.
A body kick appeared to sting Arlovski in the second
round, and Overeem found his way through defenses with his flying kick,
which he followed with a left hand that sent the ex-champ to the canvas.
If not for the quick work of the doctor, Overeem might have joined his teammate on the mat.
"My
toe was at a 45-degree angle – I was like, no, I didn't break my toe,"
he said. "But luckily, the (doctor) pulled it straight in, and it was
good. But it might have been falling off, I don't know."
Up-to-the-minute UFC Fight Night 87 results include:
Alistair Overeem def. Andrei Arlovski via TKO – Round 2, 1:12
Stefan Struve def. Antonio Silva via TKO (strikes) – Round 1, 0:16
Gunnar Nelson def. Albert Tumenov via submission (rear-naked choke) – Round 2, 3:15
Germaine de Randamie def. Anna Elmose via TKO (knees and punch) – Round 1, 3:46
Nikita Krylov def. Francimar Barroso via submission (rear-naked choke) – Round 2, 3:11
Karolina Kowalkiewicz def. Heather Jo Clark via unanimous decision (29-28, 29-28, 30-27)
Rustam Khabilov def. Chris Wade via unanimous decision (30-27, 29-28, 29-28)
Magnus Cedenblad def. Garreth McLellan via TKO (kick and punches) – Round 2, 0:47
Josh Emmett def. Jon Tuck via split decision (29-28, 28-29, 29-28)
Reza Madadi def. Yan Cabral via TKO (punches) – Round 3, 1:56
Kyoji Horiguchi def. Neil Seery via unanimous decision (30-26, 30-27, 30-27)
Leon Edwards def. Dominic Waters via unanimous decision (30-27, 30-27, 30-27)
Ulka Sasaki def. Willie Gates via submission (rear-naked choke) – Round 2, 3:30
For complete coverage of UFC Fight Night 87, check out the UFC Events section of the site.
(MMAjunkie's John Morgan and Mike Bohn contributed to this report on site in Rotterdam.)