Bellator 152 results: Patricky Freire beats Kevin Souza in promotion's Italy debut
17.04.2016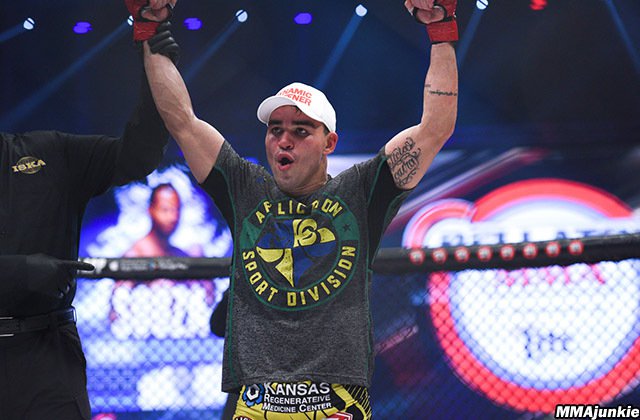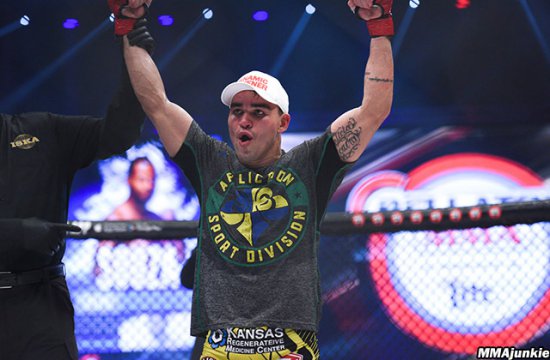 TURIN,
Italy – Bellator's debut event outside of North America was filled with
exciting finishes. That didn't include the headliner, however, because
Patricky Freire needed all three rounds to top Kevin Souza by unanimous
decision in the Spike-televised event at Pala Alpitour in Turin, Italy.
Souza
(15-5 MMA, 0-1 BMMA) stepped in to the lightweight main event on just
one week's notice after Freire's (16-7 MMA, 9-6 BMMA) original opponent
fell out with injury. He didn't look particularly bad, but Souza was
unable to thwart Freire's offensive advances and was outpointed over the
course of the 15-minute affair.
When the fight was on the feet,
the striking exchanges were relatively competitive, with both men having
moments. Freire's wrestling was ultimately the deciding factor, because
he completed timely takedowns in each round that gave him a 30-27 sweep
across the scorecards.
Freire has long been a staple of
Bellator's 155-pound division but has struggled to get over the hump and
position himself for a title shot. With six victories in his past eight
fights, "Pitbull" is perhaps closer than ever.
Sakara shines in hometown showcase
Italy's
own Alessio Sakara (18-11 MMA, 1-0 BMMA) is perhaps the greatest
trailblazer for MMA in his country. After fizzling out of the UFC
several years ago on a string of losses, it seemed his moment to shine
in his home country would never come. Bellator signed him for its debut
event in Italy, though, and Sakara made good on his moment.
After
a rough first round in which he was taken down and roughed up by
opponent Brian Rogers (12-9 MMA, 5-7 BMMA), "Legionarius" got another
chance to stand and strike in the second round. He wouldn't let the
action spill back to the canvas unless it was his opponent falling
there, and that's exactly what happened.
Sakara landed a huge
punch at the midway point of the second round that instantly sent Rogers
toppling to the canvas, forcing the referee to intervene and end the
light heavyweight fight to send the crowd into jubilation.
McKee adds to prospect status with quick TKO
Big-time
featherweight prospect A.J. McKee (4-0 MMA, 4-0 BMMA) had no problem
staying undefeated in his fourth career fight. He obliterated Danilo
Belluardo (5-1 MMA, 0-1 BMMA) with strikes for a first-round TKO.
McKee
was all pressure from the opening bell. He forced Belluardo's back
against the cage and waited for the opening to throw a power shot. McKee
connected with early one that stunned his opponent and after a quick
flurry of follow-up strikes, the referee jumped in to end the bout.
"Mercenary"
is the son of MMA veteran Antonio McKee and is primed to do big things
in the future. He's already racked up four wins in less than 10 minutes
of cage time and is now in position for a step up in competition.
Yankova stays unbeaten with submission win
Anastasia
Yankova (3-0 MMA, 1-0 BMMA) gained some more momentum in her MMA career
when she made quick work of Anjela Pink (0-1 MMA, 0-1 BMMA) in their
women's flyweight matchup.
Pink, who was making her pro debut in
the fight, came out aggressive and looked to clinch with Yankova. That
turned out to be her demise, because her larger and more powerful
opponent took control and eventually got the contest to the mat.
Once
the action spilled to the ground, Yankova moved to mount and trapped
her opponent in an armbar that caused a quick tap out to end the bout by
submission just 95 seconds into the opening frame.
Complete Bellator 152 results included:
Patricky Freire def. Kevin Souza via unanimous decision (30-27, 30-27, 30-27)
Alessio Sakara def. Brian Rogers via TKO (punches) – Round 2, 2:29
A.J. McKee def. Danilo Belluardo via TKO (punches) – Round 1, 2:44
Anastasia Yankova def. Anjela Pink via submission (armbar) – Round 1, 1:35
Daniele Scatizzi def. Daniele Miceli via TKO (punches) – Round 1, 3:20
source: mmajunkie.com