FEA WGP vol.28. March 30th, 2019. Chisinau
27.03.2019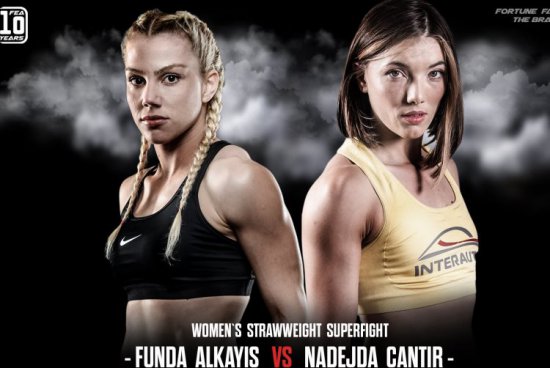 March the 30th FEA WORLD GP 2019 vol. 28
Two Grand Prix's will determine the winners of two championship belts!!!
Super-fights with world renowned fighters, and young debutants at the start of their path.
Saturday night, three part tournament, which will overwhelm even the skeptics. Manej Arena will turn into a modern day coliseum. Where fighters, like gladiators, will show their skill, honor, courage and determination.
Undercard of the tournament. The first part.
Veaceslav Munteanu versus Vadim Vlas
Marin Vetrila vs Maxim Mihnich
Radu Copaceanu versus Igor Shkoda
Petru Morari versus Atakan Mert
FEA WORLD GP 2019. March 30th
Featherweight tournament – Grand Prix Final Four in the 65 kg category.
Stanislav Renita against Cristian Spetcu and Dmitrii Sirbu against Francesco Picca will face each other in the semifinals.
Which one of the four will be the winner, who will have enough strength for the final, who will earn the championship belt – we'll find out Saturday, March the 30th.
Superlight  in 77kg Ion Urecke vs Artur Brinza
Undefeated young Moldavian fighter, Mina Manoli, against the experienced Fabio Di Marco
The reigning champion Nadejda Cantir against the Turkish fighter, Funda Alkais
We'll see whether Nicolae Caraus is able to overpower his rival Dragos Imbrea. Both are young and forceful!!!
FEA WORLD GP 2019, March the 30th
Welterweight Tournament – Grand Prix Final Four under 77 kg.
Four K1 stars will challenge their right to become the absolute champion.
First semifinal: the titleholder, Constantin Rusu versus Alan Scheinson
Second semifinal: Cristian Dorel versus Fikri Arikan.
Only two will meet in the final battle for the championship belt.
Prepare for the return of Maxim Railean in a duel against the unbeatable Martynas Danius
Maxim Bolotov will claim the right to win against Mihajlo Kecojevic. Vitalie Matei will confirm that he is the real champion in a fight against Baris Guzel
We will also see the current FEA champion in the light-heavyweight category, 95kg, Alexander Burduja against Mladen Kujundzic
March 30th 2019, FEA WORLD GP vol.28 – FORTUNE FAVORS THE BRAVE.
Chisinau Manej Arena, online tickets – afisha.md, info: fea.md
General partner: UNITE
FEA vol.28 FULL RESULTS OF THE TOURNAMENT
UNDERCARD.
Super Fight weight -75 kg, 3min x 3R, extra 1R  K-1 rules
(Moldova) Veaceslav Munteanu VSVadim Vlas (Moldova)
Winner Vadim Vlas  by split decision 1-2
Super Fight weight -65 kg, 3min x 3R, extra 1R  K-1 rules
(Ukraine) Maksym Mikhnich vs Marin Vetrila (Moldova)
Winner  Marin Vetrila  by KO, 3R, 1:59
Super Fight weight -71 kg, 3min x 3R, extra 1R  K-1 rules
(Moldova) Igor Scoda vs Radu Copaceanu (Moldova)
Winner Radu Copaceanu by Unanimous decision
Super Fight weight -65kg, 3min x 3R, extra 1R  K-1 rules
(Turkey) Atakan Mert vs Petru Morari (Moldova)
Winner Petru Morari by Unanimous decision
FEA WORLD GP vol.28 Featherweight tournament -65kg
1 FEA WGP  Semi Final Fight weight -65 kg, 3min x 3R, extra 1R  K-1 rules
(Romania) Cristian Spetcu vs Stanislav Renita (Moldova)
Winner Stanislav Renita by Unanimous decision
2 FEA WGP  Semi Final Fight weight -65 kg, 3min x 3R, extra 1R  K-1 rules
(Italy) Francesco Picca VS Dmitrii Sirbu (Moldova)
Winner Dmitrii Sirbu  by Unanimous decision
Super Fight weight -77kg, 3min x 3R, extra 1R  K-1 rules
(Moldova) Ion Ureche VS Artur Brinza (Moldova)
Winner Artur Brinza by TKO , 1R 2:32
Super Fight weight -75kg, 3min x 3R, extra 1R  K-1 rules
(Russia) Dokka Gurmaev VS Mina Manoli (Moldova)
Winner Dokka Gurmaev by Unanimous decision
Women`s Super Fight weight -48 kg, 3min x 3R, extra 1R  K-1 rules
(Turkey) Funda Alkayis VS Nadejda Cantir (Moldova)
Winner Nadejda Cantir by Unanimous decision
Super Fight weight +93 kg, 3min x 3R, extra 1R  K-1 rules
(Serbia)  Mihajlo Kecojevic vs Maxim Bolotov  (Moldova)
Winner Mihajlo Kecojevic by KO, 1R,0:36
FEA WGP Final Fight weight -65 kg, 3min x 3R, extra 1R  K-1 rules
(Moldova)  Dmitrii Sirbu  vs Stanislav Renita (Moldova)
Winner Stanislav Renita by Unanimous decision in EXTRA ROUND
Stanislav Renita FEA FEATHERWEIGHT CHAMPION
FEA WORLD GP vol.28 Welterweight tournament -77kg
1 FEA WGP Semi Final Fight weight -77 kg, 3min x 3R, extra 1R  K-1 rules
(Argentina) Alan Scheinson vs Constantin Rusu (Moldova)
Winner Constantin Rusu 2R, 1:49, by TKO
2 Semi Final Fight weight -77 kg 3min x 3R, extra 1R  K-1 rules
(Turkey) Fikri Arican vs Dorel Cristian (Moldova)
Winner Dorel Cristian  by Unanimous decision
Super fight -67kg, 3min x 3R, extra 1R  K-1 rules
(Lithuania) Martynas Danius   vs  Maxim Railean (Moldova )
Winner Maxim Railean  by Unanimous decision in Extra round
Super Fight weight -85kg, 3min x 3R, extra 1R  K-1 rules
(Romania) Dragos Imbrea vs Nicolae Caraus(Moldova)
Winner  Dragos Imbrea by split decision 2-1
Super fight -71kg, 3min x 3R, extra 1R  K-1 rules
(Turkey) Baris Guzel  vs Vitalie Matei  (Moldova)
Winner  Vitalie Matei by split decision 1-2
Super Fight weight -95 kg, 3min x 3R, extra 1R  K-1 rules
(Croatia) Mladen Kujundzic vs Alexandru  Burduja (Moldova)
Winner  Mladen Kujundzic  by split decision 2-1 in Extra round
FEA WGP Final Fight weight -77 kg, 3min x 3R, extra 1R  K-1 rules
(Moldova) Dorel Cristian  vs Constantin Rusu (Moldova)
Winner Constantin Rusu 1R, 0:50, by KO
Constantin Rusu FEA WELTERWEIGHT CHAMPION